A Better On-the-Road Experience
When mechanical troubles happen to you when you're on a road trip, it's nothing short of frustrating. With mechanical help far, and the repairs complicated, car issues – especially ones that start from the battery – are really going to turn your trip sour. If you've been planning for a trip for a long time, it's going to be a total bummer when your car controls go haywire, or if your battery suddenly gives up on you. To prevent these problems from ever making an appearance in your road trip, experts recommend having an OBD2 scanner with battery reading features ready.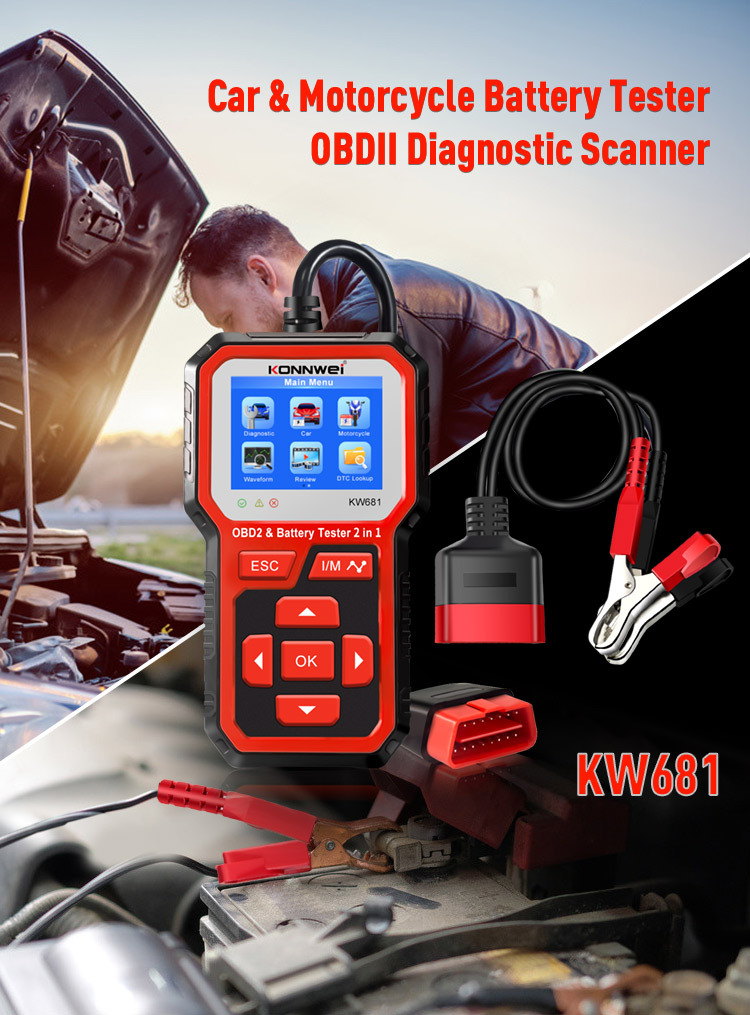 Features
Can work with all types of car batteries. The SecuScan can work with different types of batteries including ordinary lead-acid battery, regularly flooded, AGM flat plate, AGM spiral and gel battery. This OBD2 scanner is also compatible with 2V battery and 12V & 24V system from 100-800 CCA to ensure that the scanner will not miss anything.
Delivers fast results. With the SecuScan, the last thing you need to worry about would be inconsistent and unreliable results. Even if the device is not fully charged, it can still efficiently detect bad battery, predict battery health, and send signals when battery is running out of power.
Assesses battery health using multiple standards. If your battery requirements are just one of the many ways a battery is assessed and rated, you have no need to fret. The SecuScan can check the batteries (via CCA, BCI, CA, MCA, JIS, DIN, IEC, EN, SAE, GB). It offers precise and fast results on cold start function of the battery and the aging status of the power source.
Easy to understand display. The SecuScan lowers the risk of wrong information. With its improved LCD display, the device flashes easy-to-understand, quick-to-see results so you won't have to second guess the information you are receiving.
Settings come in 5 different languages. The device does not just work in English. Other languages in the settings include Spanish, French, Italian, German and Polish so drivers and motorists can select different languages according to their needs.
Description
OBD2 scanner functions: turns off check Engine Light ( MIL ), clears codes and resets monitors.
Professional 6V & 12V battery tester: Battery Health Test, Cranking Test & Charging Test
Feature the unique patented One-click I/M Readiness or Waveform for quick State Emissions readiness.
Display complete live data stream or voltage waveform in digits and graph format, RGB color screen
Advanced O2 sensor test, EVAP test, Modes 8 Test; Model 6 on-board monitoring function can help you pinpoint which cylinder has a misfire issue.
Red-Yellow-Green LEDs and built-in speaker provide both visual and audible tone for readiness verification.
Provides quick and accurate testing of most types of 6V 12V batteries, including regular flooded, AGM flat plate, AGM spiral and gel.
Retrieves vehicle information (VIN, CID and CVN).
WAVEFORM: DISPLAY VOLTAGE IN GRAPH
Display voltage readings in a chart to better analyzing the status of your car battery! You could playback the waveform in tester or upload to computer for more precise analysis.
Provide 5 kinds of professional advice accordingly:
GOOD BATTERY: The battery is without any problem, use it without worries!
GOOD, RECHARGE: Good battery but low current, recharge before using.
REPLACE: The battery is already or near to reach the end of the using life, please replace the battery.
BAD CELL, REPLACE: Battery interior damaged, bad cell or short circuit, replace the battery.
CHARGE-RETEST: Unstable battery shall be recharged and retested to avoid error.