OBD2 ScannerThe tool that ensures you're running in quality battery health.
Running out of gasoline is one thing, running out of battery is another story. Car issues caused by poor battery status and low battery health can be both expensive and complicated. This is why detecting car battery problems even before they show up is critical in the maintenance of your automobile.
CurvTect battery tester & charger & repair is the newest battery tester upgraded from the black white screen tester to help automobile owners check battery health faster and more accurate. Tests include checking the alternator working status. Not only does CurvTect detect Battery Health, but it can also conduct the Battery Cranking Test, Battery Charging Test.
It's a professional automotive diagnostic tools for your battery issues by the graphing voltage monitoring tool,
With its 2.4 inch color screen and unique pattern design, the CurvTect is a perfect battery testing tool for you.
CurvTectcan support Car Battery Tester + Charger + Repair 3in1 function.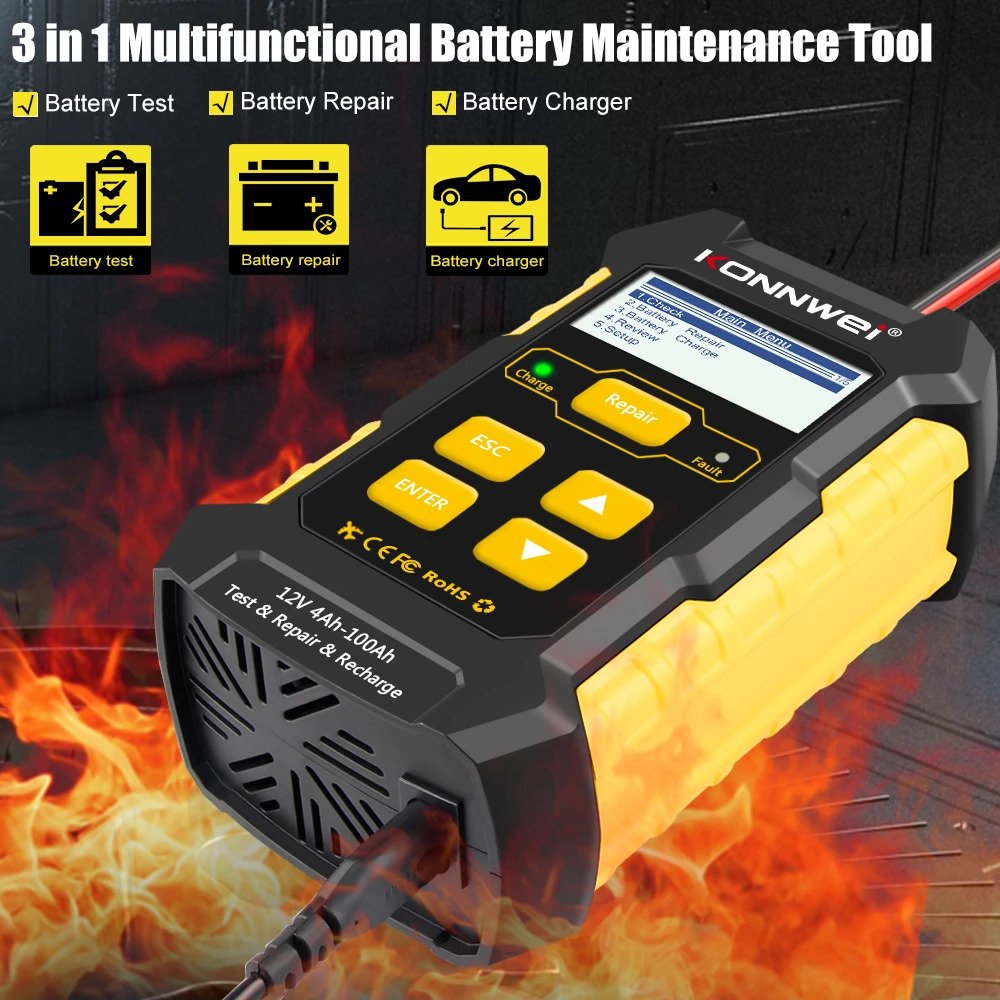 Key Features
The only one with colored screen. This device ensures that you understand the information you get ca be thoroughly interpreted, understood, and analyzed. No more unclear, confusing information on the screen.
Reads faster and delivers clearer results. The CurvTect includes an imported STM32103VCT6 Chip that allows a more precise, and faster reading and scanning. This improved technology cuts the waiting time by up to 50%!
Results are delivered in graphs. Get a comprehensive and complete idea of your car's battery health with results in graph. You can have a real-time access to your battery's health, status, and percentage.
Includes other diagnostic features. The CurvTect also delivers up to 99% accuracy data, provides information regarding the cold cranking capability of the battery and its aging extent.
Support 8 Languages: English, French, German, Dutch, Spanish, Portuguese, Russian and Italian
Tester Application:
All 12V lead-acid battery of gasoline, diesel, hybrid electric cars and emergency batteries.
Car Battery Standard:
CCA:100-2000
BCI:100-2000
CA:100-2000
MCA:100-2000
JIS:26A17-245H52
DIN:100-1400
IEC:100-1400
EN:100-2000
SAE:100-2000
Package List:
1 x KW510 Battery Charger;
1 x Charging Cable;
1 x Color Box;
1 x User Manual