Accelerate Your Cleaning Routine With The STRATOSPack Cordless Handheld Vacuum!
Let's face it. Cleaning the house with a standard vacuum cleaner can be a tiring and tedious task. It's bulky, heavy, and sometimes hard to maneuver. For a better way to tidy up the house, go light and speedy with the powerful STRATOSPack Cordless Handheld Vacuum, helping you collect dust, dirt, hair, and other kinds of waste in your home more efficiently, all thanks to its lightweight design that also comes with multiple accessories, so it can clear the messes off of every surface.

FEATURES
Portable & Cordless Design – Moving from room to room is easy without the hassle of a cord. Made to be lightweight and ergonomic, this handheld vacuum can also help you avoid fatigue, as it picks up dust, pet hair and other debris easily given its compact design.Whether you're in your car or your kitchen, you don't have to be bogged down by a massive vacuum compartment every time you clean.
Quickly Charges But Lasts Longer – Equipped with a premium battery, you can fully charge this handheld vacuum within 3-4 hours, while letting you clean it for longer for about 20-30 minutes. It also comes with a battery indicator so you know when it's time to plug it in.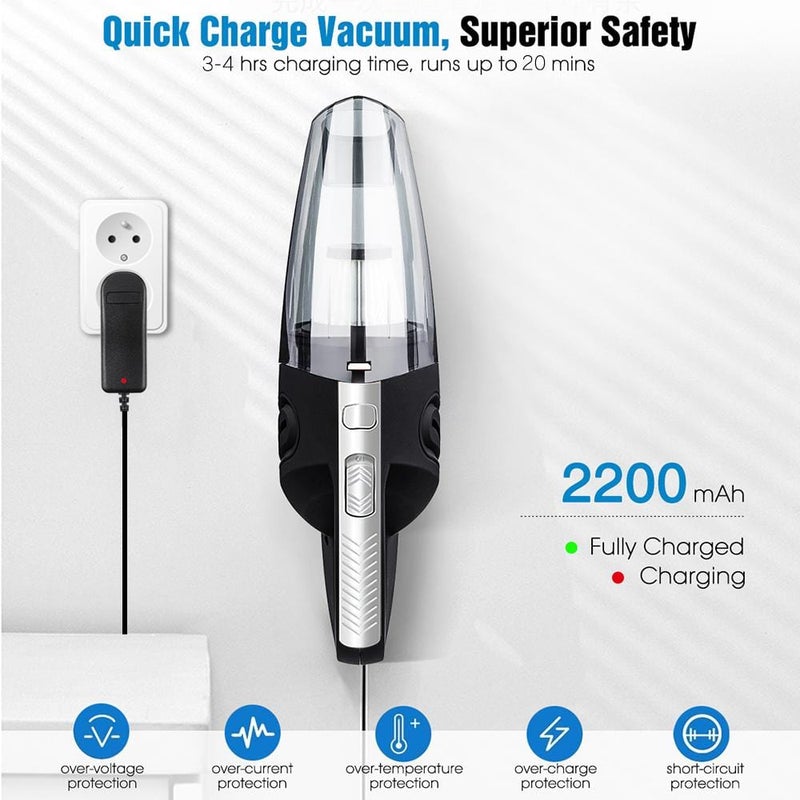 Quieter Operations – Producing less than 80 dB, using this vacuum cleaner won't be distracting to you, your kids, or your pets. Meanwhile, its suction is still as powerful.
Washable & Removable Filter – The vacuum filter can be taken out. Just wash it with water to clean. (Tip: Clean the filter every time after you use it to prolong its lifespan.)
Usable In Both Damp and Dry Conditions  – Use it to clean dust, crumbs, cat litter, pet hairs, and even spilt milk and other liquids. Equipped with 3 different types of attachments, it cleans any surface more efficiently: even those hard-to-reach corners of your car.
MULTI-DRYERS FOR EFFICIENT CLEANING
Comes With Multiple Attachments
Long Soft Hose: Helps pick up messes from cracks, corners, and from under tables, car seats, and other tight/unreachable spaces.
Long Flexible Tube: Cleans up uneven surfaces such as keyboards, blankets, car speakers, and sofas. It's also ideal to use when you want to pick up pet hair from furniture.
Crevice Nozzle: To absorb dust from furniture or car seats with narrow gaps.
Brush Nozzle: Gets rid of messes such as pet hair more quickly. Also helps clean carpets.
Specifications
Vacuum suction: 3200kpa
Rated speed: 29000-31000rpm
Battery capacity: 2200MAH
Rated power: 120W
Power cord length: About 1m
Package Includes:
1 x Handheld Vacuum
1 x Brush Nozzle
1 x Crevice Nozzle
1 x Soft Long Tube
1 x Hose Connector
1 x User Manual
1 x Charger