Introduce Your Kids to the Beauty of Photography with FubblyFoto
Is Your Little One Starting to Show Signs of Loving Photography?
Do you always find them fiddling with your phone's camera, taking photos and videos, and snapping just about everything? You might have a child who will eventually develop this big passion for photography and creating videos and bringing magic to any visual piece.
You want to feed this passion, but you're thinking of another way than just lending your phone.
Your creative, photography-loving kids is the inspiration behind the FotoFubbly kids' camera! 
This handy, affordable, and child-friendly kids camera with high quality lens is the best beginner camera for kids who love to take photos and videos.
Your kids can be free to explore their creativity and their penchant for photography and videography without invading your phone and consuming all its memory!
FubblyFoto Features📸
📸 A High Quality Camera That Makes Your Kids Experience Photography Full On – The FubblyFoto kids camera comes with  auto focus, lens that have 8.0-megapixel clarity, and 1080P video quality. Your kids will get HD and HQ videos and photos. They can 100% capture anything they want!
📸Includes Adorable Filters for Photos and Videos that Kids Will Enjoy! Kids will never find photography and taking videos boring. The camera comes with sticker filters that they can use to create humorous shots!
📸 The Best Kid-friendly Camera with Easy Buttons – The FubblyFoto has dual-camera configuration which also makes it easy to take selfies. Just open the switch key for the camera to work. The camera also includes a portable lanyard hang so it's easier to carry. 
📸 Impressive Battery Life – Camera can Last Up to 2 Hours – When fully charged, the camera can capture images straight for 2 hours. It comes with 1 USB data line & 1 32GB micro SD card to store thousands of photos!
📸 Comes with a Durable, Shock-proof Design – This camera uses high-quality, non-toxic soft plastic, which more safe and comfortable for children's skin. Shockproof shell provides effective anti-fall protection.
📸 Great Gift For Your Creative Kids – The FubbleFoto is a perfect gift for little ones. Kids as young as 3 can enjoy the full benefits of this handy, fun, child-friendly kids camera! 
Why Choose the FubbleFoto? 
Improves Your Kids' Imagination!
With the camera on hand, your kids can fully put their imagination and creativity on the line. They will eventually learn new styles, get new ideas on how to make photos better, and gain confidence in their creativity!
Exploring Photography is Made More Fun!
The FubblyFoto kids camera not only takes photos, records video, and playback, but it also has dozen cartoon photo frames and creative stickers that your kids can use for every photo.
Child-friendly and Ergonomic – Made For Your Little Photographers!
Have no worries about the safety of the camera – the ergonomic design of the FubblyFoto makes it easy for kids to handle and carry it around.
It is Durable, and 100% Shockproof
This shockproof kids camera is made of high-quality non-toxic soft material. Coupled with a impact-resistant, shockproof design, this is the perfect pick for little kids' hands!
Kids Can Enjoy the Fun of Photography for Up to 2 Hours!
The long-lasting battery of the FubbleFoto can help kids enjoy photo and video taking for a longer period of time.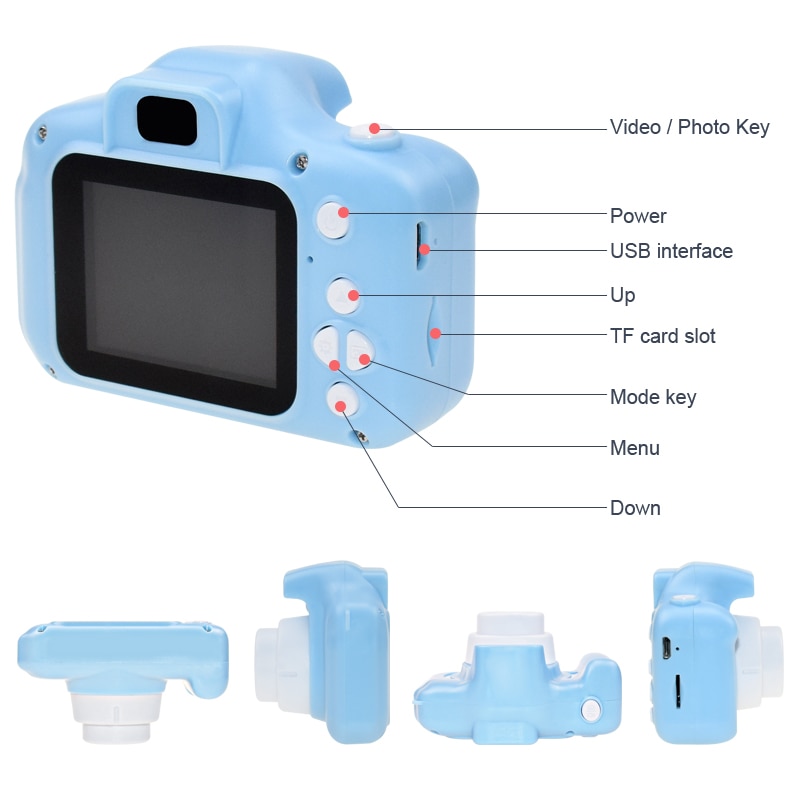 Supports Multiple Languages
Our kid's camera supports multiple languages such as English, French, Italian, German, Japanese, Korean, Czech, Russian and Thai, so that your children can develop and improve their language skills.
Specification: 
Body material: Plastic

Screen size: 2-inch color display

Lens: Fixed lens, 100-degree angle

Photo format: JPG

Camera format: JPEG

Loop recording: Off, 3 minutes, 5 minutes

Suitable age: 3Y+

Charging time: about 2-3 hours

Recording Time: 3-6h
Battery capacity: 600 mAh

Memory card: maximum support 32GB

Expandable Memory Card slot: up to 32GB
Product function: Photo, video, photo sticker


Color: Pink, Green, Blue

Weight: 136g
Package Includes:
1*Camera

1*Data line

1*Lanyard

1*Card reader
1*32GB Memory Card

1*Instruction manual