Let Your Child See the World with a Whole New Set of Eyes
Unleash your child's curiosity and inner creativity by giving them a kid's camera. Instead of getting stuck with a smartphone or a tablet, let them behind the camera lens and allow them to explore nature using JuviLens. A child-friendly camera that'll enable kids to enjoy and capture precious moments inside and outside your home.
JuviLens has a 2.4 inch IPS screen that provides more significant, clearer, and realistic angles to protect your kid's eyes to avoid visual fatigue. It also includes cute photo frames, dual-lens, video and voice recorder, and even games. A complete device that will entertain and let your child enjoy at the same time.
Why Choose JuviLens?
JuviLens has a high and clear resolution that your kids will love– The camera has a 2.4 inches HD screen, 20 million pixels, and a dual HD lens, making it the best video and toy camera for your child.
A multifunctional camera that lets your child discover new joy in each click– It features 3 modes, 5 filters, 15 photo frames, autofocus, self-timer, and time-lapse shooting. It also has an automatic shutdown function with either 2 or 5 seconds depending on your preference. Aside from these, its photos can be magnified up to 4 times and come in expandable storage with 32GB maximum capacity. Its unique features make it a real camera that will arouse your child's creativity and hobby.
Created from safe and child-friendly materials, ensure the safety of your child– This children's digital camera adopts environmentally friendly, non-toxic silicone and shockproof ABS Plastic materials, RoHS and CE certified to ensure safe and reliable quality.
It also comes with useful accessories to add to your child's happiness– JuviLens has a built-in 800mAH lithium battery with a charging time of 1-2 hours and 15 days+ long standby.
The best gift to your child or any child at heart- JuviLens is a good partner for daily life or holiday travel. With its 0.2lb weight, this is the most suitable for a child's little hands to carry around or hang on the neck—a perfect choice for birthdays, festivals, Christmas or any other special occasion.
JuviLine's Features:
Give your kids extra eye protection with its 2.4-inch  IPS Screen- JuviLens digital toy camera for kids features with 2.4 inch IPS screen that provides a larger viewing angle, more precise and realistic color for pictures and videos. It helps avoid visual fatigue for kids' eyesight.
Multiple cute photo frames equal to multiplied happiness
Its 3 modes,5 filters,15 photo frames selections will surely bring more fun for kids when taking photos and videos.
Dual lens digital kids camera also means double the fun
This kids camera comes with a front and rear 1080p dual lens making it easier for kids to take funny photos or videos and selfies. It lets them record their colourful childhood, making precious memories in the future.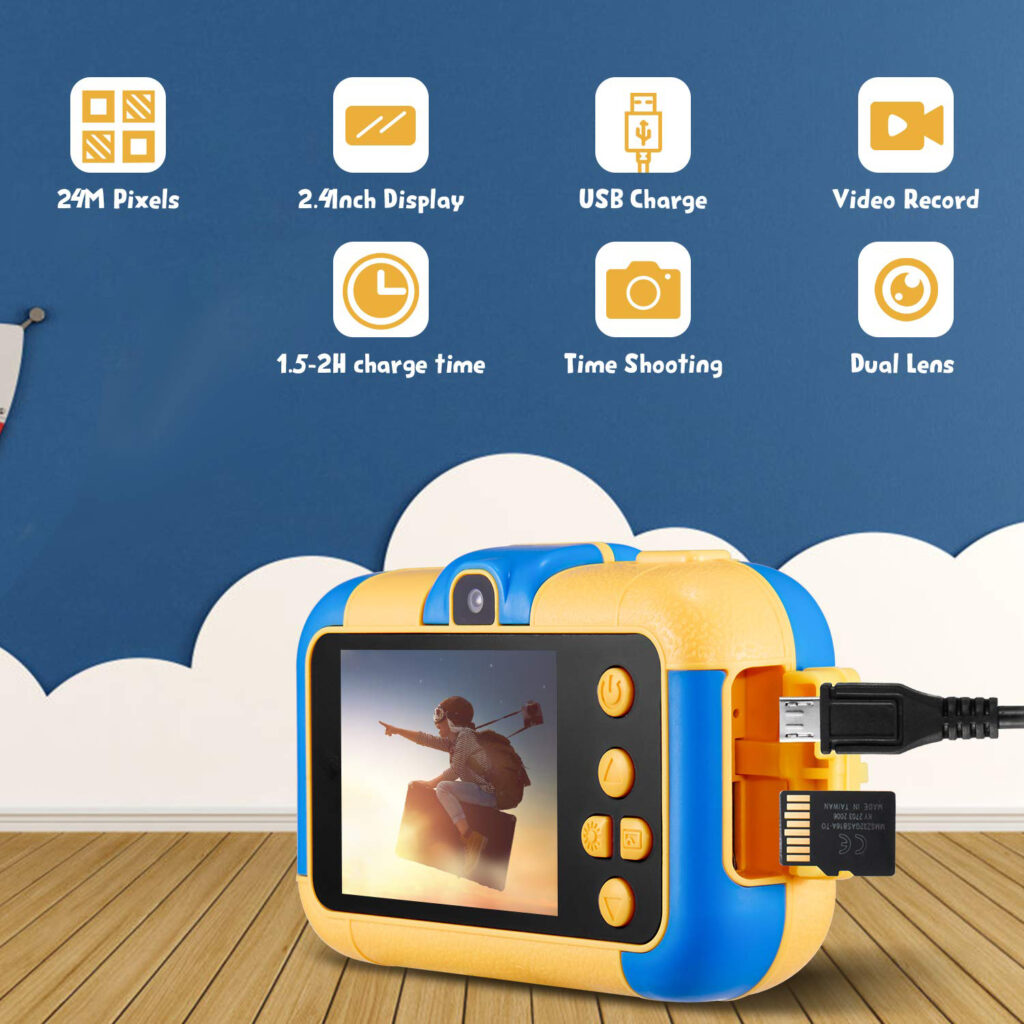 Aside from being a great camera, it also provides 4 games to the kids 
This camera contains 4 games that help cultivate kids reactive thinking and exercise their physical coordination. These child-appropriate games will help increase kids response capability, especially when you want to correct your kids' overreliance on mobile phones.
A video recorder and a voice recorder at the same time 
JuviLens is not only for taking photos but also for making creative videos, voice recording, burst shooting, delay capture and playback.
A great and ideal gift for kids and everyone
This creative kids toy camera is excellent to cultivate children's creativity, imagination, curiosity, perception. That is why it is a great holiday, birthday, and  Christmas gift for 3-10-year-old boys and girls.
Specifications:
Colour:Blue/Red
USB Interface: Micro USB
Screen Size: 2.4 inch
Video Resolution: 1080P / 720P
Image Quality: 12MP/ 8MP/ 5MP/ 3MP/2MP/1.3MP
Usage time: 1-2H
Battery capacity: 800mAH
Package Included:
1*Kids Camera
1*USB Cable
1*32GB Micro SD Card
1*Lanyard
1*User Manual
Notice Before Use:
 Charging: can be connected by computer, power bank, or mobile phone adapter.
Dual lens switching: press and hold the camera/video button for 3 seconds to switch the front and rear lenses.
Upload picture: connect USB cable to computer directly with no card reader needed.
 Battery Protection: Automatic shutdown has the battery protection mechanism if not used for long. Please press the reset key if the battery cannot be charged or turned on.
When after taking the pics or videos and you want to review them, press the power button (click it, not for more than 3 seconds, then the power will go off), and it will return to the menu interface.