Easy, Affordable, and Quality Pain Relief Anytime — the CalmePod.
Make your and your loved ones' relaxation accessible with the most sought-after massage pillow/back massager. Introducing the CalmePod, it's the latest line of "Heated Shiatsu Massager," suitable for people looking for affordable yet quality and portable instant pain relief at home. Featuring 4 different massage heads, adjustable heat for comfort, and multiple speed levels, the CalmePod takes at-home pain management and relaxation to new heights!
Experience an All-in-One Massager for All Types of Pain
Give yourself a 10-minute relaxation regimen with CalmePod and experience relief like no other. Our back massager/massage pillow offers a professional, deep tissue massage to combat pain and stress and satisfy your cravings for quality time at home. Its bi-directional massage function and 3 different speed levels can target the necessary pressure point to relax every muscle and tissue to promote self-healing.
What to Expect?
SHIATSU MASSAGE PILLOW AND BACK MASSAGER: Ergonomically designed to merge with the contours of different body parts to deliver a one-of-a-kind relaxation and self-care. The CalmePod features 4 deep-kneading Shiatsu massage nodes to soothe and relieve tired and tight muscles.
EASY AND SAFE TO USE: The CalmePod is designed with an adjustable intensity button to provide 3 different speeds that allow you to get the appropriate amount of pressure to relieve your back and neck pain. It also comes with overheating protection and auto-shutoff to prevent burning or other discomforts.
HOME AND CAR USE: With the AC and DC adapters in the package, you can have deep massage therapy after a busy job at home or after a long driving in the car. You can enjoy a private massage anytime and anywhere with CalmePod!
SKINCARE MATERIAL: Our CalmePod Back Massager is 100% skin-friendly. It's made of premium breathable fabric and PU leather that effectively wraps the part of the massager balls to avoid direct contact with your skin and cause abrasion.
It's the Perfect Gift for a Loved One.
Sharing the wisdom of self-care is the best gift you can give to your loved one. The CalmePod is an excellent choice to promote self-healing to all people that are important to you. And with our design's wide voltage range, user-friendly operation, and quality built-in massage techniques, your parents, friends, or even your workmates will appreciate the comfort the CalmePod brings!
Take Advantage of These Fantastic Features:
Reverse Function: The massager rotates clockwise and counterclockwise at the push of a button. This feature enables the machine to target tired muscles and pressure points effectively.
Integrated Feeling of Jade Heat Stone Massage:

Two massage heaters mimic and replicate a jade stone heated massage, which promotes blood circulation, balance the body, improve sleep, and overall wellbeing.

3D-Shiatsu Massage Nodes:

There are 4 rotating massage points that move on all three axis of movement, side to side, up and down, in and out—this support gives you real & professional massaging whenever you need it.

Speed and Heat Toggle: It's 100% easy to use, thanks to its q

uick access to heat and speed toggle controls.

Portable Car Adapter: Take your relaxation anytime, anywhere! The CalmePod w

orks excellent on the road with an included car adapter and velcro back straps.
More Reasons to Love the CalmePod!
✅ INTENSITY LEVEL MODIFICATION
The CalmePod Shiatsu Pillow massager has three intensity levels crafted with your pain and tightness symptoms in mind. This small yet innovative massager creates the perfect graceful living experience that is made even more effortless with cordless convenience.
You can target your lower back tightness, relax your thighs and legs after cardio, or even relieve any involuntary neck spasms with the all-in-one shiatsu pillow massager.
The multiple intensity levels included in this device let you tailor your massage experience to the different muscles of your body after any stress that can fit in any backpack or gym bag.
Gently apply pressure to the impacted area and experience deep levels of rolling massage. Our CalmePod Back Massager offers the benefits of myocardial release without the discomfort of a cold, metal instrument or an awkward foam roller. This innovative shiatsu massage pillow is sleek in design, convenient in size, and mighty in results.
The Shiatsu Pillow with heat relaxes and rejuvenates you on the go, so you can spend more time doing the things you love and less time focusing on pain.
✅ INTEGRATED FEELING OF JADE HEAT STONE MASSAGE
The Shiatsu Pillow Massager regulates comprehensive heat that simulates the feeling of accurate Jade Stone massage methods. With our massager, the heat works to reduce painful involuntary muscle spasms and lower chronic stress and tension while the device targets pain sources.
The process of Jade Heating proves a significant increase in joint flexibility and promotes better mobility to tense or sore muscles. Our Shiatsu Massage Pillow's healing process also improves your range of motion by relieving pain and tension created by strained or tensed muscles.
✅ HANDY CAR ADAPTER
The Shiatsu Car Pillow includes our Handy Car Adapter that allows you to take your customizable massage with you anywhere on the go! No need to worry about battery life or portability; the Shiatsu Pillow adapter conveniently provides reliable power for your massage as long you need it.
✅ REVERSE MASSAGE FUNCTION
The CalmePod Shiatsu Pillow has four 3D Shiatsu Massage Nodes. These gentle yet firm nodes are built with reverse function technology that allows clockwise and counterclockwise rotation for maximum comfort and customization.
The 3D nodes in this model rotate on three axes and respond forward and backward to your body to simulate the feel of real hands. The Shiatsu Pillow is medically strong and gently therapeutic and replaces the inconveniences of routine massage therapist visits with a mobile and effective alternative.
✅ PERFECT FOR THE OFFICE
Take the power of shiatsu massage anywhere you need it. Works great at the office without taking up too much space or making too much noise.
✅ POST GYM MASSAGE PILLOW
Supplement your traditional fascia release with a Shiatsu Massage Pillow. Works excellent alongside your regular foam rolling routine.
Specifications:
Description: Shiatsu Massage Pillow
Dimension: (31*25*19cm)12.2″ * 9.8″ * 7.5″
Output: 12V
Number of Nodes:4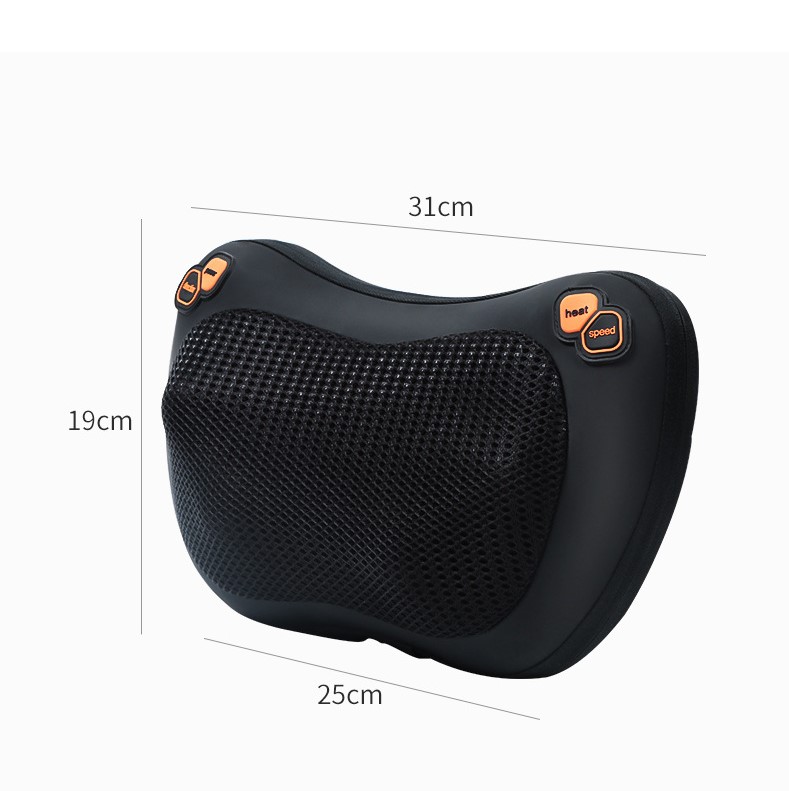 Package Includes:
1* Back Massage
1* Car adapter
1* Adapter
1* User Manual