Wrap Your Feet in Our Heated Insoles, and You Won't Have To Deal With Cold Feet Again!
Have you ever felt like winter is extra tough on your feet? When the temperature drops, our feet can take a beating. Our feet can experience pain, terrible muscle sprains, and achy joints. Increased cold exposure can stop us from truly enjoying the fun and adventures of the outdoors! *gasp!*
The good news is that there's XerxoWarm – heated insoles designed to replace every cold step with a warm, snuggly, toasty feeling. You won't have to deal with the beating of the cold anymore. With the XerxoWarm heated insoles, you can enjoy every winter without dealing with cold in every step!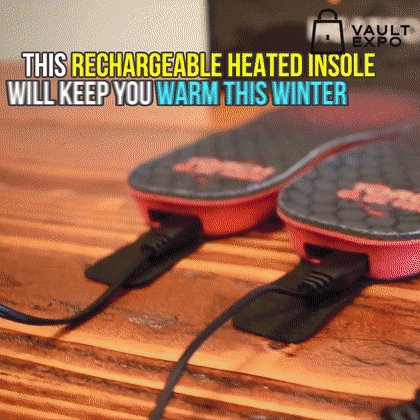 The Heated Insoles That Feature the Latest in Heating Technology
Unlike other heated insoles, our product provides heating technology that uses the safest, high-tech micro-wires and premium lithium-ion batteries with premium heat control that can efficiently melt the ice in seconds. The heated insoles also have a higher heat temperature to 100% eliminate any cold coming into your shoes.
Rechargeable Heated Insoles for Any Type of Winter Activity
Whether you're shopping outdoors or engaging in a fun winter adventure, you can use the XerxoWarm to keep you going. Not even the cold can stop you from using your feet in multiple winter activities! The fun thing about the XerxoWarm is it's not only effective in giving warmth to your feet; it's also 100% customizable, so you can efficiently place it inside your boots and shoes with ease!
The Best Heated Soles for Winter Sports
Whether you go skiing in Jackson Hole, or hitting up a local sledding hill, the XerxoWarm has got you covered! These heated soles can help you enjoy your winter activities more!
XerxoWarm Features
The heated insoles are made from high-quality materials! The XerxoWarm features soft and comfortable EVA stretch material that is light, elastic, soft sole, and has good cushioning. The heat is efficiently distributed throughout the feet to promote better blood circulation.
You can easily customize it for your boots and shoes! Worried about your size? Worry no more. The XerxoWarm has a size that can be easily be customized based on your foot size. The XerxoWarm is both for men and women. The XerxoWarm can be trimmed to fit 2 sizes – medium and large.
Heated insoles that are rechargeable! You won't have to worry about the longevity of these heated insoles. The XerxoWarm can be charged via USB. The quick charging feature of the XerxoWarm makes this a perfect pair for winter travels!
A safe and reliable choice! The mesh is conveniently connected to a leg attachment strap. You can move all you want without worrying about the heated insoles moving.
Perfect for multiple uses! The XerxoWarm is great for multiple winter sports activities. Hop into an adventure like skiing, hiking, fat biking, trekking, sledding, and so much more without worrying about getting cold feet!
XerxoWarm Specifications
Inner Sole Fabric: EVA Stretch fiber
Temperature: 40-50 degrees, depending on the environment
Voltage: 5V 2A
Size chart
M:size:4-8.5,insole length: 9.05-9.8in/230mm-250mm
L: size:7-11,insole length: 10.03-10.8in/ 255-275mm
( You can cut according to your own level of comfort and size)

Package Includes
1 pair x Rechargeable Heated Insoles
1 pc x USB Charging Cable