Fight Against Tooth Decay With The Portable Flossing Irrigator
Blast away unwanted plaque and debris stuck between your teeth and below your gum line and get a deep, thoroughly clean every day—with the Wosser Portable Flossing Irrigator Dental Cleaner.
It's your all-in-one solution to all cavity problems. It's safe and easy to use and 10X better than standard string floss. Unlike other brands that can barely remove stuff between your teeth, the Wosser Water Flosser is designed with a powerful water jet that effectively provides the recommended water pressure and pulsations to remove plaque and food debris!
Experience an easy and effective way to maintain proper teeth and gum health without heading to the dentist every time. Get your professional cleaning at home with Wosser Water Flosser!
Flush out odor-producing bacteria with the Portable Oral Irrigator, suitable for braces, implants, crowns, periodontal pockets, or regular dental hygiene. Proven to be 50% more effective than string floss when it comes to improving the health of your gums, according to the American Dental Association (ADA).
Features:
Powerful Water Jet: Delivering stable water pressure from 30-100 PSI with a pulse of 1400-1800 times per minute, the oral irrigator ensures powerful water flow to remove teeth stain, plaque, and debris between teeth and below the gumline. Guarantee to give you deep cleaning at every nook and corner of your mouth precisely, enabling fresh breath with deep and thorough teeth cleaning performance.
3 Pressure Modes: Comes with 3 adjustable modes that can be instantly switched to fit different people with different needs and preferences. Choose soft for a gentler clean, suitable for sensitive teeth and gums, normal for medium pressure, and pulse to get rid of the more stubborn debris.
2 Jet Tips: With 2 interchangeable nozzle tips, the portable oral irrigator can clean every angle precisely for improved oral teeth and gum health, perfect for anyone with braces, implants, crowns, or periodontal pockets. Ranging for everyday cleaning, removing debris and plaque, deep cleaning, and removing tongue coating for a fresher breath.
Large Volume Water Tank: Large-capacity 300ml water tank can effortlessly get through your entire cleaning routine to avoid frequent refills. Providing ample and uninterrupted oral flossing. Easy to clean detachable tank with proper internal sealed drainage design providing you a safe and convenient float experience.
Ergonomic & Waterproof Design: A streamlined handle and anti-slip particles increase more friction for a more secure and comfortable grip. A Waterproof IPX7 design allows it to be used at bath and shower and washed under water directly for cleaning and using convenience (not suggested to submerge in water for a long time).
Cordless & Rechargeable: Don't get disrupted with annoying wires, with the oral irrigator wireless and cordless design that's portable and easy to carry. With a built-in rechargeable battery for long-lasting battery life. Supports charging via USB cable with LED indicator light for a direct and clear charging status real-time monitor.
Benefits Of Wosser Water Flosser and Cleaner:
Effective Against Bleeding Gums
Perfect For Sensitive Teeth
Remove Dental Plaque
Prevent Periodontitis And Gingivitis
Stop Tooth Decay
Great For Dental Braces
Prevent Bad Breath
Prevent Yellow Teeth
How to Use:
Press the jet tip dis-assembly button.
Insert desired jet tip.
Fill the water tank.
Press the MODE button to select the mode.
Direct the jet stream at 90 degrees angle to your gingiva.
Press the ON/OFF button to start cleaning.
Turn off the device and empty the water tank after use.
Press the jet tip dis-assembly button again to remove the jet tip.
Air dry before storage.
Specifications:
Material: ABS
Color: White & Blue(As Picture Shown)
Water Tank Capacity: 300ml
Cleaning Modes: Normal, Soft, Pulse
Battery Type: Built-in Rechargeable Battery
Power: 5W
Pulse Frequency: 1400-1800times/min
Water Pressure: 30-100PSI
Waterproof Rate: IPX7
Size: Approx. 30.3*7.2cm/11.93×2.83inch
Caution:
Please make sure the tube is emerging in water in case no water comes out.
If you want to use water, mouthwash, or antibacterial rinses, please follow the suggestions of your dentist or hygienist.
Do not face your eyes when you turn on the device.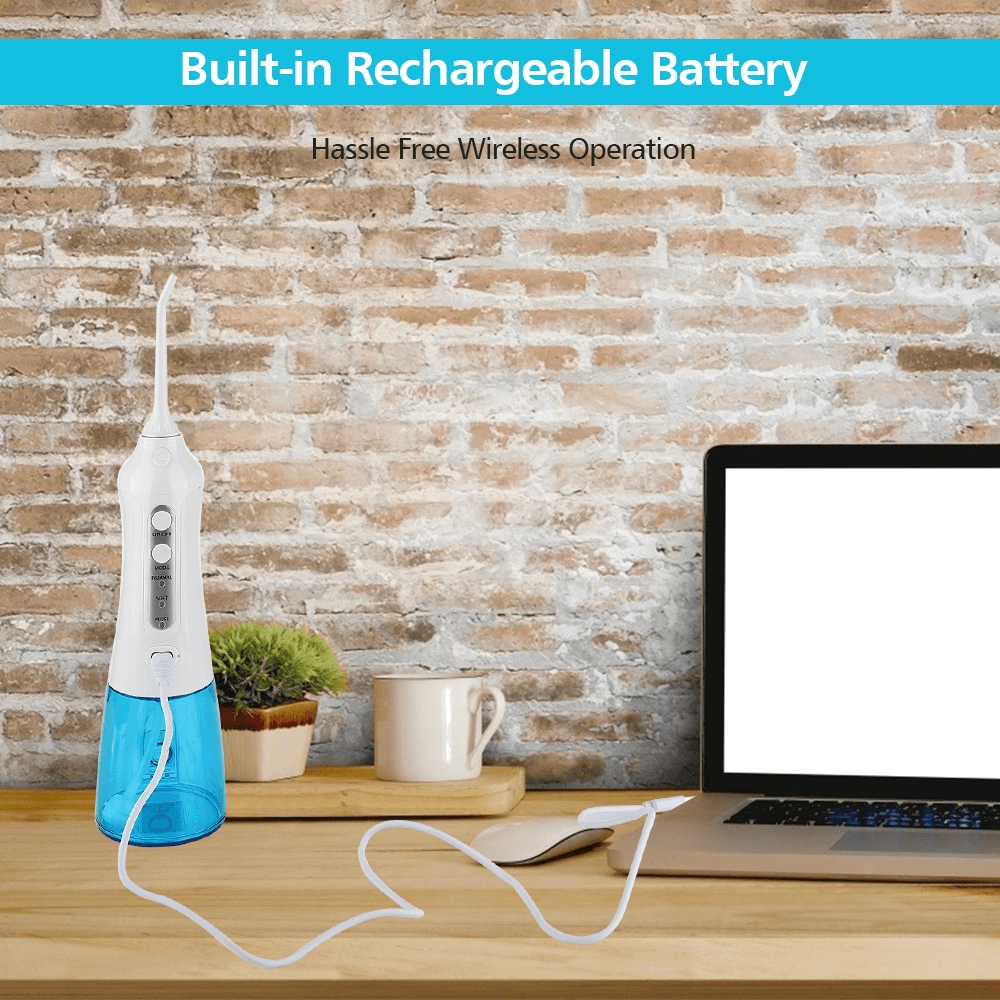 What Does The Package Include?
1 x Portable Oral Irrigator
2 x Interchangeable Nozzles Tips
1 x USB Cable
1 x User Manual