Portable Voice Recorder with Noise Reduction Feature and High Quality Speaker to Help You Record Crystal-Clear Audio for Your School, Presentations, Office Tasks, and Notes-taking
The VoizeCaz Portable Voice Recorder Comes with an Easy-to-Operate Design That Allows You to Direct Play, Repeat Recording, and Immediately Transfer Files to Computer
Are you looking for a multipurpose voice recorder that you can use for your school work, presentations, interviews, and speeches? VoiceCaz can capture your voice in the clearest way possible.
Record presentations, conversations, and important audio in a way that's free of noise with the VoiceCaz!
The VoiceCaz comes with very simple operations – the record button is easy access, and the save button is quick to see, and the play and pause button is just one press away.
This voice recorder prides itself for the crystal clear recordings that it can produce. The noise-reduction feature works excellently!
VoizCaz Voice Recorder Features
The voice recorder with automatic, voice-prompted feature – recording begins when you start speaking! It's okay if you don't press the button immediately – the voice recorder will start the recording process once you start talking, or once sound is detected.
The VoizeCaz comes with easy to operate buttons so you can access recording functions in no time. The design of the VoiceCaz features 3 buttons in front for recording and playback, and extra buttons on the side for rewind and fast forward.
With noise-reduction features to give you crystal-clear recording. Say goodbye to unnecessary noise picked up during recording. The sensitive microphone help you to catch speaker's words in an interview, lectures, meetings.
The voice recorder also has some MP3 function to help you listen to music when you're not catching some recordings. This voice recorder can be used as an MP3/music player, you could enjoy the music after your tired study, meeting and so on. Also can function as a detachable data storage device. You can take along your favorite pictures and documents whenever you go.Simply cut-and-paste or drag-and -drop files to or from it via USB connection, the player will appear as a removeable drive in Windows.
High quality and can be used for a long time. The VoizeCaz uses DSP noise reduction technology to filter out environmental noise, has high-quality recording, It can continuously record for more than 30 hours and play for 7 hours.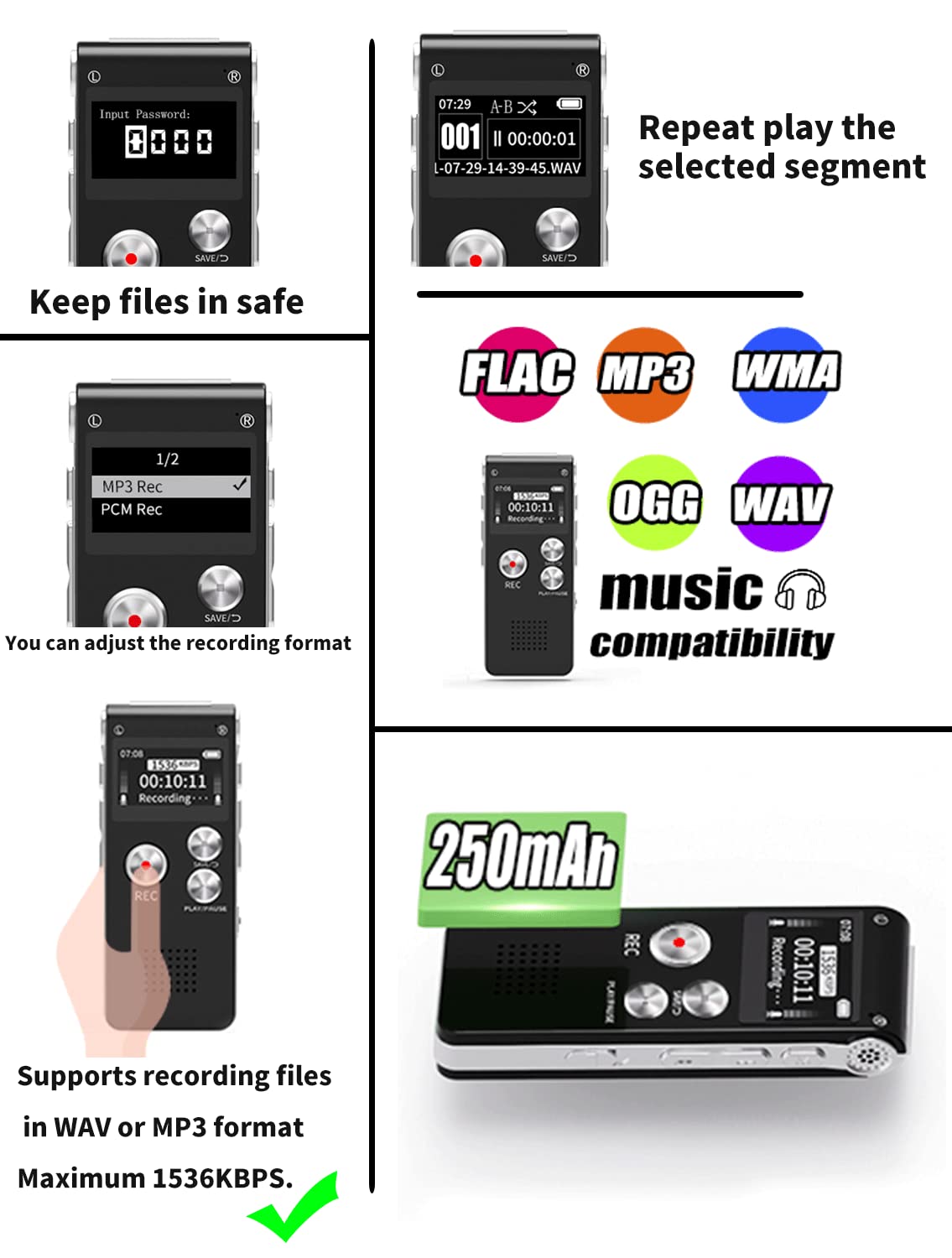 Specifications
Battery Capacity: 250 mAh
Dimensions: 3.3×1.38×0.55 in
Product Weight: 35g
Material: Metal/ABS
What you get
1x Recorder
1x USB Data Cable
1x User Manual