Karaoke Wherever You Want with the VoiceVerb High-Quality Karaoke Microphone with Seamless Voice Pick-up and Projection, Improved Bluetooth Connectivity, and Better Durability
The Multipurpose Karaoke Microphone That Delivers Voice and Sounds Seamlessly
Do you love karaoke?
Do you love singing your heart out alone, or with friends? Are you looking for a karaoke microphone that will bring this type of entertainment to you wherever you are?
Introducing the VoiceVerb – the latest best-selling karaoke microphone with condenser pick-up that allows you to sing your favorite songs without straining too much.
With improved Bluetooth connectivity, this karaoke mic can blast off sounds without the raspy, jumpy sounds. The VoiceVerb can now be easily connected to devices such as cellular phones, laptops, and even tablets.
With better durability, this karaoke microphone can give you fun for a long, long time.
The VoiceVerb is For You If…
💃 You're looking for a high-quality karaoke mic with good connectivity. The Bluetooth technology of the VoiceVerb features seamless connectivity with almost any device. You won't have to deal with choppy, jumpy sounds anymore.
💃 You prefer karaoke microphones that pick up voices properly. Tired of all the handy microphones that don't work well unless you put your mouth close to it? VoiceVerb is the answer. It has a high voice pick-up condenser design to help you sing your heart out without getting the mic too close.
💃 You want a microphone that projects voice clearly, without static and feedback. Nothing is more disappointing than singing and hearing static. This karaoke microphone blasts out sound smoothly.
💃 You are looking for a durable karaoke microphone. It's a common problem for karaoke microphone users to have broken mics just after a few days. The durable build of the VoiceVerb ensures you can use it for a long time
💃 You want a karaoke microphone that allows sound customization. You can easily adjust the volume and echo quality of the music and microphone.
💃 You want to go for a long-lasting battery karaoke microphone. The VoiceVerb can last up to 4 hours when fully charged.
💃 You're all for a multipurpose microphone you can use for many events. This mic isn't only for singing; you can also use it as a handy mic for events or for meetings.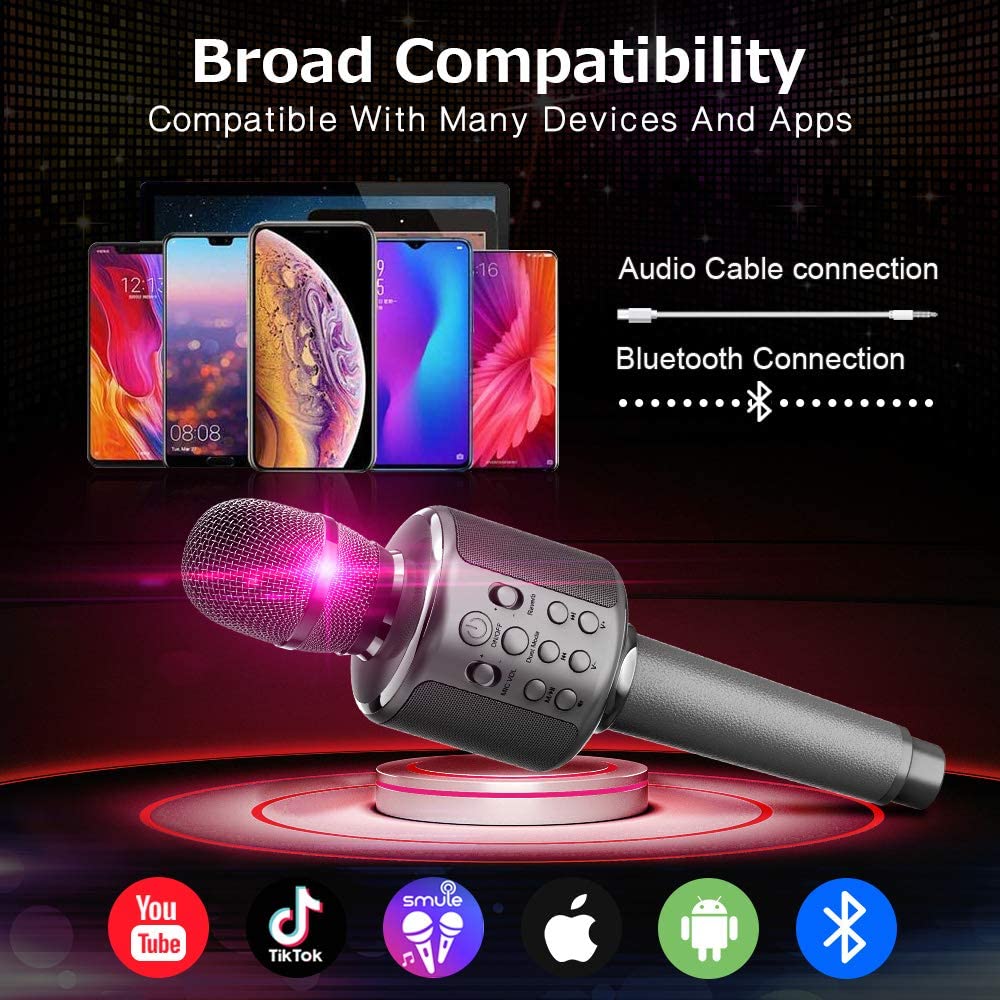 Improved Bluetooth connectivity.
The connectivity features of the VoiceVerb now come with better frequency from Bluetooth 5.0. Enjoy seamless connection even if you're 10 meters away.
Connects well with Android and IOS devices. 
You can easily use the VoiceVerb with your Iphones, Ipads, tablets, laptops, and personal computers.
Superior clear sound (no crackling or popping static sound!) with its Bluetooth speaker.
The built-in louder speaker of the VoiceVerb has a 3-layer filter to avoid crackling or popping sounds. This feature allows you to hear perfectly clear sound, crisp high tones, and supreme sound output.
Extra-long working time with this battery-powered speaker.
The VoiceVerb has a built-in 1800mah rechargeable lithium battery, which supports music playing for 5-6 hours. This battery longevity allows you to enjoy singing for a long time and make your own mini KTV anywhere.
Adjustable features for echo and volume. 
Not a fan of too much echoing? The VoiceVerb is for you. The mic now comes with a controller for echo so you won't have to deal with singing with reverberating sounds.
Powerful condenser microphone picks up voice well. 
The condenser microphone that comes with this karaoke mic picks up sound clearly even if your mouth is 4-6 inches away from the receiver.
Specification
Maximum output power: 5W
Battery capacity: 1800mAh
Signal-to-noise ratio:≧90db
Distortion:≦1%
Speaker specifications: 500mm 4Ω 5W
Channel: Stereo
Bluetooth version: Bluetooth5.0
Pickup: Condenser
Charging voltage: DC-5V 500mAh
Charging time: 3±0.5 hours
Maximum sound pressure:>115db 1KHzTBH<1%
Frequency effect: 100Hz-10KHz
Size: about 284*77*77mm
Packcage Include
1*karaoke microphone
1*recording line
1*Charging Cable
1*sponge cover
1*manual
1*Bag