Your Extra Pair of Eyes for the Road
Is your regular rearview mirror not reliable enough to help you navigate the road effectively? Unclear road reflections are one of the top reasons for vehicular accidents. When your vision of the road feels limited, investing in a great backup camera that can expand the way you see the road. The ViewDex is created for this very purpose – to provide drivers with a wider range of vision to increase their driving efficiency and safety.
Is My Rearview Mirror Not Enough?
Although rearview mirrors have been of great help to people through the years, roads have become wider. Traffic situations have become tougher. The rearview mirror you have on your car now may not be able to give you a full grasp of what you need to see. Having a backup camera like ViewDex can save you from danger and from the hassle that comes with broken cars.
ViewDex Features
The ViewDex features a 4″ TFT-LCD display powered by an ultra-clear lens to give you a view that delivers up to 33ft of vision.
Includes 170° Wide-Angle and 6 Layer-Lens. You will never have to worry about vehicles in your blind spot anymore! This car backup camera features a 170 wide-angle lens which allows a larger viewing angle to be recorded. The 6 layer lens ensures that you never miss any details and brings a better visual experience.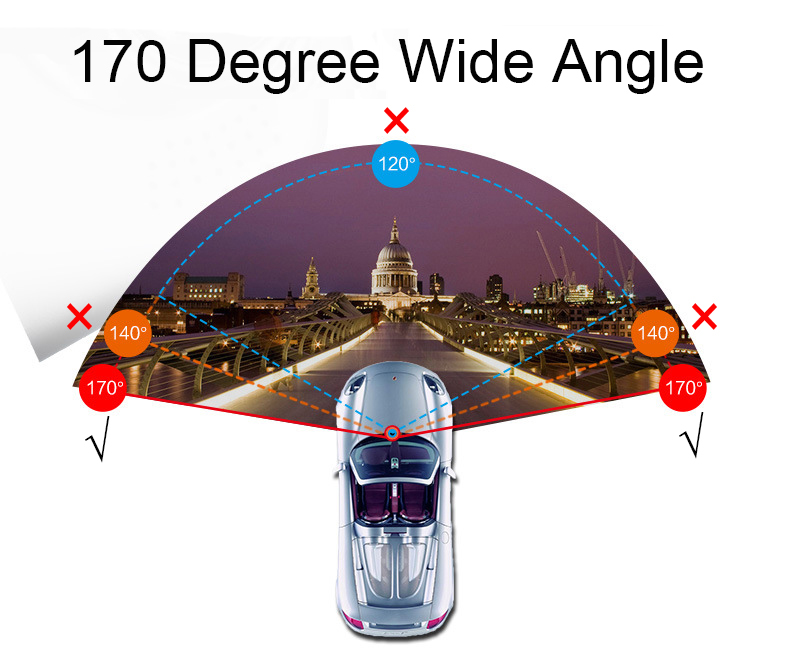 Comes with a G-sensor to hold the most important shots. With the Built-in G sensor, ViewDex detects a sudden shake/collision and automatically locks the footage to prevent the video from being overwritten even in loop recording. This makes it an ideal security camera for cars.
Comes with loop recording. This wireless car camera features a loop recording so when the SD card is full it automatically deletes the oldest files and replaces it with new ones, providing automatic and continuous playback. Its auto-backup feature makes it all the more convenient.
TF card not included.If necessary,please purchase separately

WDR(Wide Dynamic Range)+HDR(High Dynamic Range.) ViewDex offers optimum clarity for every drive. HDR improves image quality with better contrast, greater brightness, and enhances the colors. The wide dynamic range processes images to ensure clear and balanced recordings in bright and dark light, ensuring you never miss any detail even at night or low light conditions.
Easy to Set Up. This vehicle recording system features an anti-glare glass, widescreen, user-friendly interface, and simple device over your existing rearview mirror and plugs into the car's cigarette lighter.
Comes with a Parking Guard Feature. With parking mode enabled, the device automatically turns on and records the footage if there are any impacts on the vehicle.
Package Include
1x 4 inch Dash Cam
1x 1080P Backup Camera
1x Car Charger
1x User Manual