Safety on the Road with the ViaVad Wireless Tire Pressure Monitor System
The creators of ViaVad has elevated the tire pressure monitoring game. An integral part of road safety, the ViaVad is equipped with more accurate sensors with increased tire pressure sensitivity. Quick to detect issues and clear in sending the signals to you, ViaVad redefines what it means to be extra safe on the road.
The ViaVad is created with various drivers in mind. You don't need to compromise safety – or spend thousands of bucks on car maintenance – the ViaVad has got you covered.
ViaVad Features:
Comes with 5 alarm modes – never miss tire issues again. The ViaVad can send alarm signals based on the following issues – fast leak, high temperature, high and low pressure, and sensor low voltage. This ensures you that you won't miss any problem that might be harmful for you or your car.
Get real-time alarms! The device sends you quick alarms in real-time so you won't have to be clueless about what's going on with your tires.
Lets drivers adjust values for tire pressure and temperature alarms. ViaVad is versatile. Since not all tires have the same tire pressure requirements, you can adjust the TPMS sensor values based on what is correct for your car.
Includes a reliable LED screen display box that lets you see signals easily. Apart from alarms, the ViaVad also comes with an LED screen display that reflects the values that might be causing issues to your car. The display box comes with adjustable features so you can ensure you can always see the crucial values.
Great for long drives! ViaVad consumes low power, thus, it can last up to hundreds of hours. The sensor system is really ideal if you're going for long drives!
Can be used for all types of vehicles. ViaVad caters to sedans, SUVs, RV rides, and even big trucks!
An affordable precautionary device! When tire issues go unnoticed, there's a high chance of you running into major car problems. ViaVad is an affordable way of saving yourself from expensive car repairs!
Specifications:
Working pressure 0 -116 psi / 0 -8 bar
Pressure accuracy plus or minus 1.5 psi
Transmission frequency 433.92MHz
Working voltage 2.0 – 3.6V
Waterproof grade IP67
Battery built-in 700mAh Li-ion battery
Operating voltage DC 5V (USB cable)
RF transmission frequency 433.92MHz
Pressure unit psi/bar
Temperature unit Deg.C / Deg.F
Size about 8.5x9x2.6cm/3.34×3.54×1.02
Function Real-time monitoring of tire pressure, High-temperature alarm, Low battery alarm, Low tire pressure alarm, Tire pressure high alarm, Air leak alarm, Sensor-update data
Fitment:
Suitable for most six-wheeled RV, light truck, truck, trailer, etc.
It can also be applied to ordinary four-wheel sedans and SUVs, Only 4 sensors need to be installed!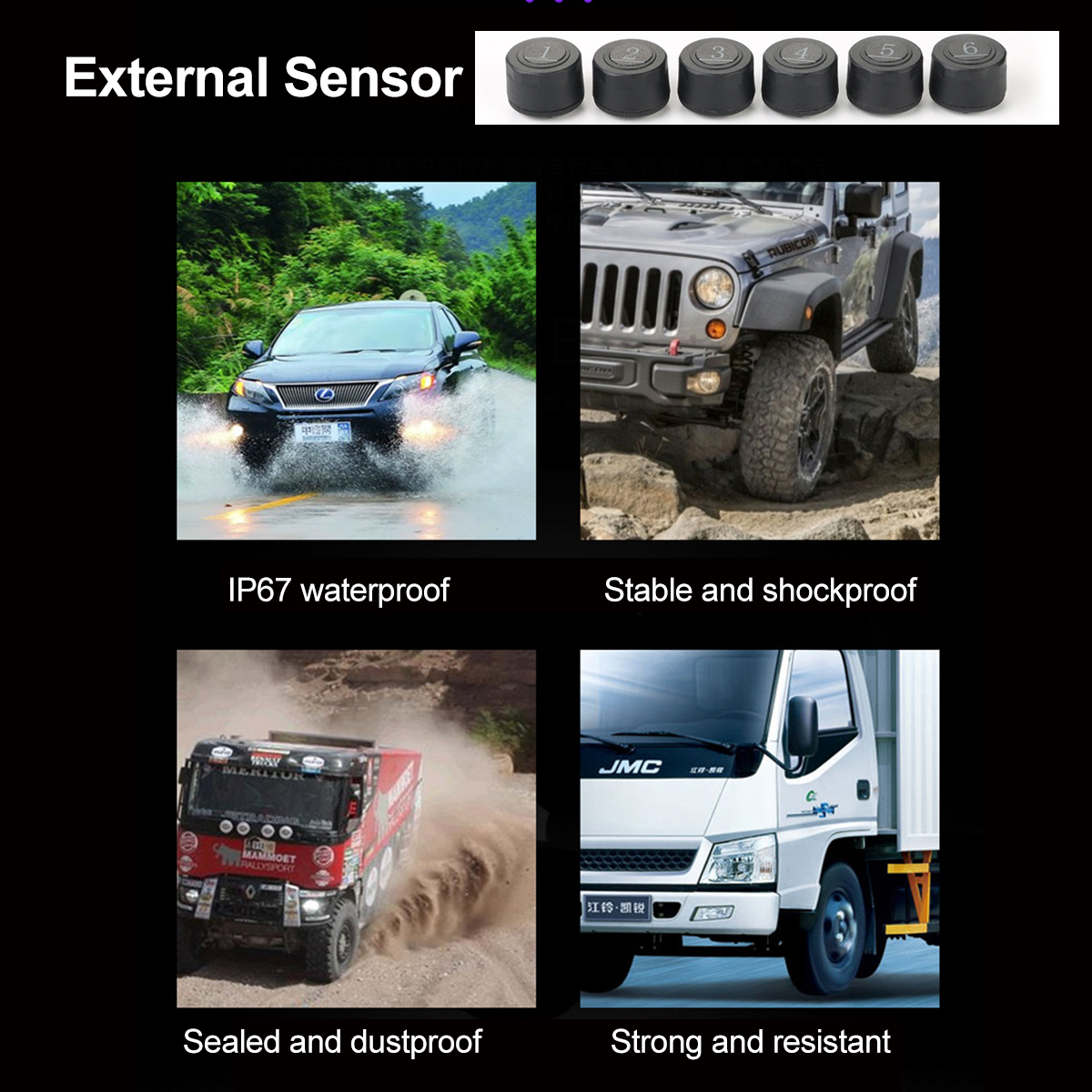 Package Included:
1 x TPMS
6 x External Sensor
6 x Nuts
1 x USB Cable
1 x Wrench
1 x User Manual