Feel the Rush – without the Blast – With TyrGex
Are you done squatting in and endlessly checking the quality of your tires before your motorcycle trip? Do you want to avoid the dangerous accidents caused by tires exploding while you're on your ride? Introducing TyrGex – your partner in keeping your motorcycle tires ready for the road!
TyrGex comes with the latest in motorcycle TPMS technology – high-sensitivity sensors, durable LED screen for details, and the stable design that makes sensors stick to the wheels no matter how fast your ride goes.
Features
Comes with 7 Alarm Modes. The TyrGex sends out 7 alarms including quick leak alarm, high/low pressure alarm, high temperature alarm, battery alarm and sensor failure alarm.
Safely DIY Values. Do you feel that the standard values don't work for you? You can freely set the pressure and temperature alarm value based on your motorcycle's needs.
Easy Charging Method. The TyrGex can have various power supplies. The sun can supply power to the built-in lithium battery, and can carry out solar wireless charging and magnetic charging, so there is no need to worry about the problem of being unable to charge without power.
Versatile! Universally applicable to two-wheeled vehicles, such as motorcycles, bicycles, electric vehicles and other two-wheeled vehicles.
Improved Detection System. The TyrGex uses advanced smart chips to make data more accurate and timely, and to prevent emergencies on time. The wireless sensing technology allows data to be transmitted in real time, with strong received signals, no interference, and higher stability . Whenever the tire pressure or temperature is found to be abnormal, the monitor will quickly issue an alarm to warn the driver.
Durable and Can Take Impact! High-quality materials make TPMS have the advantages of high sealing performance. The sensors are made to be waterproof and moisture-proof, and can work well in all different areas under any conditions and terrain. 
Sends Alarms and Signals in Real-time. Real-time monitoring of all tire pressure and temperature to help improve fuel efficiency, extend tire life, and ensure driver safety.
Make Your Riding Safety Like Never Before
By giving you real time audible and visible feedback on the tyre's current pressure and temperature, this safety system helps you avoid life-threatening accidents. You will be alerted immediately if they are overheated, punctured or have a slow leak.
Trusted Technology
Most contemporary cars already include a system like TyrGex. In some countries, this is a legal requirement for all motor vehicles. As you probably know, tire pressure is a lot more important for a motorcycle than for a car. Some newer, higher-end bikes have built-in tire systems. But in case your bike doesn't have one TyrGex is the best choice  to make for your ride.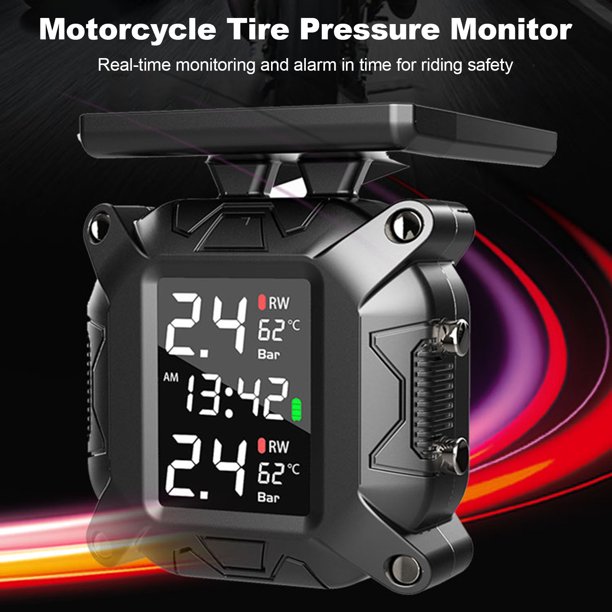 Prevent accidents
Optimal tire pressure is the most critical at where the rubber meets the road; for better braking distance and road grip. TyrGex Safety System is the most effective device to know that you have the optimal tire pressure while you are riding.
Avoid the hassle
As a Biker You Know That to Check the Pressure on Your Motorcycle Can Be a Pain. Avoid bending down and reaching under your saddlebags to get to the valve stem. TyrGex makes the process much simpler and means it's less likely that you'll forget to check your pressure.
Quick & Easy to install
The installation makes It even more amazing. TyrGex can be installed on any motorcycle. No additional installation costs or special tools at required! Just mount the monitor and attach the sensors on the wheels.

The universal design allows it to be fitted to 99% of motorcycles. TyrGex' modern design comes with magnetic charging system and  fully water and weather proof with wireless transmission technology and no need to connect with power supply, so don't worry if you ride frequently in all types of weather.
Specifications:
Host
Working voltage:5V
Storage temperature:-30°-90°
Working temperature:-20°-80°
Display method:LCD
External sensor
Sensor pressure :0-3.5BAR
Working temperature:-30~70℃
Storage temperature:-35~85°
Frequency:433.92MHz
Waterproof rate:IP67
Pressure :0-8Bar
Transmission power:<10 dbm
Transmission frequency:433.92MHZ
Weight:263g
Package list:
1*Host
2*External sensor
1*USB cable