Why should you buy a neck massager?
Persistent neck and shoulder pain that can trigger dizziness, fatigue, and insomnia – things that will always hinder you from getting things done. When this always happens, getting massage therapy, going to spas and parlors will be too expensive. We totally understand what you are going through and want what is best for you; this is why we introduce TruRest. It is a neck massager that relieves your stiff and sore neck from pain and lets you experience the real meaning of rest and relaxation.
Created with an award-winning design, TruRest will surely provide the soothing massage you need. It also saves money and time because you don't have to go through those costly massages all the time. Furthermore, its effectiveness is guaranteed and will heal those stiff necks and sore shoulders instantly!
Why Do People Love It?
Relieves Pain, Stiffness, and Stress
Improve Blood Circulation
Portable – Use Anytime, Anywhere
Relieve Soreness Easily in 15 mins
Universal Fit
Long-Lasting Battery and Quick Charging
Benefits and Features:
Alleviates mild to moderate neck and shoulder pain and inflammation-  TruRest is a pain relief tool that provides relaxation therapy. It simulates a real human massage to help relieve neck soreness, shoulder tension, body tension and promote blood circulation.
Relaxes the mind and relieves stress- Through low-voltage pulse technology, it penetrates the skin to reach your pain points and ease the pain and tension around your spine.
Designed and engineered to put just enough pressure- 15 levels of intensity to meet your different massage needs, providing the best experience tailored to you. Just select the buttons on the remote to choose the mode and intensity that suits you. (The intensity restores to level 0 when the mode is changed)
3 massage modes and 15 intensity levels: 
Massage mode

Acupuncture 

Heat Therapy
Rechargeable and cordless.- Comes with a USB cord for charging and a 900Ah battery. Once fully charged, provides up to 2 hours or 20 massage sessions(15 minutes per session).
Your safety is our priority- Our TruRest Pulse & Heat Neck Massager has passed compliance with the US Food and Drug Administration (FDA) Regulation.
**If you have a Pacemaker / implantable electronic device or metal implants in the neck area, we apologize, but you can not use this. **
Do you have neck pain that's interfering with your work? 
Many people feel neck pain after a long day of work. Our neck massager can help to relieve pain in the neck and shoulders. If you're stressed or need to unwind, our heat and pulsing neck massager will help you relax. 
Now you can benefit from the unique combination of heating, acupuncture, and electro-stimulation, which can help you reduce stress and tension. You can also take it with you anywhere you go or use it while resting in the comfort of your home! Use it anytime and anywhere!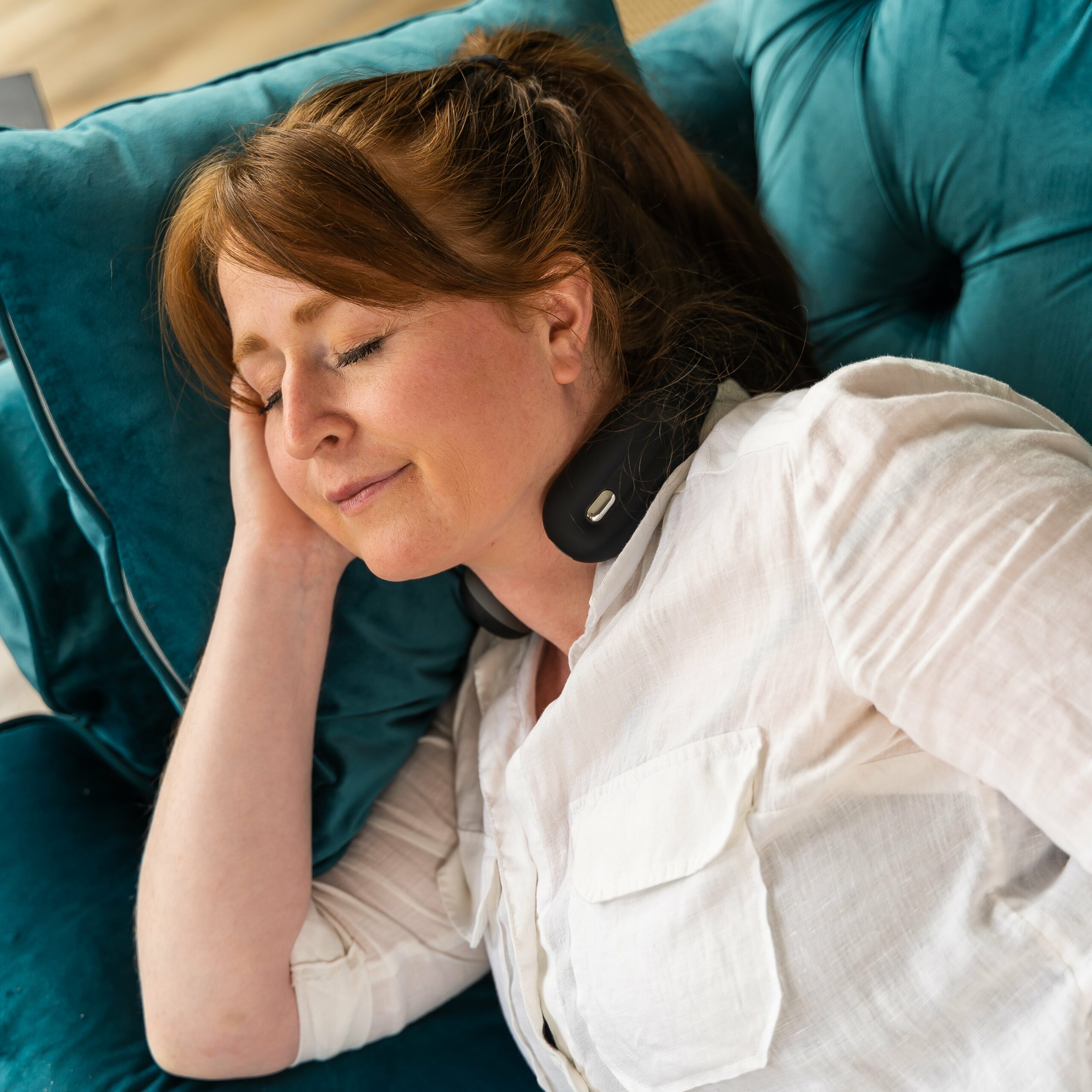 TruRest is a pain relief tool and provides relaxation therapy, simulates a real human massage to help relieve neck soreness, shoulder tension, body tension,  and promote blood circulation.
Through low-cycle pulse technology, it penetrates the skin to reach your pain points and ease the pain around your spine.
Our neck massager provides a constant temperature massage. The heating function reaches 107°F (41° C), relaxes muscles, accelerates blood circulation, and can help relieve neck pain.
FAQ
Will it fit my neck?
The adjustable metal patches and silicon material that the massage is made out of will conform to any neck size.
Can I carry this on the airplane?
Yes, absolutely! Also, it's a perfect way to relax your neck when you're on a plane.
What is the cause of some tingling when using the massager?
The reason for tingling is because when your skin is dry, the massager is not totally on your skin. You can dampen your skin before putting the massager on and that will help create the bond between the metal patches and your skin.
Is there a heat-only mode?
Yes, turn the intensity to the lowest setting after pressing the power button. Then press the heat only function.
Does it vibrate or only give TENS-style pulse massage?
This massager doesn't vibrate. It uses TENS pulse with heat.
Do I need to dampen my neck before using the massager?
If you have dry skin, we recommend dampening your neck before the massage to improve the experience.  Alternatively, use a water base cream instead of water.
Product Size:
Package Includes:
USB Electric Pulse Heat Smart Cordless Neck Massager

USB Charger

Remote Control

User Manual