Provide You With Long-lost Peace and Comfort
Do you have difficulty sleeping at night? Do your ears hurt when you fly? Do you attend noisy events or study research? Are you annoyed by the noisy environment?
If you answered yes to any of these questions, then this sleep headphones for work would definitely help you.
Bluetooth 5.2: 10 meters connection is stable. High compatibility, as long as mobile phones, , computers and other devices have Bluetooth function, they can almost be paired and used.
360° surround sound: 10MM titanium-coated diaphragm. The built-in high-sensitivity microphone enables binaural high-definition calls, efficiently recognizes human voices, and intelligently reduces noise.
Super HIFI Sound Performance – The Bluetooth headphones have built-in HD Microphones. And noise-canceling technology reduced the outside noise. You can enjoy amazing sound quality with superb deep bass and clear treble without a hitch
Comfortable to wear: Made of silicone material, ergonomic structure, the curved surface fits naturally, and it is not painful to wear for a long time. The triangle is stable, and the movement is not easy to fall.
Automatic pairing: The earphones are automatically paired when they are taken out of the battery compartment, whether single pair or left and right earphones can be paired automatically. Small size, portable and easy to carry.
Long-lasting battery life: The headset can listen to songs continuously for about 7 hours at a time, the charging time is about 1.5 hours, and the battery life is 24 hours. Intelligent power display, control the power at any time.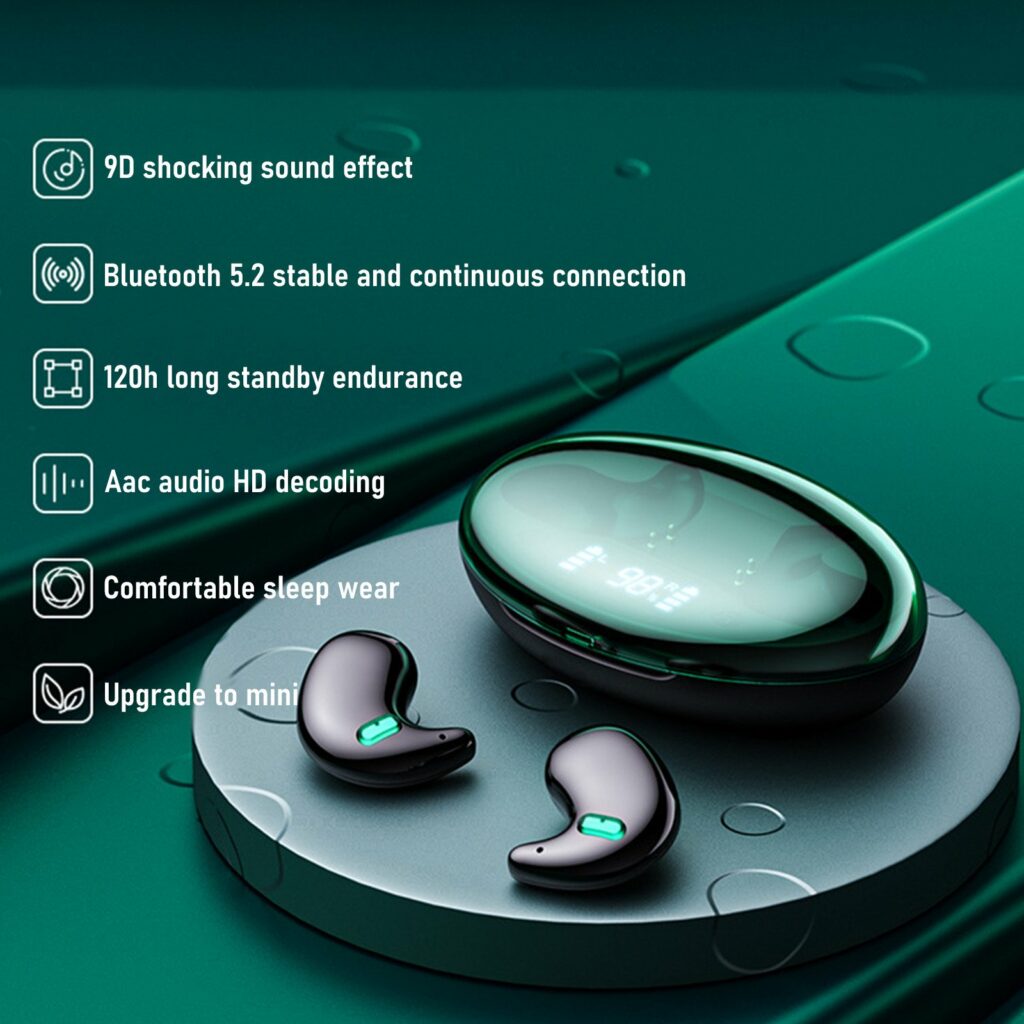 Find the Sleep Headphones That Suit You, Start Here
This sleep headphones noise cancelling are specifically designed for light sleepers. They're not only beneficial to drown out snoring sound to improve sleeping quality but also good for working, motorcycle riding reduces wind noise, flying relieves pressure, musicians, concerts, meditation, study and focus, drummers, sporting events, tinnitus relief or anyone with noise sensory sensitivity.
Specifictions
Bluetooth version: 5.2
Playback duration: about 7 hours
Charging time: about 1.5 hours
Standby time: 120 hour
Transmission distance: ≥ 10m
Frequency range: 20Hz-20KHz
Earphone battery: 300mAh /3.7v
Horn size: 10.6mm
Channel: bilateral stereo
Functions: noise reduction, call function, voice control
Earphone Net weight:27g/0.06 lb
Gross weight:152g/ 0.34 lb
Package Include:
1 x Sleep Headphones With Noise Cancelling
1 x Charge cable
1 x Use manual