Bring a galaxy indoors! 360 Galaxy Projector Light instantly projects a beautiful scene of drifting stars across any room. The nebula cloud behind the stars creates an out-of-this-world glow vibe. Relax as you travel space from the comfort of your own homes.  Simple button controls make it easy to cycle through light effects, adjust brightness, turn on sounds or start/stop the motion.
Light Up Your Life
Remember visiting the planetarium as a kid? Bring back that priceless nostalgia with your own watery ocean-atmosphere and the golden glow of moving stars. This time, they're all around you – and they're right in your living room. Enjoy four inspiring lighting modes to drench your walls and ceilings with captivating combos of blue, red, green, and white. Mesmerize every guest with solid or multicolored ocean wave lighting effects, with star lights that project a field of drifting stars (just like the ones in real life).
Control Your Constellations, Your Way
Simply connect your phone via Bluetooth, or plug your USB flash drive into the port to combine our constellation creations with your favorite tunes. Set the scene and take your light show to the next level! Sit back, relax, and feel the stress of the day melt away as you immerse yourself in the starry scene that surrounds you. Change things up in a heartbeat with your remote control (included). Adjust volume, mode, and more – and set timers for automated intergalactic bliss.
Light Therapy
It`s a way to treat the seasonal affective disorder (SAD) and certain other conditions by exposure to artificial light. SAD is a type of depression that occurs at a certain time each year, usually in the fall or winter.
Why The 360 Galaxy Projector Light?
• It puts kids to sleep (so you can put your feet up with a glass of wine)
• It's budget-friendly
• Create a nostalgic and inspiring atmosphere in any room of the home
• Experiment with 10 x lighting modes
• It's incurably romantic (private lighting and music show? Yes please!)

Great Gift For Famliy & Children
Star projector night light is suitable for birthday, party, room decor, children's day, Christmas, Anniversary gifts.

Nebula projector creates a wonderful and starry atmosphere to help children stimulate their curiosity, imagination, and creativity.

This star night light also helps kids overcome the dark to fall asleep. Perfect for indoor decoration as a romantic mood light, night lamp and bedside lamp.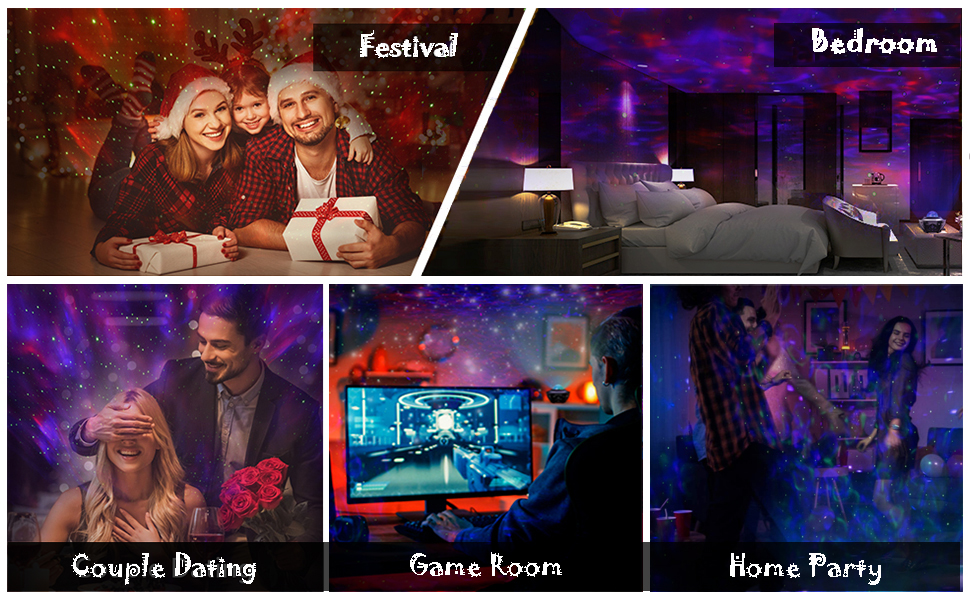 Specifications
⦁ 360 ° rotating dynamic projection with 10 colors, LED stars, and dozens of lighting modes
⦁ Universal USB input (mobile power, computer, mobile phone adapter)
⦁ Remote Control
⦁ Input: 110-220V
Your Package Contains
1 x 360 Galaxy Projector Light
1 x Remote Control
1 x User Manual