Let Soothing Music Lull You to Sleep with Sleep Headphones That Don't Get in the Way
SlumbaSound Sleep headphones are created to be the solution for people who want to block out sounds, and fall asleep to soothing, relaxing music.
Listening to your best music picks is easier, stress-free, and more convenient with our ultra-slim, soft, and comfortable sleep "headphones in a headband." Ideal for sleeping, relaxing, traveling, sports, and other activities.
Sleep Headphones That Don't Fall Off or Bring Discomfort
The SlumbaSound sleep headphones are extremely comfortable for sleepers of all types — side, back, stomach, you name it. They come with a clinging, snug fit that doesn't feel too tight. You won't have to worry about audio devices that fall off or too bulky for comfort!
Thin HD Speakers Underneath the Band
The headphone headband has two ultrathin, flat speakers that are placed under foam, so you can hear them but can't feel them.
SlumbaSleep Key Features:
Enjoy Music: Based on extensive research and improvements, the Bluetooth sleep headphones feature HD stereo sound with no sound quality loss, enjoy your music while running, sleeping, yoga, and other sports

Long time playing: Sleeping headphones built-in 150mAh high-performance battery takes about 2 hours to charge and provides up to 10 hours of playback time Without Low Battery Alert to wake you up in the middle of the night

Adjustable Speak: Both speakers are not fixed, you can adjust the position of the speakers to near ears

Adjustable Size: The size of these sleep headphones properly fits most people's head size

Advanced Bluetooth Module: Updated Bluetooth technology, stable connectivity, and smooth transmission in high speed and long distance with low consumption for a great stereo sound experience
"I'm not exaggerating when I say that these sleep headphones have completely transformed my life. I have a lot of trouble sleeping, and using these headphones to listen to audiobooks has helped me sleep better than any prescription or treatment has. They're quite effective, pleasant, and increase the quality of my sleep significantly!"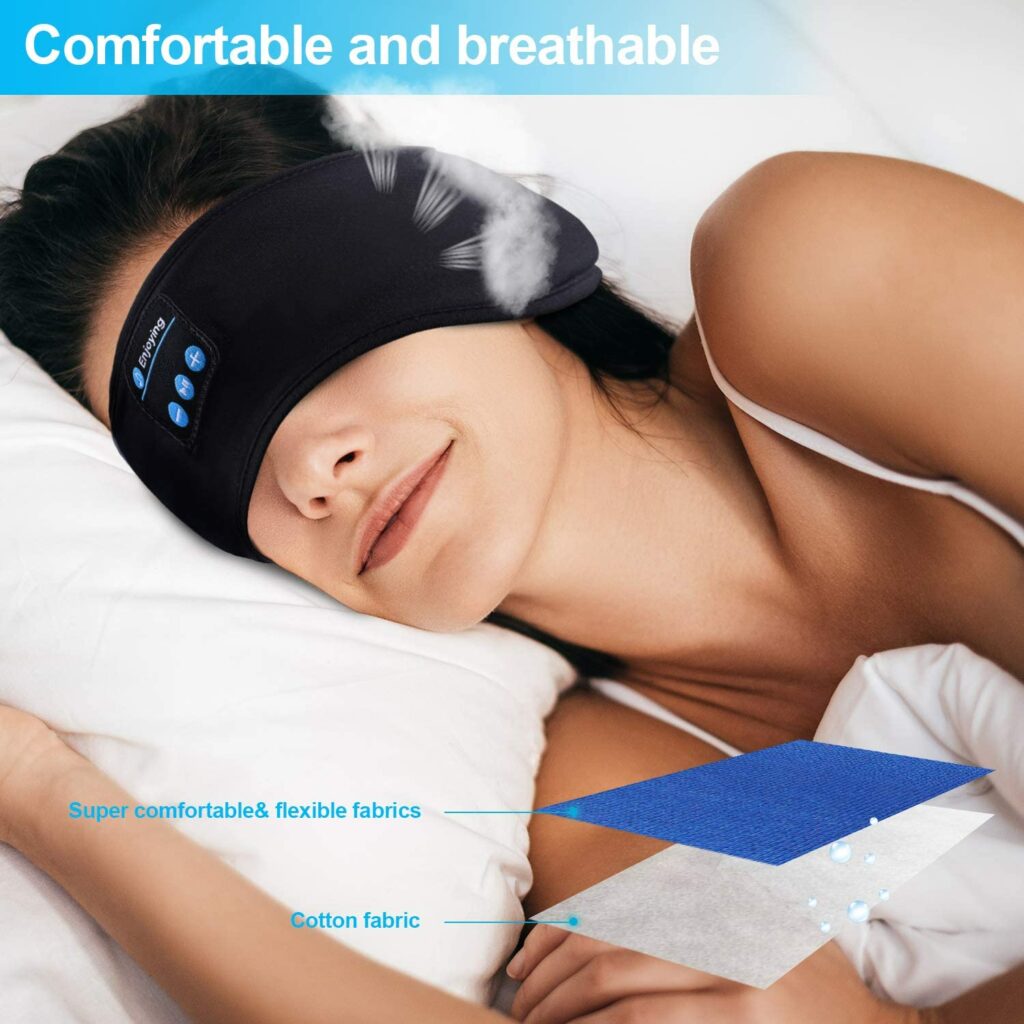 Specifications:
Material: Talon
Bluetooth version: 5.0
Bluetooth transmission distance: 10 meters
Headphone channel: Stereo (2.0)
Music playback time: 7H at maximum sound, 10 hours at medium volume
Microphone distance: 1 meter
Bluetooth standby time: 72H
Battery capacity: 150ma/h
Battery power: 0.55W
Speaker Impedance: 32 ohms
Speaker power: 0.02W
Frequency range: 2.4-2.4835GHz
Sensitivity: 45db
Transmit power: 6dB
Audio output distortion: 0.6%
Audio output signal-to-noise ratio: 93dB
Charging time: 1-2 hours
Maximum input voltage: DC 5V
Weight: 80g
Size: 27cm*10cm(10.6*3.9in)
Package Includes:
1 x Sleep Headphones
1 x USB Cable
1 x User Manual