The Best Sleep Training Kids Alarm Clock with Adjustable Lights and Sounds,

Sleep Training and Time Management is Now Made Easier for Kids and Parents with the ShoozeMush Kids Alarm Clock!
ShoozeMush is one of the cutest, kid-friendly alarm clocks for your little bubs. Whether you are sleep training or teaching your kids time management, the ShoozeMush can help you with its adorable features that captivate kids, and easy-to-use programming that impresses parents!
The ShoozeMush gives parents the much-needed time freedom to do other things. With its fascinating design and lights, kids will become more drawn to nap time and sleeping time. Even activities that include doing homework, playtime, and screentime can now be properly monitored, ensuring that kids are using their time wisely, and parents are getting more time to get other stuff done.
The ShoozeMush Kids Alarm Clock is for you if… 
🌟 You're looking for an alarm clock that will spark your child's interest. The adorable design for the ShoozeMush is guaranteed to capture your child's attention. They will be eager to follow time schedules for sleeping, waking up, and for doing other activities.
🌟 You want an alarm clock with lights and sounds that are perfect for sleep training. The ShoozeMush comes with customizable lights and sounds that are compatible with training kids for different sleeping schedules.
🌟 You prefer an alarm clock that you can use for other activities. Not only a clock for sleep training – this kids alarm clock can also help kids time management when doing other daily activities.
🌟 You want to teach time management to your kids so you can also win back your time. Take back your time, mom and dad. This kids alarm clock teaches kids to stay on a task. You can do your other tasks while your kids are busy with theirs.
🌟 You want an alarm clock that's easy overall. No more complicated programming and alarms and sounds running off on random times. The ShoozeMush is so easy to set/
ShoozeMush Kids Alarm Clock for Sleep Training Features
Make sleep training and time management routines easy for you and your kids with the ShoozeMush kids alarm clock. Here are some of the features you will be getting from this adorable alarm clock.
The Kids Alarm Clock That's Made for Children – The Design Will Captivate Them!
The ShoozeMush comes with an adorable, cutesy design that will truly catch your child's attention. Unlike regular alarm clocks, the ShoozeMush is something your kids will keep close to them.
With Adjustable, Customizable Night Lights to Help Kids with Sleep Training
Are your kids still not able to tell time? No worries. With the ShoozeMush, you can use the night lights to match to help kids stick to the routines.  The lights are adjustable when it comes to brightness.
There are 5 colors to choose from which you can use to color code the time connected to sleeping, napping, waking up, and doing other activities. No more endless convincing that it's time to go to bed or do their tasks. The clock will do the job!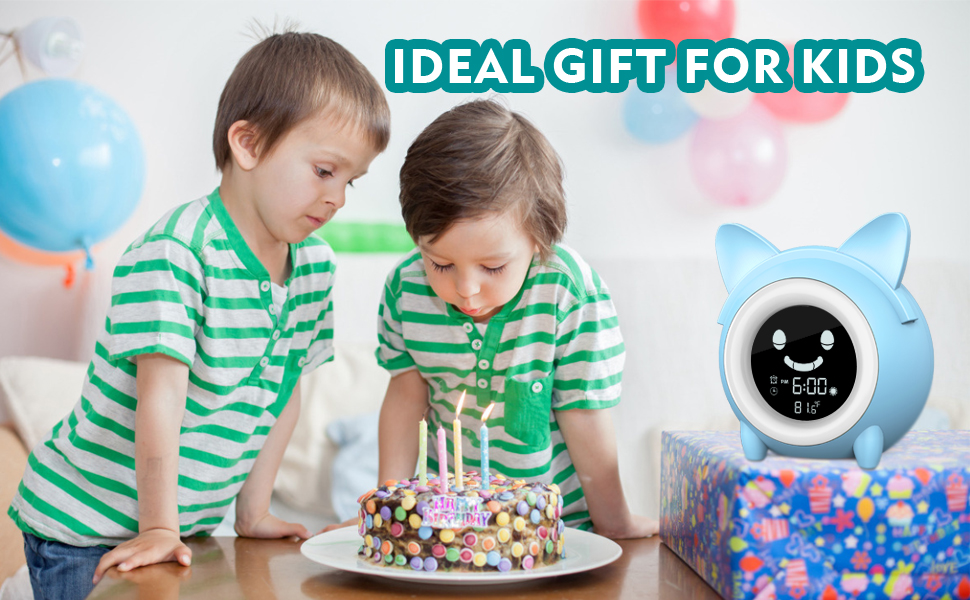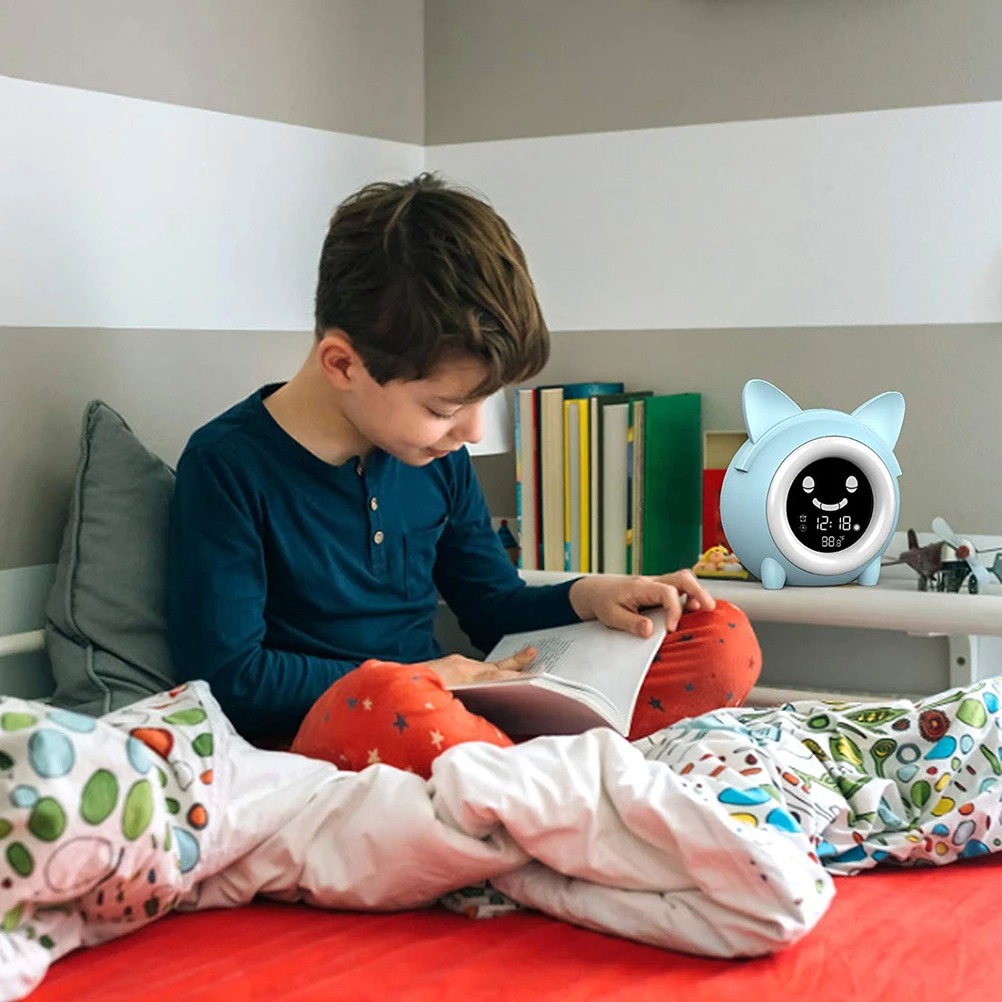 Comes with 5 Gentle, Kid-friendly Alarm Sounds to Choose From
Say goodbye to intrusive alarm sounds that leave your kids grumpy after waking up. The ShoozeMush comes with 5 customizable alarm sounds that play delightful melodies to wake your kids up.
Just like the LED night lights, you can also use these sounds to tell kids it's time to take a nap, sleep, wake up, or start doing their activities.
Easy Programming with Pre-set Alarms
Parents can set the alarm easily according to their preferences. The kids alarm clock comes with a lock button so kids won't be able to mess up with the time you have set.
You can also choose pre-set alarms and timers for other activities.
Durable Kids Alarm Clock with Compact Buttons
You won't have to worry about kids alarm clock breaking down just after a few uses. This alarm clock may look cute, but it comes with a heavy-duty build.
Customer Questions & Answers:
Question: Does it have to be plugged in or can it work with batteries?
Answer: This alarm clock must be plugged into the power supply all the time. It cannot be battery powered or recharged.
Question: Can this kids alarm clock run on battery?
Answer: No, this kids clocks has a built-in button battery, it just could keep time memory when power off, couldn't support the digital clock light up, must be plugged in to work.
Functions
4-digit time display: hours, minutes.

12/24 hour format selection (default 12 hour format)

5 kinds of music alarm clock options, the alarm time is 5 minutes, and 3 volume levels are adjustable.

5 light colors.

LED backlight with 4 adjustable brightness levels

Doze time (3:00 2:30 2:00 1:30 1:00 0:45 0:30 0:10) 8 time settings.

11 keys: SET, TIME, ALARM, SLEEP/WAKE, SOUND, LIGHT, NAP, +, -, SNOOZE, LOCK

Key lock function.

The CR2032 battery retains the basic storage function.

Low voltage indication

SNOOZE function, 10 minutes delay alarm

Temperature display function, F/C unit selection, default F
Specifications:
Material: ABS

Size: 125*120*92mm

Clock error: ±60S/month

Display glass: AV glass

Temperature range: 0~50°c

Backup battery: CR2032 memory battery

Interface type: DC5.0V/5V1A
PACKAGE INCLUDING
1 x Kids Alarm Clock

1 x USB Cable

1 x User Manual