Your other pair of eyes, hidden in a pen.
So you need to have a spy camera with you always. It could have multiple reasons – perhaps you're investigating something, or keeping track on someone, or maybe you want to record the juicy details of doubtful interactions. Whatever your reason is, one thing is for sure – you don't want to get caught recording videos you can keep as an evidence. This is why ScribCyclo is here – this reliable spy camera in a pen (aka spy pen) is your partner in making sure you capture videos without getting caught.
Functional and Stylish Spy Pen
People will never guess you actually have a spy cam in your pen. This is because the ScribCyclo looks just like one of those classy, functional pens. You can also use ScribCyclo for writing – a helpful feature to not get your cover blown.
Features
Works in just one click. No need to fiddle and adjust the pen – two things that can definitely raise eyebrows. With just one click, the pen instantly records events and conversations.
Records both sound and video. The wide-angle spy camera can efficiently record actions and events. It can also record high quality audio to accompany your video recordings.
Plug and Play Compatibility. The ScribCyclo hidden camera works with Mac and PC devices and features a simple USB plug and USB reader to transfer data.
Fast Rechargeable Battery. This spy camera pen features a long-lasting internal lithium-ion battery that provides up to 70 continuous minutes of recording. It charges fast – 2 hours of charging can ensure you that the pen will last for 48 hours.
Using the pen for writing. Along with its use as a hidden spy camera, this pen can be used for taking notes, jotting down schedules, or remembering important information.
Hide Under The Pocket Any Time
Portable design: The small pen with a hidden camera is easy to carry and hard to decipher as a camera. It's so sleek and unsuspicious.
Record Your Business Meetings
Applicable scenarios: This miniature camera can be used on various occasions, such as classroom learning, business meetings, family activities, etc. It can also be used as a gift for classmates, friends, and husbands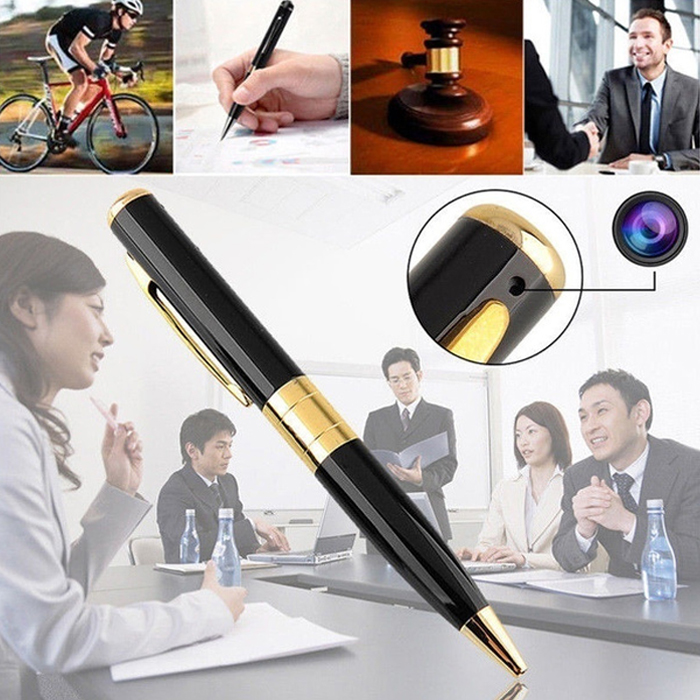 Record Your Proof At any time
Wonderful spy gadgets for a business meeting, lecture class, conference, travelling, investigation or evidence collection. It's very small you can take it anywhere.
One-click operation. Like using a real pencil, our video recorder uses a simple click-and-go design so you can turn it on or off with a push of your thumb.
Loop Recording Function Offering a full 70 minutes of continuous recording. Our pen spy camera will automatically overwrite old recordings.
Personal, Educational and Professional Use this premium spy camera pen to remind you of important classroom lectures at college, protect you during business meetings, help you stay safer on the road, and more.
How to play video?
Connect to the computer via USB cable, and then use the player to play the video.
Remove the SD card, use a card reader to connect to the computer, and then play the video.
How to charge the hidden gear camera?
Connect to the USB port on the computer or use a 5V power supply.
Instructions for use
Charge the device only 1 hour.
Press the top button green light will be come and stable.(Device On.)
Press the same button for 4 second , light will be blink 2-3 time and off. (Recording start)
Short press the button light will be come and stable.(Recording Save)
One Press the button for take photos(light will go then come)
Package includes:
1* glasses
1*32GB SD reader
1*case glasses
1*cleaning cloth