Is the weather not permitting you to shot outside, or do you have a conference call online, and you're looking for a creative background to cover what's inside of your house? Well, don't panic, as ScreenGuru is here for you!
ScreenGuru is made for people who do indoor photoshoots and online video meetings. It covers a large area and comes with a stand, so no worries about the range and quality that it may offer to its owner. The material is also washable that is ideal for multiple uses, giving it your money's worth.
Machine Washable Fabric
ScreenGuru is a product that is easy to use, set up and dismantle. You don't need any detailed how-to-use guides because of their uncomplicated design. Its material is also solid and durable with crimped edges to prevent any tears, making it easy to wash and reuse.
Light Weight
With its pre-stitched loop, the assembling process of ScreenGuru only takes seconds. Its stands are also adjustable and foldable, making it easy to carry and transport anywhere you want.
Non-Glossy
Its heavy-duty premium quality fabric makes shooting easy with its reflective backdrop. Its quality material helps spread light evenly throughout the shoot.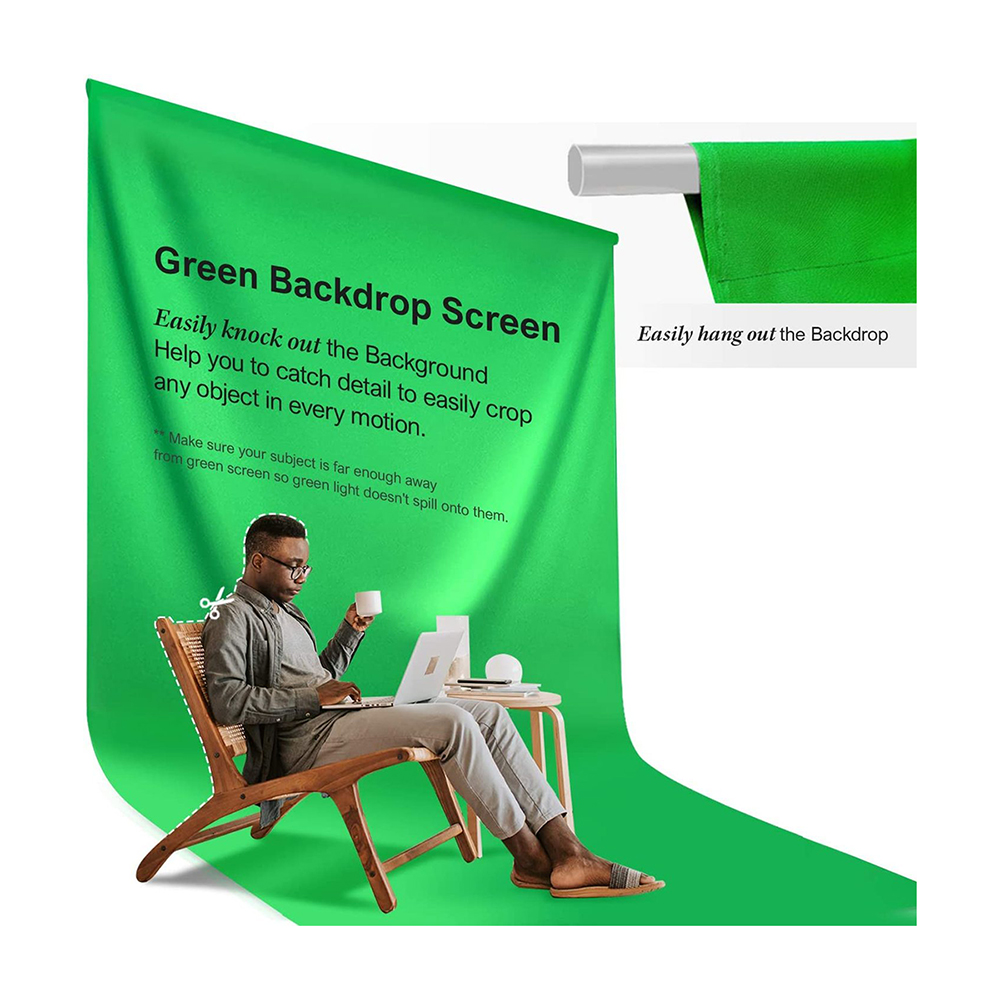 Quality Green Screen
The utterly uniform greenness greenscreen background with a stand is perfect for chromakey. ScreenGuro is best as it's also machine washable, ironable, easy to clean, foldable, easy to store, and carry.
Wide Application
No matter if you are a vlogger, photographer, YouTuber, streaming video maker, if you want backgrounds to be much fun, or if you want to protect your privacy by covering your surroundings, you need to use a green screen suit.
Thicken and low light transmission.
Not afraid of strong light and does not reflect flash. The screen offers low light transmission for better photography and to meet your shooting needs in all aspects.
Note: only hand-held irons can be used when ironing.
Provides the best background for the amazing pictures whether you're a professional or an amateur photographer, filmmaker, or content creator. It fits each expectation.
It's a perfect solution to produce photos for web retailers and commercial product catalogs, especially good for portraits and costumes.
Product Specification
Material: Polyester
Color: Green
Size: 3m * 3m
Package Included: