Make the Outdoor Playtime Fun Again to Your Kids!
Here's an old yet fun and exciting way to keep your kids' eyes away from electronic devices. The ScootLER 3-Wheel Kids Scooter is a top-quality scooter that's safe to train your toddler's motor skills, coordination skills, and balance.
A Fun Outdoor Activity
If your child is still in the beginner stage, you can even take him with you to build a deeper relationship and let your child have fun playing sports outdoors for healthy development. The ScootLER comes with 5 levels of height adjustment that can fit kids ages 3-12.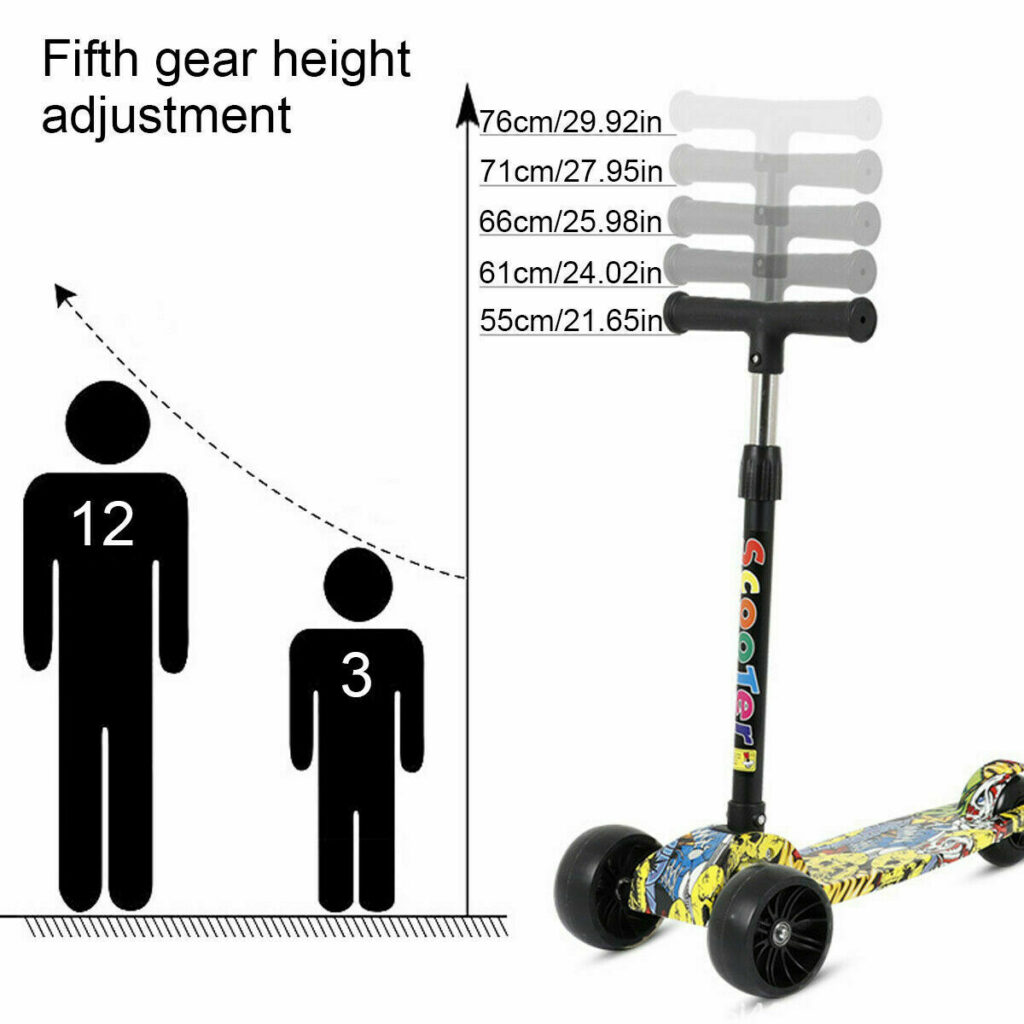 What makes ScootLER the Best?
Cool Flashing Wheel: The dynamic wheel has a built-in magnetic core, rotating and emitting light without a battery. It's durable enough to withstand all sidewalk lines, making the scooter experience smooth, safe, and exciting!
Stop When You Step On It. The rear wheel brake ensures riding safety. With just one step, it will put the scooter to a halt to prevent accidents from happening. It's simple and easy to operate and 100% safe and reliable.
Foldable: The ScootLER's convenient and straightforward folding function makes it easy for you to carry, store, and save space.
Widened Non-Slip Pedal: ScootLER's wear-resistant and impact-resistant pedals make it safer for toddlers to ride and slide.
Built-in Steel Plate: Our reinforced base delivers a strong underbody structure for a sturdy and fluid feel.
Specifications:
Name: ScootLER Kids Scooter

Style: Graffiti Yellow, Graffiti Powder, Black/White

Material: High-carbon Steel + PP

Number of Wheels: 3

Maximum Load: 50kg

Size: 58*25*11cm/22.83*9.84*4.33in

Adjustable Height: 55-76cm/21.65*29.92in (5 Gears)

Weight: 2012g

Applicable Age: 3-12 years old
Package Includes:
Note:
Please allow 1-3cm error due to manual measurement.

The colors may have a slight difference from the images displayed.