The Radar Detector and Dash Cam Recorder Combo You Need for a Pleasant Driving Experience
Two things make the road such a vile place: bogus drivers and sneaky speed patrols. What if we tell you there's a solution for these problems in just one standalone device? Introducing the RevLoop 2-in-1 Radar Detector and Dashcam Recorder combo!
This device got everything you need to start driving less into speeding tickets and road rages and more into a pleasant and relaxing driving experience. Equipped with a universally accepted anti-radar detector and 720P dashcam recorder, you'll be reminded of every signal you need to prevent danger. From police radar guns to bogus drivers to driving directions—it's the perfect car equipment needed for the 21st century!
Here's How Revloop Can Be Valuable to You!
✅ Radar Detector and Car Recording 2-in-1 combo.
✅ Compatible with any navigator clip, compatible with any navigator.
✅ Reminds about the time and the current speed of your car.
✅ Show history trace on Google Maps via video file.
✅ Distance to fixed camera counting display in advance for safe driving.
✅ Detects mobile and fixed speed camera.
✅ Radar identification system for frequency suppression of inferential radar.
✅ Displays driving direction for orientation.
✅ Comes with a voice prompt with a loud and clear timbre.
The Best Design that Fits Every Car
The RevLoop is designed by driving enthusiasts for all drivers of different shapes and sizes. The device comes in an extremely thin, elegant, and universal car laser detector design for independent installation and uses and lock assembly. It's 100% brand new and high-quality, giving you peace of mind while driving in any location.
More About the Device:
Night Vision-equipped lens
TFT 2.0″ LCD
It comes with Bilingual voice prompt support
Outside size: 122 x 78 x 29 mm
Top of the Line Features:
▶ Built-in Features:
GPS
Cyclic Recording
Wide Dynamic Range
GPS Tracker
G-sensor
LED Display
Night Vision
SD/MMC Card
Cycle Recording
Motion Detection
Radar Detector
Time and Date Display
Microphone.
▶ DVR Function: SQ Solution, 720P.
▶ Mobile Radar Function: Built-in Russian radar and can detect the signal of STRELKA (CT) and LASER.3.
▶ Fixed Data: Russia's local fixed data can show traffic speed, direction, time, dangerous locations, gas stations, and other information.
▶ Fixed Data Upgrade: Built-in one-click upgrade data gadget support. You can directly connect the device to the computer and follow the prompts to upgrade.
▶ Drive Recorder Built-in Language: English, Chinese, Russian, Japanese, Korean, and other countries.
▶ Display the Speed of Each Country: Directions, time, dangerous locations, gas stations, etc.
Other Supports:
▶ Radar Detector: Yes
▶ Loop Recording Car DVRs: Yes
▶ Motion Detection Driving Video Recorder Registrar Camera
▶ 3 in 1 Car DVR Camera: Driving recorder + GPS speed warning + radar speed warning
▶ Installation Location: Suction cup mounted front windshield
▶ Lens: 6 lenses, F2.0 large aperture, reduce astigmatism.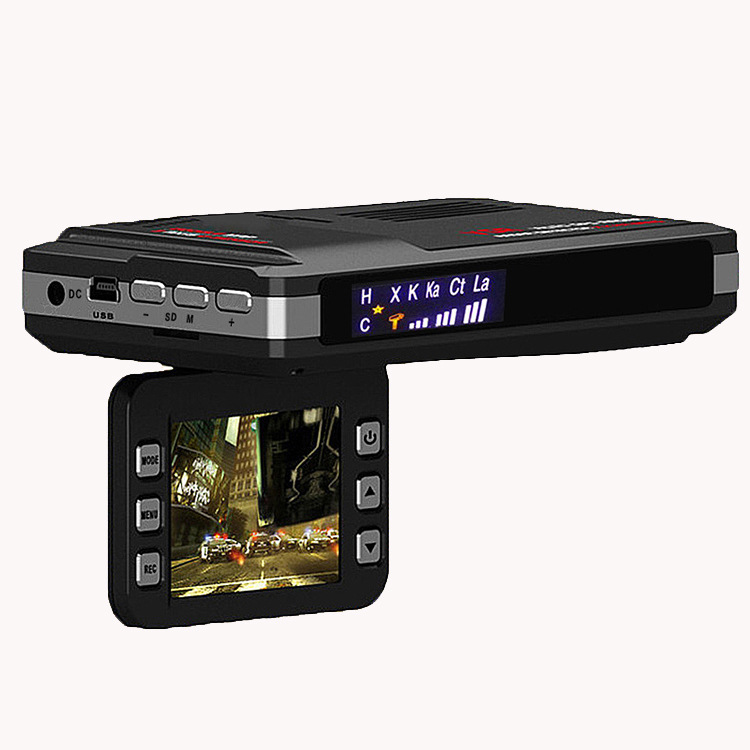 Frequency:
POLICE KA-BAND: 34.700GHz ± 1300MHz
Spided KA-BAND: 33.300GHz ± 1300MHz
Laser Beam: 904 ± 33KMHz
Spided K-BAND: 24.150GHz ± 100MHz
X-BAND: 10.525GHz ± 50MHz
Anti VG-2: 11.150GHz ± 175MHz
Spided KU-BAND: 13.450GHz ± 100MHz
Package Includes:
1 x Car Charger
1 x Car DVR
1 x DVR Bracket
1 x User Manual (English / Russian)
1 x Retail Box