The Voice Recorder That Registers Better Voice Quality! Comes with Noise Reduction Technology, Voice Activated Recording, One-Press Operation, and Customizable Recording Settings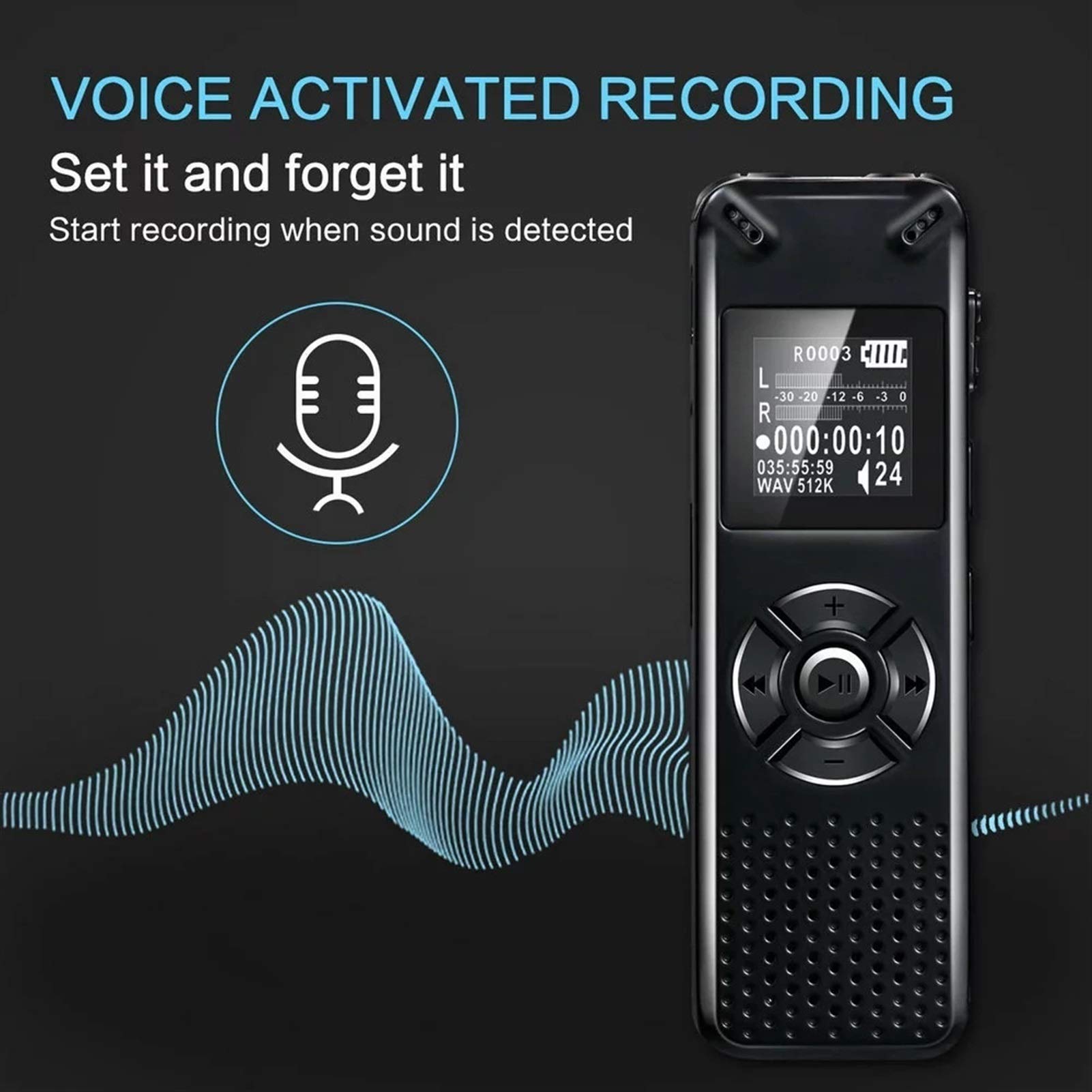 The Voice Recorder You Can Use for Multiple Purposes – for Personal and Work Use, For Classes, Lectures, Meetings, and Interviews!
The PressSpk voice recorder breaks all other voice recorders for its crystal clear quality and high-technology features. If you want both convenience and performance, the PressSpk is for you!
PressSpk is made for the best recordings! The microphone for the PressSpk comes with noice cancelling technology that helps you achieve crystal clear voice recordings.
Working with the PressSpk is also ultra convenient – it features a voice-activated recording, allows you to set recording time, and set recording limits!
PressSpk is also multipurpose – you can use it in your classes, lectures, presentations, and interviews! 
PressSpk Voice Recorder Features
Check out what PressSpk voice recorder can do!
NOISE-CANCELLING MICROPHONE GIVES YOU THE BEST CRYSTAL CLEAR SOUNDS
When you're recording, you can be assured that you only get the best quality. Any sound in the background will be eliminated by the PressSpl's noise cancelling technology which could capture lossless audio at 1536kpbs. Your voice recordings will be clear for anyone to understand.
AUTOMATIC VOICE RECORDING USING ONLY VOICE TO ACTIVATE RECORDINGS
Once you turn on the recorder, it will automatically start recording when it picks up a voice within a feet's range. No need for you to scramble and press record, especially when you're in a hurry.
HAS A WIDE RANGE OF PICKING UP SOUNDS – CAN RECORD CLEARLY EVEN IF SUBJECT IS 10 FEET AWAY
You can pick up voices even if subject is far. Despite the distance, you can still enjoy crystal clear recording.
SAVES AUTOMATICALLY WHEN POWER IS LOW SO YOU WON'T MISS ANY RECORDINGS
If you are recording at a point where your battery is running low, the device will automatically save what you will be recording so you won't lose it when your battery is empty.
EASY OPERATION – SIMPLE BUTTONS
You won't have a hard time figuring out how the recorder works because it's super simple to use.
INCLUDES HI-FIDELITY SPEAKER FOR AMAZING PLAYBACKS
You can hear your recordings clearly with the PressSpk's hi-fi speakers.
DURABLE HIGH ALUMINUM BODY THAT CAN STAND ANY FALL – GREAT FOR PEOPLE ON THE GO
Coupled with a beautiful color LCD display, the PressSpk in its aluminum body feels strong and sturdy, while being light and small. Conveniently fits in any palm, pocket or a purse for easy access and portability. Great for recording on-the-go.
YOU CAN SAVE MORE VOICE RECORDINGS, THANKS TO THE 16GB – 32GB LARGE CAPACITY SD CARD SLOT
The PressSpk comes with a built in 16GB internal flash memory and with SD card slot and for the most 32GB. Double storage than others,you could save more recorded files (which equal to 10000 songs or 500 hours recorded files). Never worry about running out of the memory. With the PressSpk, you can record more.
GREAT FOR MAKING WORK, PRESENTATIONS, CLASSES CONVENIENT
Forget the past, went class or meeting with a writing tool and a voice recorder. Add this to cart,fre your hand, reduce your backpack weight, make your desk more concise. A must have assistant in your daily life.
RECHARGEABLE VOICE RECORDER THAT CAN LAST UP TO 20 HOURS OF RECORDING WHEN FULLY CHARGED
You will love how convenient it is to bring this recorder that takes a long time before running out of power.
BEST DIGITAL VOICE RECORDER
Since our small voice recorders are sturdy and built to last with high polished metal casing, compact enough to fit into your backpack, purse or briefcase, records, and stores professional, crystal clear audio via its noise cancelling microphone, it makes sense to purchase our high performing,voice recorders.
Packing List:
1 x Voice Recorder
1 x USB Cable
1 x User Manual