Small, Portable, Multipurpose and Efficient Electric Cigarette Rolling Machine for Cigar Lovers That Want to Make their Cigarettes from Home
Mini Design with Automatic Rolling Function — A Convenient Way to Make Your Own Cigarettes Whenever, Wherever!
If you want to take control on how fresh you want your cigarettes, how thick or light your cigars to be, the PrepPur is for you.
Place it in your bag for fresh cigar on the go. Bring it anywhere you go. Rolling is easy and less messy!
Automatically roll your cigarettes the way you like it. You can adjust the thickness of the cigarettes the way you want it using the knob.
Features
[MINI TYPE]–The roller is small in size and light in weight, great for not taking up lots of room. It is convenient for you to make it anytime, anywhere.
[ECONOMICAL]–A powerful motor enables the portable rolling machine to roll out 3-4 tubes in a very short time, saving you more money than buying them yourself.
[EASY TO CLEAN]–The removable tray and hopper are nice features for easy clean-up. The machine also comes with a cleaning brush, which is very convenient.
[A PERFECT GIFT]–This machine has a stylish and sophisticated appearance with excellent performance, a perfect choice as a gift.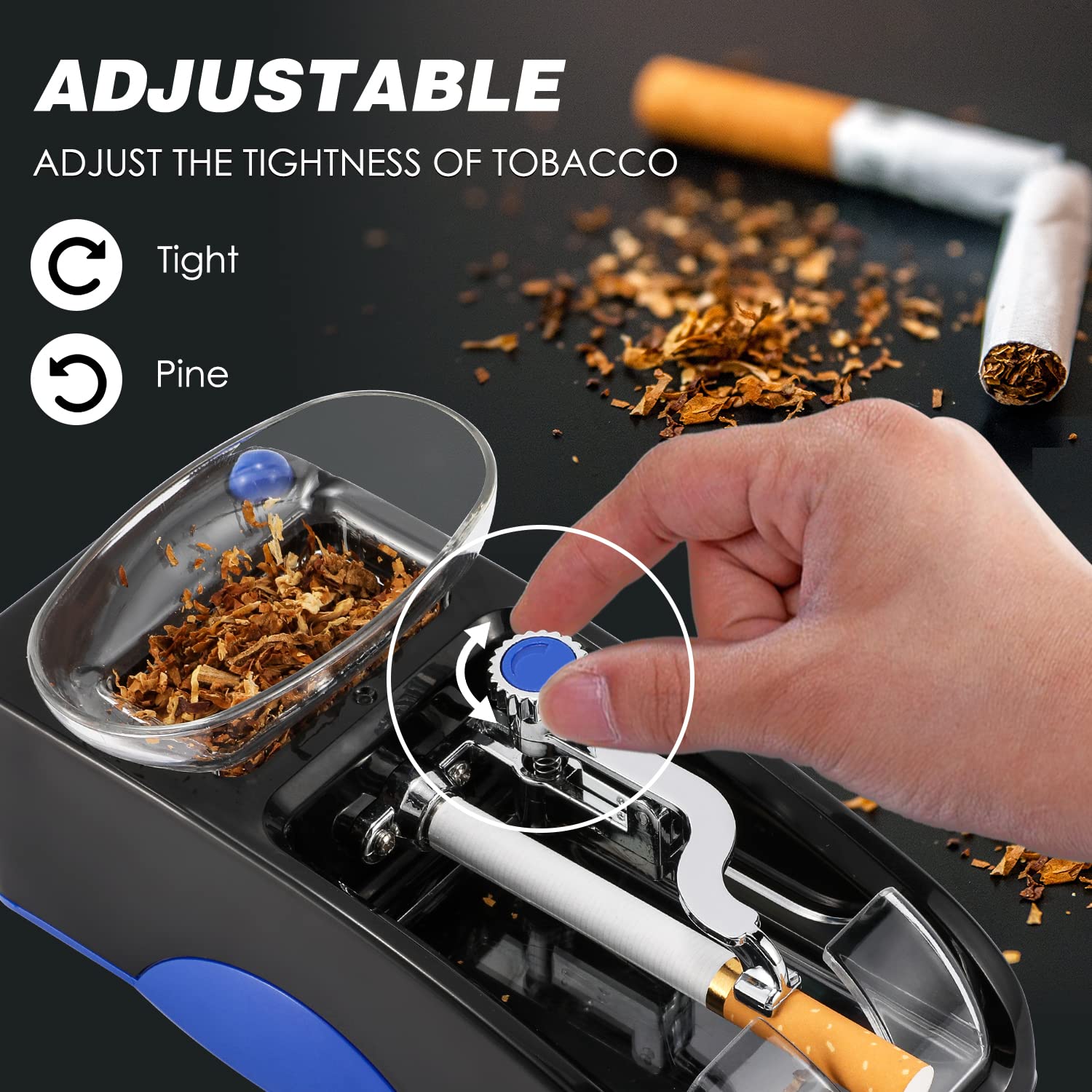 Usage:
Plug in the power cord, then put the tobacco into the power port. Press the start button to start working. Use the tension knob to adapt to different tobaccos according to your habit. It is recommended to press the tobaccos in the funnel during the operation, making the cigarette compact.
How to Avoid Cherry Fall:
The tobacco should be 80% dry and avoid stems.
Please cut tobacco into very small pieces before start.
Keep stirring tobacco in the slot when rolling with the Rod
 The tighter the better. Using a finger push the cigarette tube backwards when rolling the cigarette. Thus make tight cigarette and contribute stable cherry.
Product Parameters
Size: 6″ x 2.8″ x 2.6″
Material: ABS plastic.
Color:Red ,Black
Weight: 13.34 oz.
Voltage: 110-230V.
Package List
1*rolling machine
1*stirring rod
1*cleaning brush
1*durable charger