Savor every moment spent with family and friends, capture smiles and laughter through photographs, and turn them into memories you'll cherish forever. Collect picture-perfect moments printed in an instant with the PixelPerfect Instax Smart Printer.
This smart instant printer allows you to print your favorite photos from your smartphone to Instax film in no time. Through the dedicated app, you can have fun before hitting print by adding effects, filters, or even creating a collage of all the good photos. It also includes cool interactive features like Quiz Time and Suprise Mode.
The PixelPerfect Instax Smart Printer is wireless and compact, making it perfect to carry around with you on a fun day out or weekend getaway. Your friends can even join in on the fun because this device can connect up to five smartphones. Snap away, edit and pick out the perfect pictures, and print on Instax in an instant!
Features
Print on Instax film via Bluetooth Connection. Take pictures from your smartphone and collect picture-perfect Instax prints within minutes.
More One-of-A-Kind Instax to Share. No more arguing over who gets to keep the best photo because you can edit the same photo to make it unique. 
Wide Selection of Cool Effects and Filters. The dedicated app includes a gallery of awesome effects, frames, and filters to help you get creative and have fun.
Easy Photo Adjustments on the App. You can adjust the size of your photos, rotate them, adjust the brightness, or add filters to make sure they're perfect before printing.
Fast Printing and Long-Lasting Battery. It only takes approx. 12 seconds per print, supports continuous printing, and is capable of printing about 100 pictures per charge.
Can Connect Up to Five Devices at a Time. This smart device is the life of the party because of its fun interactive modes and capability for multiple connections.
Interactive Modes for You and Your Friends. Opt for a surprise with the Suprise Mode when you can't choose, test your compatibility with Quiz Time, and more.
How to Have Fun with The PixelPerfect Instax Smart Printer
Quick-Response and Remote Control. This smart printer can change the app mode with just a flip and help you get your best shot by taking the photo for you.
Swipe and Instantly Print. Snap as many photos as you want, choose your favorites, and just swipe up from the app to instantly print Instax photos from your smartphone.
Print Action Shots on Instax. Remember every moment even when you forgot to take a photo by printing your favorite frame from a video on Instax film. 
Play Quiz Time with Match Test Mode. This feature guarantees fun for you and your bestie by leaving it up to fate to decide your picture-perfect moment.
Go Crazy and Get Creative. Add aesthetic filters, cute stickers, and crazy effects in the app to print unique photos on Instax everyone will envy.
Have an Instax Surprise Party. Connect with up to five friends, turn on Surprise Mode to keep the final image a secret until it develops, and have a blast!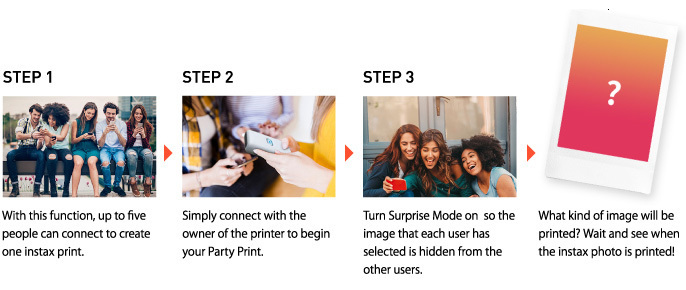 Product Specifications
Photo Capacity: 10 prints
Print Levels: 256 levels per color (RGB)
Print capacity: Approx. 100 prints
Interface standard compliance: Bluetooth Ver. 4.2 (BLE)
Instax film size: 86 x 54 mm,  image size: 62 x 46 mm.
Supported file types: JPG, PNG, HEIF
Power: Lithium-ion battery
Image Size Supported: 800 x 600 dots
Print Speed: Approx. 12 seconds
Charge Time: Approx. 80 to 120 minutes
Package Inclusions
1 × Instax Smart Instant Printer
1 × USB cable
1 × Manual