Experience Music that Travels With You
If you don't want to be tied up with your phone all the time yet wish to have music around while you study, work, or relax — our PEKO-AIR MP3 Player is the perfect device for your needs.
Our design takes MP3 Players to new heights, with upgraded features that fit your modern requirements to enjoy tracks and videos. Your music is delivered with quality and top-notch convenience, featuring an edge-to-edge display, Bluetooth 4.2, and Hi-Fi sound.

Enjoy up to 32 GB of Storage
The PEKO-AIR comes with 3 memory card options: 8 GB, 16 GB, and 32 GB. You can choose the perfect storage size that fits your needs.
Stable Connectivity
Equipped with a 4.2 Bluetooth connection, the PEKO-AIR delivers stable performance, easy pairing, and quality sound, whether you're enjoying your tracks via headset or speakers.
Multi-Functional Support
Our MP3 Player is up to modern standards, with a touch of the classics still considered essential even today. The PEKO-AIR comes with an FM Radio, a recorder, a built-in speaker, etc.
Hi-Fi Lossless Sound Quality
We've designed the PEKO-AIR with the best sound quality that can rival even today's latest speakers and phones. We've adopted an intelligent digital noise reduction chip to deliver crystal clear audio across a variety of file formats. Enjoy your tracks just like how it sounds.
Full Touch Screen Display
No lags. The PEKO-AIR is all about the smooth operation. Our 1.8-inch edge-to-edge touch screen makes it convenient for you to view, switch, and control your music anytime, anywhere!
Light and Portable
Take it with you anywhere. Put it in your pocket, your bag, or while you jog. With PEKO-AIR, you'll always have your music with you.
PEKO-AIR is best for:
Jogging, walking, cycling, traveling, camping, and other outdoor activities

Playing MP3, WMA, WMV, ASF, WAV, AMV, APE, and FLAC file formats
The Perfect Gift for Any Music Lover
Playing songs through your phone can use up so much battery. And any music lover hates that. So gift them the PEKO-AIR for some uninterrupted music trip!
Specifications:
Display: 1.8-inch OLED display
Size: 3.35 x 1.57 x 0.28 Inches
Battery: 800mah
Charging Time: 30 minutes
Playing Time: 48 hours
Reading Time: 8 hours
Recording Format: WAV
Built-in Memory: 8GB/16GB/32GB
FM Radio: 76MHz-90MHz / 87MHz-108MHz
Headphone Output: (L) 10mW + (R) 10mW (320hm)
Video Format: AVI / AMV
Music Format: MP3, WMA, WMV, ASF, WAV, AMV, APE, FLAC
Working Temperature: -5 ° C -40 ° C
Language Display: 25 languages including Chinese, English, Japanese, Korean, French, and German
Operating System: Windows 98 or above
Features: Bluetooth MP3, MP4, e-book reader, recording, FM radio
Product Size: 83 x 40 x 9mm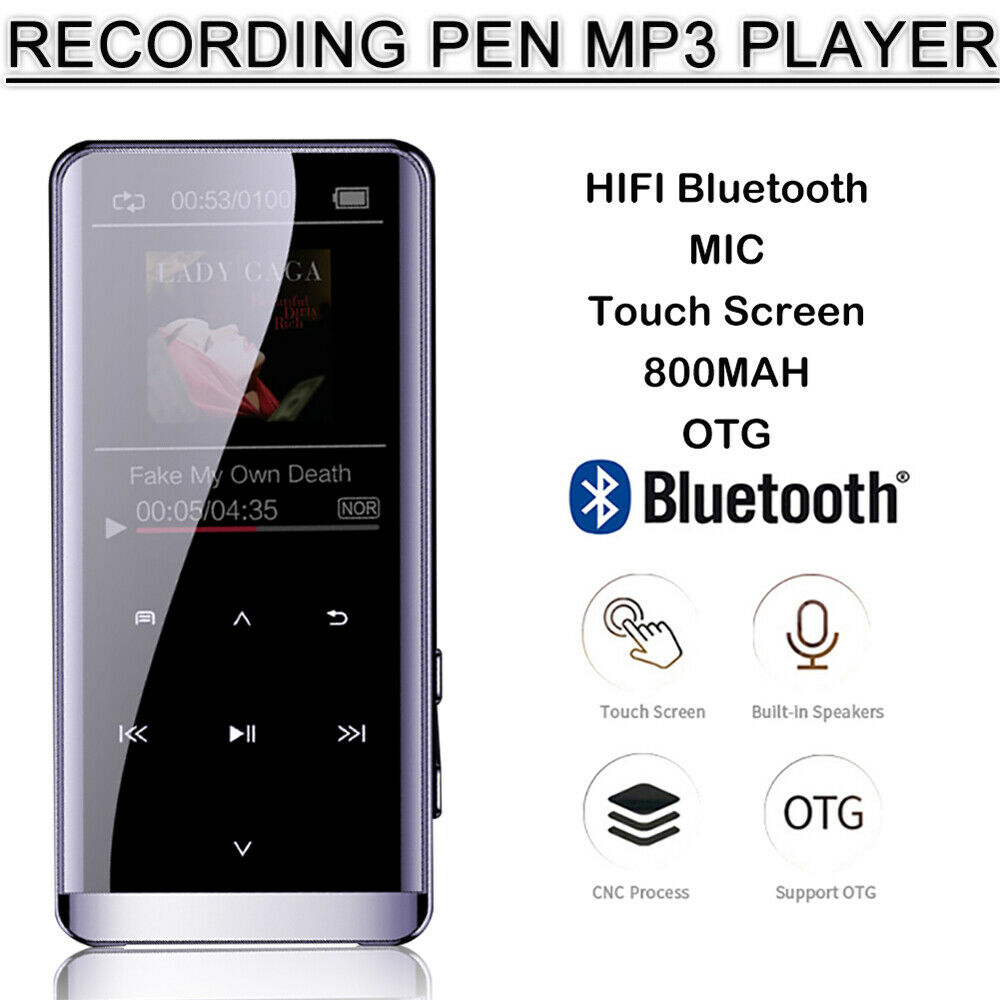 Package Includes:
1x MP3 Player
1x Earphone
1x Charging Cable
1x User Manual