Imagine you can use a heated neck pillow or blanket even when you are outdoor and still look like you're wearing a normal scarf!
High-quality Fabrics: The Winter Scarf's outer front is polyester wool fabric, skin-friendly and soft, anti-wrinkle, non-ironing, and non-balling. The back is long-staple cotton fabric. The Heated Scarf interior is filled with cotton, which is breathable and has double warmth.
There is a USB socket inside the invisible zipper. Heated Scarf BMS power management system, real-time monitoring, and feedback of the heating film temperature, precise control of the temperature suit in the comfortable range of the human body.
3 Temperature Adjustment:
This USB Thick Scarf is 3-second quick heat. There are 3 temperature adjustments, and the temperature setting is 30~55℃, Energy-saving and constant temperature, and safe explosion-proof.
3 Thick Scarf Styles Available: There are 3 Winter Scarves for Women & Men colors for your choice: Winter Scarves for Women pink creates a warm feeling, light gray neutral all-match, Winter Scarves for Men dark gray low-key calm, one-key switch three temperatures, efficient warmth cashmere scarf.
Winter Warm Scarf: This Winter Womens Scarf (Also for men) can transfer heat energy to the deeper parts of the human body, promote blood circulation, intelligent constant temperature, no radiation risk, energy-saving, and electricity saving.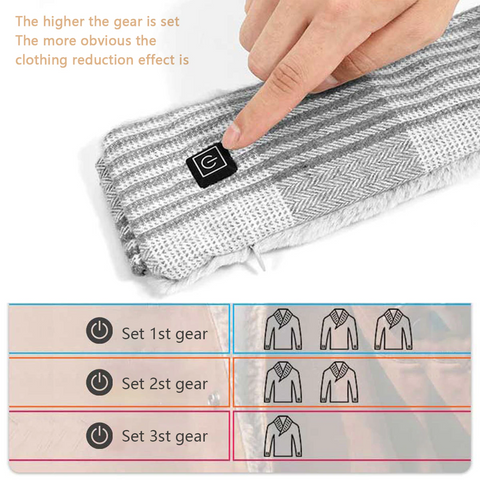 Heated Scarf Features: 
Comfort to Wear & Washable – Made of soft material.
Heating Quickly – No need to wait too long to get warm.
Fashion Double-sided Design – You can wear it in a lattice or plush side.
Far Infrared Technology – Improve Blood Circulation & Relieve Muscle Stiffness.
Adjustable Temperature – One-key Switch Operation for 3 levels of temperature.
Constant Temperature Control – Don't worry, it won't hurt you because of overheating.
Package Included:
1 x  Electric Heated Scarf
1 x 7000mAh Power Bank