The Best Solution for Bad Breath and Nasty Plaque—the OraClinx!
Studies show that brushing teeth is not enough to maintain oral health. Regular use of Flosser helps remove plaque and food stuck between teeth to prevent tooth holes, tooth decay, and even tooth loss.
This Cordless Portable Water Flosser adopts advanced technology and excellent design to meet your needs for various uses. It truly solves mouth problems and allows you to show confident and charming smiles.
Nothing beats a healthy mouth. When your teeth are clean and your breath fresh, your confidence goes up a notch. How do you achieve fresh, standout oral health? By cleaning it thoroughly with a water pick. Introducing the super handy, super easy-to-use OraClinx Cordless Water Pick.
Why Choose OraClinx for Your Oral Hygiene?
Latest Pulse Technique & Deep Cleaning
The OraClinx adopted 2020's latest water flosser pulse technique that shoots 30 to 115 psi pressure range (that's 1800 times/min pulse rate) with a high-intensity pulse water column to clean away 99.99% of teeth stain and plaque that traditional brushing and flossing can't reach. This design is perfect for anyone with braces, implants, crowns, or periodontal pockets, giving them a safe and better way to floss their teeth.
320 ML Detachable Water Tank
The upgraded removable full-opening water tank allows you to thoroughly clean the limescale and dental plaque, which is impossible for common oral irrigators.
IPX7 Waterproof Design
The IPX7 waterproof design is adopted both internal and external to provide dual protection. The intelligent design prevents leakage and allows the dental flosser to be used safely in the shower or the bathroom.
Long Battery Lifetime & Charging via USB
Our rechargeable oral irrigator comes with a powerful 2000mAh lithium battery that can work continuously for 30 days once fully charged in just 6 hours (data is based on twice-daily flushing). The USB interface charging design applies to a variety of charging equipment.
9 Modes & Rotatable Nozzles
The OraClinx comes with 9 mode options to meet your various oral care needs:
Normal (weak, medium, and strong)
Soft (weak, medium, and strong)
Pulse(weak, medium, and strong)
The 360° rotatable nozzle design allows you to easily clean the areas that are difficult to reach and prevents debris and dental plaque build-up. NOTE: The soft mode is recommended for first-time users.
Portable Design for Travel
The cordless and lightweight design of this portable water flosser is ideal for travel. With its ergonomic curve and non-slip handle, it's suitable for everyone to use on any occasion or location. It also comes with 4 interchangeable jet tips to serve your whole family's oral hygiene.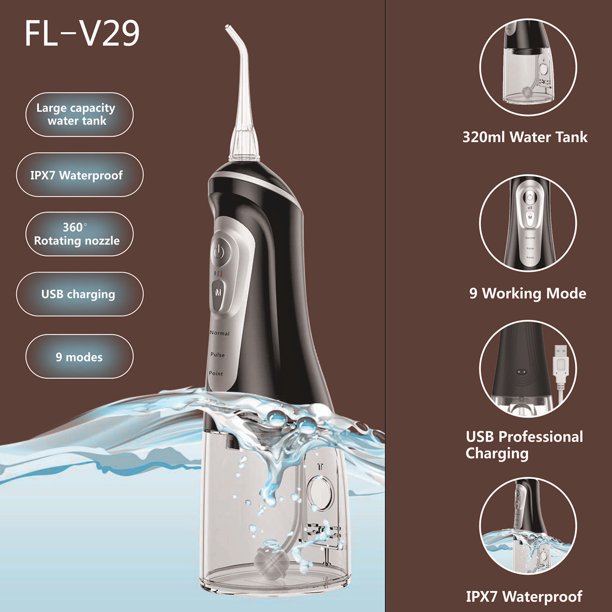 Benefits in a Glance:
The OraClinx is simple and portable to use. You can operate it with one hand anytime, anywhere!
IPX7 is waterproof; it's safe to use even on the go.
2200mAh battery with USB recharging gives the OraClinx better runtime than other water flossers on the market today!
Our water flosser is made of high-quality, food-grade material and tested by the FDA to maintain your oral health like the pros.
Delivers strong, constant pressure, stable water pulse that is safe for your teeth and gums.
Comes with three pressure modes.
230ml large capacity water tank, convenient and time-saving.
Postprandial cleaning teeth, 1300 high-frequency pulsed water per minute, powerful pulsed water flow for efficient cleaning.
Intensely eliminates food remnants even in the hard-to-reach areas.
Specifications 
Charging time: Approx. 6 hours
Input Voltage: DV 5V/1A
Output Voltage: 3.7V 7W
Oral nozzles: 4pcs
Pump frequency:1600times/min
Pressure: 120 psi
Input AC: 100-240V
Output: 5V 300mA
NI-MH battery: 1700mAh
Charging time: 8 hours
Noiseless than75 dB(A)
Working time: 50 minutes.
Item size:75*76*262mm
Operation Steps
1. Charging
Charge the appliance before first use. The runtime may be shorter when charging at a temperature lower than 59-degrees.
2. Insert the appliance plug
Insert the appliance plug securely into the appliance socket
3. Indicator will be steadily on
The "CH" indicator blinks when the device is charging, and it will be steadily on after the device is fully charged.
4. Insert the nozzle
Insert the nozzle into the nozzle socket until it clicks
5. Filling the tank
Open the cover and fill it with water. Do not fill water when it is charging.
6. Adjust mode
Adjust mode as you need. The soft mode is recommended on the first try.
Are Your Interdentaland Gumline Areas Clean?
The back molars, the interdental spaces, and the areas below the gum line are the oral blind areas that are hard to reach by ordinary brush hairs. A poor oral cleaning can easily lead to dental caries, cavities, yellowing of teeth, bleeding gums, and bad breath. The pulsing water produced by the OraClinx can penetrate the gap between the teeth and the gingival Sulcus, washing away food debris and preventing oral diseases.
Package Includes:
1 x Water Flosser
4 x Nozzles Tips
1 x USB Charging Cable
1 x User Manual