Turning your imagination into something tangible—OddStylo.
With our new and improved 3D Pen, you can now visualize your designs better and turn your ideas into 3D with excellent precision and convenience. Designed by local 3D makers and experts, the OddStylo is made for aspiring artists and curious kids. This 3D Pen supports multiple adjustments, including high series PLA/ABS filament to deliver the best results.
New to 3D drawing? No problem!
The OddStylo is for everyone—with or without experience. Our ergonomic stylus is aimed to make 3D designing a reality, even to those with little experience. Plus, everything is 100% controllable—from the speed down to the flow of the material used—to achieve all the necessary details you need to put your imagination into action. And if you don't have the best setup to spark your creativeness, you can take the OddStylo on the go and plug it into any power source you have available!
Get the OddStylo now and put your ideas into action!
Features:
Watch your imagination come to life with the OddStylo Professional 3D Pen
Adjustable feed lets you regulate speed & flow for optimal control of material while you're drawing
Temperature is adjustable in 1-degree increments from 130 to 240 C, for optimal fine-tuning
Large, OLED display lets you monitor the temperature of the material to help you achieve a wide variety of effects
Kit includes 3 colors of ABS plastic filament, an A/C adapter, and a slim, ergonomic touch pen
Elevate your imagination
Hold the magic of 3D printing in your hand with the OddStylo Professional 3D Pen. Now you can use FDM technology in any application varying from drafting and prototyping to spatial learning and three-dimensional sculpting. Whether you're an engineer or an artist, the OddStylo 3D Pen will take your design projects to greater heights.
Perfect toy to spark creativeness
The OddStylo is a fun and exciting activity to share with your kids. Aside from creating fun pieces, the OddStylo helps foster your kid's creativity that could contribute to their problem-solving skills. Yes, we're fun and educational, too!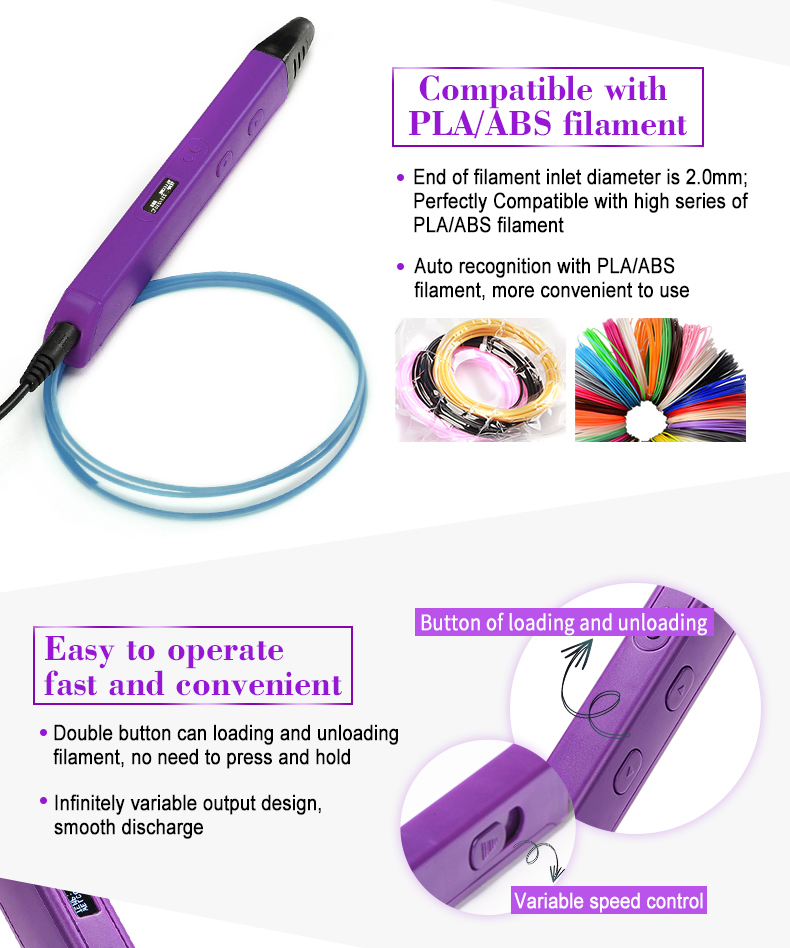 Package Includes:
Package box
3D Pen
9m Multi-Color Filament  (9 Meter length each = 354-inch Random Color)
Instructions for use
Charging Cable
Charging plug