Introducing NaviZoid RC Boat
This is a multi-functional, remote-controlled boat with air-cushion support at the bottom, sailing on the water and driving on the smooth land or ice surface. It's equipped with dual high-speed motors to provide strong power to make the boat glide with high stability.
The PERFECT Boat Toy for Boys and Girls
The speed of our RC boat is up to 10 km/s, and the remote control distance is 50m, making it suitable for smooth land, ice surface, pools, ponds, and rivers. Moreover, the inner component is well-protected by a dual waterproof design, which keeps the water out of your RC boat.
Low Battery and Low Signal Warning
When your high-speed racing boat sails far away with low voltage or beyond remote control range, the controller will beep to remind you to maneuver the boat back immediately to prevent losing control. One battery lasts at least 12 mins run time at top speed. The package comes with an attached 2 rechargeable batteries to set the fun right away.
Easy to Operate
The NaviZoid has a 2.4GHz ultra-fast response speed and good anti-interference ability. You can race multiple speedboats at the same time, with no interference. It works in 4 directions (forward, backward, left, right) controlled by a throttle trigger and steering wheel. The size of the controller is suitable for the little hands of adults and children for easy control.
Great Gift for Kids and Adults
Our NaviZoid is fun and easy to operate. It can increase family fun and is also a good choice for beginners. What is more, we offer after-sales support if anything goes wrong with your fast RC boat. Feel free to contact us anytime.
NaviZoid Topnotch Features:
The NaviZoid RC Boat can drive on both water and smooth land.
Double Motor: It supports speed up to 8km/h.
2.4GHz and remote distance of up to 50M
Low Power Alarm: Prevents losing control of the RC boat.
Backward Reset: To enable a convenient operation.
Long Play Time: Double 3.7V 380mAh Lithium Battery
Water Sensor: This feature automatically turns the fan switch on once the RC boat is in contact with water.
Summer Gift for Adults and Kids, Boys and Girls
Go to swimming pools, ponds, or lakes with your children to play boats in summer. Participate in your children's growth and experience summer water fun.
The Advantages of Our Fast Racing Boats:
The lights in front of the RC boat allow you to explore at night.

The high imitation motorboat design uses dual motors to make the ship more flexible in steering and more resistant to wind and waves during operation.

The built-in water sensor ensures that the motor will only work on the water to ensure the safety of children during play.

Simple button design and easy to control, which is suitable for kids and beginners.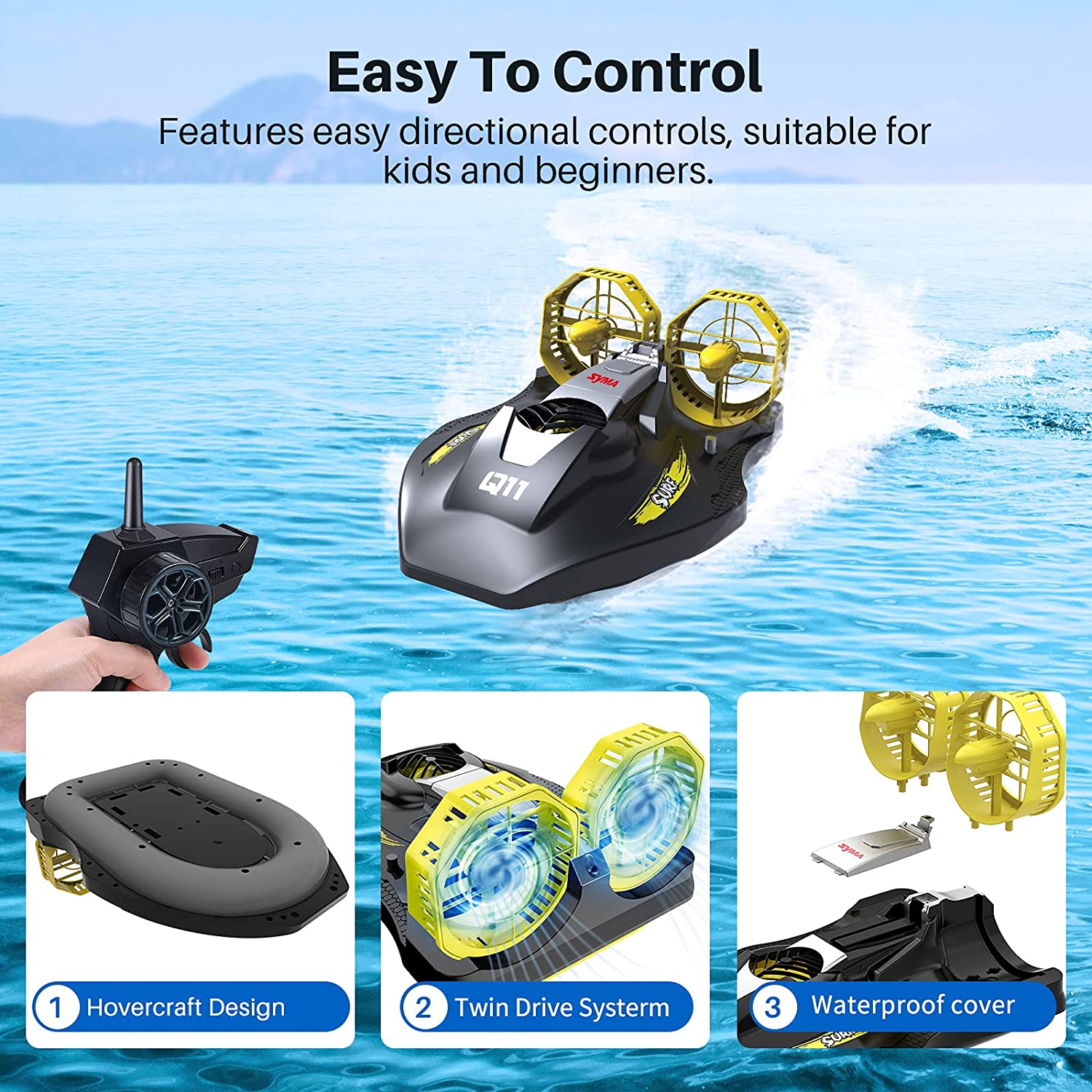 Specifications:
Remote Control Distance: 50 meters
Battery: 3.7V 650mAh Lithium ion (Included)
Battery of Transmitter: 2 x AA 1.5V Battery ( Not included )
Age: 8+ Years old
Charging Time: 90 minutes
Playing Time: 40 minutes,Max Speed: 10 KM/H
Functions: Forward/Backward,Turn left/right
Item Size: 8.5 * 3.3 * 4.1 inches
Package Size: 9.6 * 4.5 * 7.1 inches
Weight: 1lb
Warm Tips:
Put the RC boat in the water first before turning the controller on when playing. The screw propeller won't turn if it's on land. Please note the boat ONLY WORKS IN THE WATER.
When the battery is charging and fully charged, the light will turn red.
Open the top cover and take the battery out after playing to ensure the inner surface of the boat is dry. Otherwise, it will affect the performance of the RC boat when you play with it next time.
Due to prolonged transportation, the battery may have not much power to play. We'd suggest you charge the battery fully first before playing for the first time.
Please take the batteries out when not in use to prevent leaking.