Watch Movies for Longer: With 3,500 mAh rechargeable lithium battery, you can enjoy watching your favorite DVD for up to 6 hours. We also provide certificated AC power adapter and high quality car charger in our package, no worries when you are on a road trip.
Swivel Screen: MiziView DVD player adopts the 14″ eye-protective LCD screen; Adjust the view angle freely as you need, 270-degree rotation and 180 degrees flip allows you to get the perfect view.
Resume Play: Enable the last memory function, you could start the movie from where you left at last time, no need to view the beginning again, which is quite convenient. Installed stereo speakers in the DVD player is meaning that the volume can now be heard from 15 meters away.
Multi-Media: Directly play in formats: CD, DVD, CD-R/RW, DVD-R/+R, DVD+RW/-RW, VCD, SVCD; USB and SD Card supported: MP3/WMA/WAV, JPEG, MPEG2/AVI, TXT.
12 Months Warranty: High-quality chips, lower noise, longer service life. YOOHOO has more than 10 years of experience in producing portable DVD players. We provide one-year Worry-free money back guarantee and lifetime professional customer service & technical support.
Multiple Media -Formats Supported
Disc Formats: CD, DVD, DVD + R(-R), DVD + RW(-RW), VCD, SVCD-R(RW), CD -R(RW)
Media Formats: MP3, MPG, VOB, AVI, DIVX, MPEG and RMVB (maximum resolution 1280*800, and for RMVB 720P), JEPG and TXT. (Supports discs of all region.)
External Storage: Supports USB, SD card.
More convenient for your family using when on vacation.
Remote Control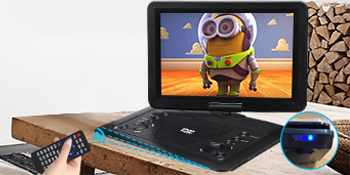 Note: The remote control should be aligned with the blue power indicator light to be effective.
Flexible Swivel and Swivel Screen

MiziView portable DVD player is capable of 270-degree rotation and 180-degree flip to bring extreme viewing experience and easy positioning, no longer to be stuck for one specific viewing angle and allow you extreme viewing experience and easy positioning.
Dual Loud Speakers

This upgraded DVD player is installed with two stereo speakers to bring you a more extraordinary audio experience, enveloping you with the movie scenes. An audio jack to plug in your headphone is also available to meet your preference.
Support Last Memory
Support break-point memory function, our portable DVD player will pick up from where you left last time.
More Ways to Share Happiness
With the included AV output cable, it is now possible for the motion pictures to be on a larger screen like TV. Also, it can be connected to another DVD player of the same type to share what you are seeing with others to double your happiness. ( The AV cable in the picture is not included).
A Great Companion for Your Kids
MiziView Portable DVD player is great for kids to watch videos and learning.
Portable DVD Player for Car
We have MiziView Car Headrest Mount in our store. you can easily attach it to the back of a car headrest. This is ideal for keeping the kids quiet and enjoyable on a long journey.
Updated to 6 Hours Play
With the improved 3,500 mAh rechargeable battery, playback time is extended to 6 hours. Plus, the with the AC adapter and car charger, you can enjoy an entertaining time either at home or on the road.