Experience Connectivity Better with the MaxxiWav Bluetooth Transmitter (Version 5.0) and Receiver for Cars, Televisions, Music Players, and Gaming Devices!

 

The Bluetooth Adapter That Can Work As a Receiver and Transmitter! The Power of Two in One Device!
Unlock the full potential of your devices with Bluetooth 5.0 transmitter, adopting Low Latency technology to deliver high-fidelity stereo sound with no delay. Confidently & seamlessly stream music from your phone/tablet to wired headphones/speaker.
Why Should You Choose MaxxWav? 
Low Latency: No More Delays
Fast Setup: Ready Instantly
Small Size: Space-Saving & Portable
Wider Range: Stream audio in spacious rooms
The Latest in Bluetooth Technology Featuring Bluetooth 5.0
Ensures stable transmission to Bluetooth devices from up to 10m/33ft. Connectivity is amazing! 
One Button Control Which Allows You to Shift Functions Easily. 
Easily switch between transmitter (TX) & receiver (RX) mode. No need for special operations. 
400mAH battery helps your transmitter last up to 5 hours. 
Built-in battery that lasts for up to 5 hours use when fully charged enjoy your favorite wireless content all the time. Charging time is fast – only 2 hours. 
Compatible with vintage players and modern players as long as they have FM capacity. 
Driving an old car model with zero Bluetooth features? The MaxxiWavi can turn it into a Bluetooth-compatible player. Got some old blast speakers that can't play because there's no Bluetooth connection? MaxiWavi can help!
Ideal for cars, televisions, speakers, and other audio devices! 
This multipurpose Bluetooth transmitter is something you can use for your cars, TVs, audio devices, and even tablets. With its transmitter and receiver capacities, you will always find this Bluetooth transmitter useful!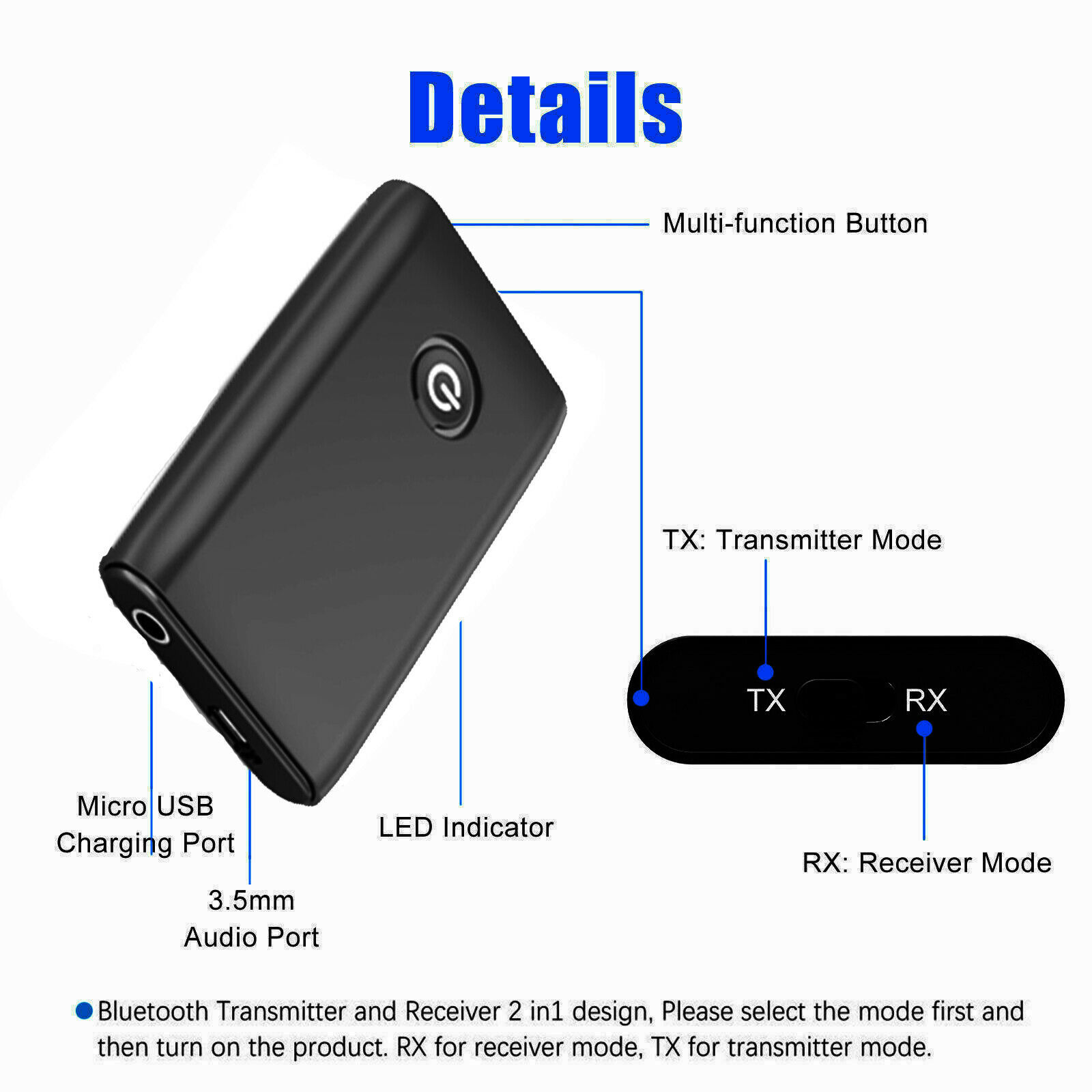 TX mode:
In the TX mode, the Bluetooth transmitter can be used to stream audio from non-Bluetooth audio sources such as non-Bluetooth TVs or CD players to Bluetooth headphones/speakers. This transmitter is supported by AUX IN/OUT, therefore, please kindly have a check to see whether your audio sources have one of these kinds of jacks.
RX mode:
In the RX mode, the Bluetooth adapter can be used as a Bluetooth receiver to non-Bluetooth stereos such as wired headsets or wired speakers. Pair the Bluetooth receiver with your cell phone, and plug your headsets into the jack on this unit, then you will be able to hear the music from your phone.
Specification
Bluetooth version: 5.0
Size: 135*80*20MM
Weight: 63.4g
Charging: DC 5V
Battery: 400ma
Working time: 5 hours
Charging time: 2 hours
Output: 3.5MM audio output
What is In the Box:
1 x Bluetooth 5.0 2-in-1 Adapter
1 x 3.5mm male to male Audio Cable
1 x USB to micro USB Charging Cable
1 x User Guide