With this Tiny, Mini Camera, You Can See All. With Its Wide-scope Lens, Excellent Wi-Fi Connectivity, Audio and Night Vision Features, and Mobile Compatibility, MagnnyView Will Make You Feel Like You Never Left the Room!
Works Even While You're Charging It! The 24/7 Nanny Camera Seamlessly Connects with Mobile Devices So You Can View The Feed Anytime, Anywhere!
Are you looking for a reliable mini camera that will make you feel like you can see what's happening to your kids, pets, and home when you're not there?
The MagnnyView is a nanny cam that is one of the smallest yet most prolific in capturing events real-time. The WiFi camera now connects seamlessly with mobile devices where you can view the feed. The lens now features clearer videos without lagging so you won't miss crucial shots. 
You won't only see what's happening, you will also hear audio so will get the full detail of what's going on. 
With ultra clear shots, you can be assured that this nanny cam will give you peace of mind and a sense of security, even if you're not around.
MagnnyView Nanny Cam Features
New and Improved WiFi Camera That Feeds You Real-time Streams From the Nanny Cam Wherever You Are in the World
The WiFi settings of the MagnnyView picks up signals fast. Once connected, you can instantly broadcast your streams so you can access them wherever you are. 
If you don't have a WiFi connection, you can use the manual recording using a 128-GB memory card (not included in the package) and connect to the phone using a hotspot. You must be within range to see what's recording.
GUARD YOUR HOME SECURITY ANYTIME ANYWHERE
WIDE VIEWING ANGLE, NEVER MISS ANY DETAIL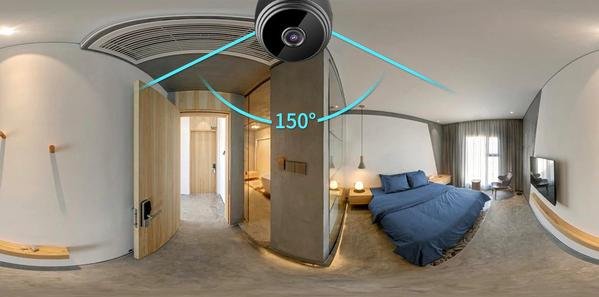 The 1080P Camera Quality + Wide-Angle Lens Allows You to See All the Details
You can be assured that the shots you get from MagnnyView are high-quality and clear. The wide-angle lens which cover up to a 150-degree angle which helps you see a bigger perspective.
ALL-PURPOSE MAGNETIC, EASY TO FIX
Easy-to-Install Nanny Cam With Magnetic Surface That Doesn't Need Complicated Installations – Travel-Friendly Nanny Cam You Can Move Anywhere, Anytime
The MagnnyView nanny cam is a portable, mini, magnetic nanny cam that does not call for any wiring installation. The magnetic surface of the MagnnyView makes it possible to quickly attach and detach the device according to your needs. You can bring this to the office, to your business center, or even while you're traveling!
ENHANCE NIGHT VISION, SEE CLEARERLY IN THE DARK
8 Night vision LEDS, remote control, not afraid of dark, and there is no light when night vision mode.