The Safe Way of Monitoring Your Kids' Online Activities.
Kids love online videos. They love online games. They can surf the net for hours and learn so many things. The more they explore, the more difficult it is for parents to monitor the kids' online activities. In this age of cyber threats, there's a lot of major reasons why parents should get a kids' tablet that they can use to monitor and review their kids' learning and entertainment activities online. The LearvaBub is created for the very reason – to give kids the entertainment and learning they need, and give parents better peace of mind.
Features
The Safest Gadget for Kids. The LearvaBub comes with Kid Mode pre-installed. This means that the tablet will automatically hold and bar any content that is harmful and inappropriate for kids. There's no need to worry about unfriendly content on the Internet.
The Tablet That Performs Well. Kids aren't big fans of slow, lagging systems. Their excitement dies down when tablets don't work well. The LearvaBub comes with a Quad-Core CPU – it delivers the perfect mix of power, portability, and performance. You will get an all-in-one powerful device.
The Most Kid-Friendly Device. With LearvaBub's Kid Mode, kids can have their own personal playground and entertainment source. The tab also comes with a Child-Friendly Interface that makes the tablet easy and simple to use. They can get access to fun and educational games and videos which you choose for them. All the content in kids mode adapts to your child's age and skill level. So they are always playing and learning at the highest level.
Even Parents Can Use This! With Quad-Core, everything boots up quickly. It's perfect for reading and watching videos as the HD Screen delivers clear content. The Parent Play Along mode in Zoodles gives you full access to sites and more freedom to guide your child's experience.
Comes with a Heavy Duty Case. Clumsy fingers and little hands can cause little tablet accidents that could cause significant damage to the tab. The LearvaBub includes a durable, lightweight case to protect against drops and bumps caused by kids at play. Made of high-quality soft silicone material, the bundled case is environment-friendly and harmless to health. No need to worry about any potential harm. The soft material brings a soft and smooth touch experience.
Safe for Kids' Eyes. The 7-inch toddler tablet uses good quality LED screen that can rotate 360 ​​degrees without changing dead color, full view, take care of children's eyes all the time
Parents Can Monitor and Control. 7 kid-friendly tablets include parental controls that make it easy to customize tablet viewing time limits, set educational goals, filter age-appropriate content, and also expand kid-friendly web, download new apps and manage playtime as your child grows
Powered by A50 Cortex-A7 1.5GHZ Quad-Core enhanced by the latest Memory Chip, Mail 400 GPU that makes games run flawlessly, web pages load quicker and apps run more efficiently.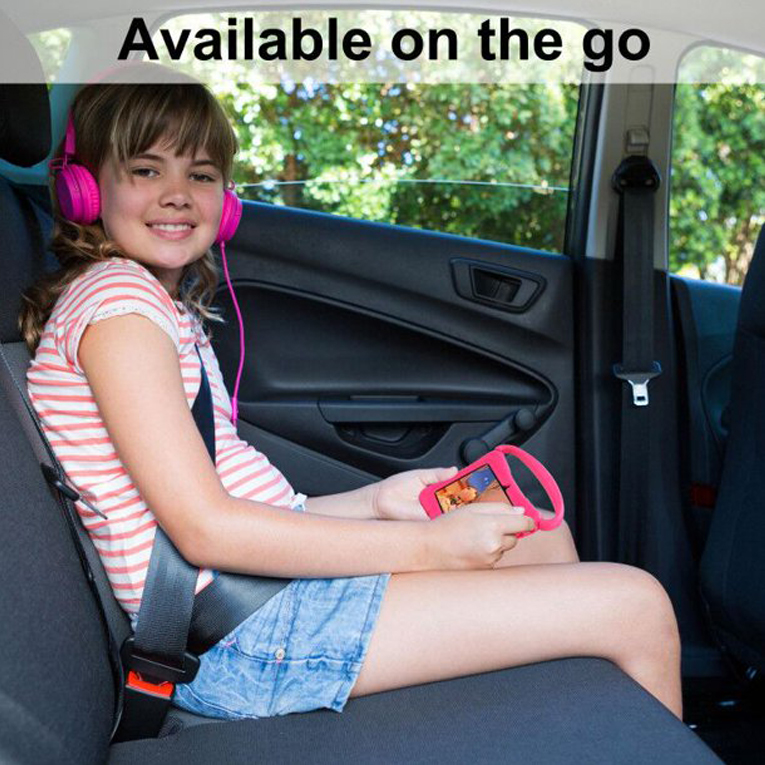 Free thousands of apps
We consider your need to install thousands of Free Apps. What you need to do is just log into Play Store and download free Android apps.
Live US local customer service and tech support. Frequently updated firmware guarantees customer satisfaction. Feel free to contact us whenever a question pops up in your head, we are always here to help.
Best tablet both for kids and parents
Parental control with kid mode installed
Durable case to protect against drops and bump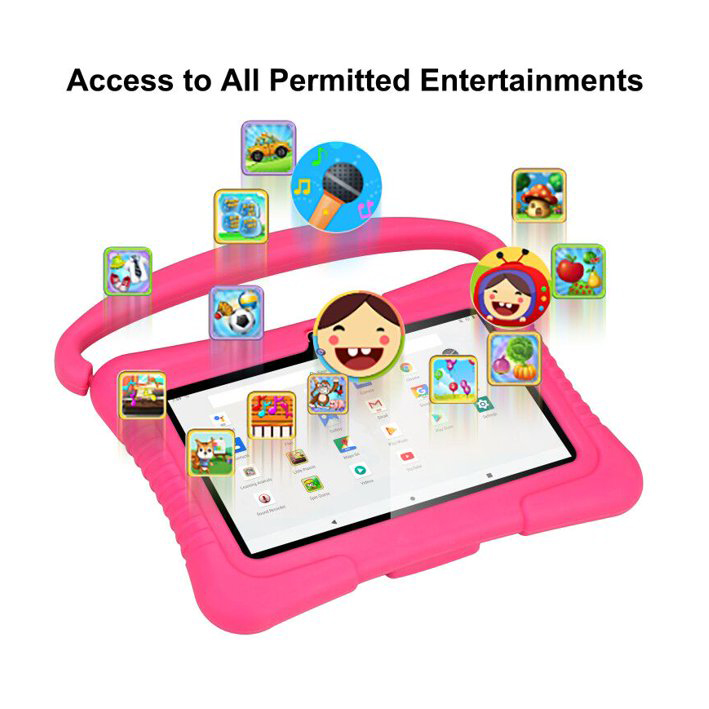 Specifications:
Quad-core Mail 400 GPU
Google Android 9.0 OS
7 inch Capacitive TFT Display, 1024*600 Resolution
Dual Camera Front 0.3 MegaPixel, Back camera for 2.0M
Wireless Wifi 802.11b/g /n
2 GB RAM
32 GB Storage (Supports Micro SD card extension)
Package:
1x Kid Tablet
1x User's Manual
1x USB Cable
1x AC Charger
1x Silicone case with kickoff stand