Take precision to the next level with Lasersio!
With advanced laser level technology, Lasersio is committed to providing solutions for a wide variety of applications of greater accuracy and precision.
Laser tools can help you work effectively in home decoration: such as line up some planters in anticipation of new decking projects, home refurb projects, hang pictures, mirrors, curtain rails, etc. And it can also work for railway construction, bridge construction, wall construction, etc.
Pulse Mode
Turn ON pulse mode: After power on, short press the button beside the power button to turn on the pulse mode. The indicator will light up in red.
Wireless Remote Control
Equipped with remote control, you can operate the vertical and horizontal lines remotely. Don't worry about touching the machine by mistake during leveling.
Lifting Base
The 2020 upgraded version of the Lasersio is equipped with a lifting base, making it an ideal tool for floor tiles in home decoration applications.
Why Choose Lasersio?
[Lightweigth Design]: The Lasersio comes with a waterproof, drop-proof, and dustproof finish. It's made of ABS plastic and TPR soft rubber to deliver portable and lightweight gripping.
[High Accuracy & Low Consumption]: This Laser Level provides high accuracy with low energy consumption. Its error range is ±3°, making it the PERFECT partner in achieving top-notch precision.
[3D Self-Leveling Laser Level]: Equipped with a remote controller, your hands can focus on other things for efficient and less time-consuming work. This laser also offers 1/4″-20 mounting threads for temporarily fastening in place or being fixed on a tripod.

Features:
This professional self-leveling laser level features 2/3/5 lines for a broad array of alignment and precise measurement.
It comes with an automatic self-leveling mechanism and audio warning when working beyond the auto-leveling range.
Fitted with a 360 degree rotatable base with a fine-tuning knob to quickly identify the target.
Features an alternating current or direct current dual-use for high efficiency and convenience.
The button is waterproof, wear-resisting, and feels exquisite, easy to operate.
The thickened metal base provides stable support, and it is shockproof and shatter-proof.
Easy to carry with the plastic case and carrying strap to provide quick and convenient mobility and storage.
Wide applications for auxiliary tiles fixing, wall decoration, floor tiles fixing, stair handrails, and more.
Specifications:
Line: 2 lines, 3 lines, 5 lines
Material: Aluminum Alloy Chassis + Engineering Plastics
Product Size: Approx. 21 x 19.5 x 17 cm / 8.27 x 7.68 x 6.69 inch
Gross Weight: Approx. 1.5 kg
Laser Diode: 532 nm Green Light
Laser Wavelength: Vertical and Horizontal: 5 x 635nm, Down Plummet: 1 x 650nm
Self-Leveling: +/- 3 degree
Emission Angle: >=120 degree
Horizontal Accuracy: +-1mm at 5m
Vertical Accuracy: +-1mm at 5m
Accuracy of Lower Alignment: +-1mm at 1.5m
Orthogonal Accuracy: +-1mm  at 3m
Line Width: 2 mm at 5 m
Working Environment: Indoor/Outdoor
Power Supply:  3 Pieces AA batteries (NOT included) or AC 110-240V
Plug Specification: US/EU/AU/UK
Oblique Line Function: Yes
Operating Temperature: 0-40 Degree Celsius
Operating Time: Approx. 8 Hours
Wall Sticking Distance: 7 mm
Working Distance: 20 m
Protection Grade: IP54
Color: Green+Black
2 Lines Laser Level: 2 Lines 2 Points (1 Vertical, 1 Horizontal, 2 Enhanced Points)
3 Lines Laser Level: 3 Lines 4 Points (2 Vertical, 1 Horizontal, 1 Down Point, 3 Enhanced Points)
5 Lines Laser Level: 5 Lines 6 Points (4 Vertical, 1 Horizontal, 1 Down Point, 5 Enhanced Points)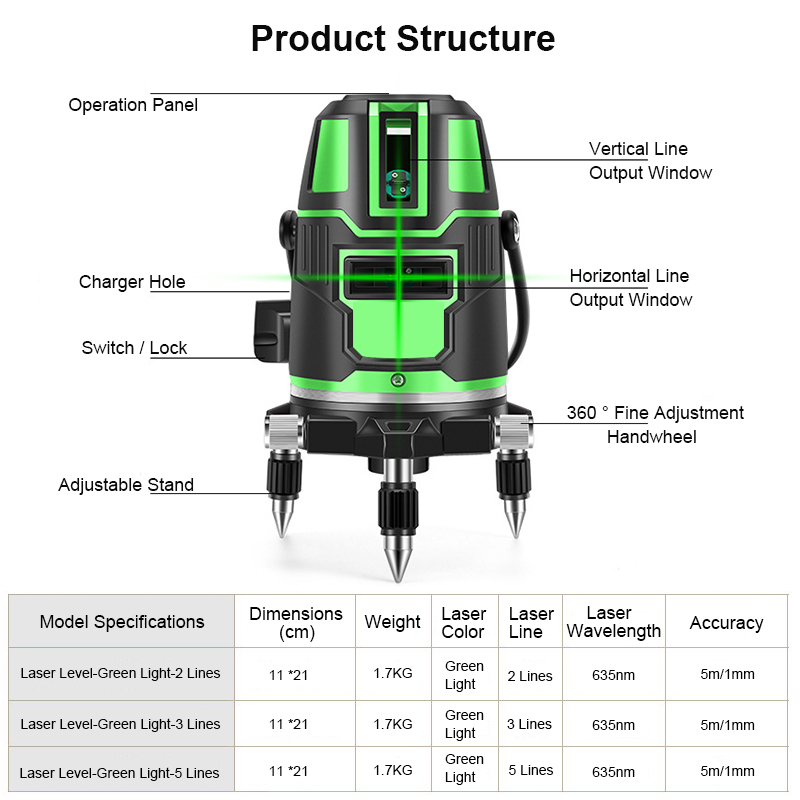 Diagonal Function: The adapter needs to be configured. Please consult the manual for instructions.
Product Include
1 * Laser Level
1 * Tripod