Get The Security That You Need for Your Home and Property Without the Complicated Installation Process and Expensive Surveillance Devices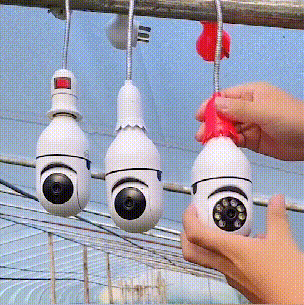 The Easy-to-Install Lightbulb Camera Also Comes with a Sensor That Automatically Makes the Lightbulb Move in a 360-degree Rotation
Are you looking for a security camera that delivers powerful surveillance features without making you spend thousands on device and installation? 
Introducing the KhalexVuu lightbulb camera – a security camera that's so easy to install, provides 360-degree views, accessible on mobile, and can be controlled through mobile phone. 
The camera is also capable of recording footages, and also includes a speaker
Security without the stress, powerful features without the high price tag – that's what KhalexVuu camera offers.
KhalexVuu Lightbulb Camera Features:
The easiest lightbulb camera to install – you only need an E27 bulb source for it to work. Say goodbye to complicated wirings, and expensive installation costs. All you need is an E27 bulb source and you're good to go.
High-definition recording gives you the best footage both during the day and night. Don't miss any important shot! The KhalexVuu lightbulb camera comes with a 1080P footage capacity to help you see full details both day and night. Recording feature supports up to a 128GB SD card.
Includes LED lights that amp up the nightvision feature so you can see details even during the night. The nightvision feature is improved by high-powered LED lights that illuminate the surroundings clearly.
Comes with a motion detection technology with alarms so you can be notified when suspicious movements are recognized. If some suspicious movements are detected, you'll be the first to know.
Can be controlled via the app. The movement of the camera, the focus, the angle you want to see can all be detected using a camera you can control via an application. You won't need to be physically there for the camera to move.
The cost-effective security camera.​ Improve your security without breaking the bank! Our Security Camera Light Bulb offers excellent value for your money.
Why Choose the KhalexVuu Lightbulb Camera? 
🌟You can easily access footages from this camera through a mobile app.
🌟The surveillance quality is at 1080P – the footages will be crystal clear.
🌟The 360-degree field-of-vision means you won't have to deal with blind spots that could affect your security.
🌟The lightbulb camera comes with a built-in microphone and speaker, meaning you can have a conversation with anyone that comes to your door.
🌟With the KhalexVuu, you'll feel safer, more secure, and more confident knowing your home will be okay in your absence.
HOW MANY DO I NEED?
For every 2-bedroom home, we recommend purchasing two or more, a unit for the front yard and backyard to maximize the area of protection. If you frequently leave the house, we recommend starting with a unit near each main entrance to the home.
SPECIFICATIONS
Socket: E27 Bulb Base (Fits Your Standard Socket)

Storage: SD Memory Card (Max 128G) / Cloud Storage

Material: ABS

Resolution: 1920×1080

Voltage: 110-220v

Working temperature: -20~40

Lens size: 3.6mm

Horizontal resolution: 600

Signal-to-noise ratio: 60

Aperture: F0.9

Infrared night vision distance: 0-65.6ft (0-20m)

Minimum Illumination Value: 0.001

Image Sensor: CMOSP65
WHAT'S INCLUDED: 
1 x Light Bulb Security Camera
1 x E27 Bulb Socket
2 x Mounting Screws
1 x User Manual