Looking For A Digital Art Pad With Real-time Results?
With a Touch-Screen Interface, the KanvaLine – drawing pad enables you to directly draw onto the screen with real-time results! Each stroke that you make on the digital art tablet will conveniently be projected onto a different device.
Equipped With Its Very Own Pen!
There is no need to re-charge the pen, making your workflow hassle-free!
Best part of all, the digital drawing tablet is extremely easy to use and comes with multiple control buttons to help you create your beautiful artwork. Enhance your drawing skills and be able to save them in your device by drawing on the digital art tablet.
Features
Big and Brilliant: The digital drawing pad comes with a 10×6.25″ working area so you have more space to create and get work done. Only 11mm thick, you can take it anywhere without the burden of lugging around a heavy tablet!
Enhanced Performance: Designed for enhanced performance for drawing, painting, sketching, E-signatures, gameplay, and so much more! With enhanced sensitivity, the pen and tablet work so well together – you'll immediately get the results that you want.
Perfect Compatibility: The KanvaLine digital art tablet can be used with Windows 10/8/7, Mac OS 10.10, or later versions. This tablet is compatible with Photoshop, SAI, Painter, Illustrator, Clip Studio, and more. It also supports connections with Android Phones and tablets 6.0 and above. Compatible with most major software including ibis Paint X, FlipaClip, Medibang, Autodesk Sketchbook, Zenbrush, Artrage.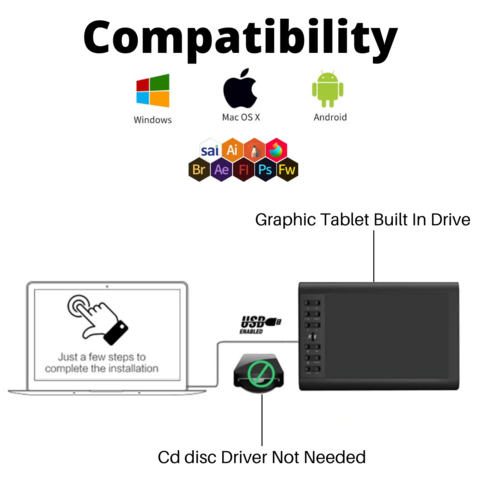 12 Customizable Express Keys that fit easily to your fingertips: With its blind spot reduction design, you can find the position of your express keys efficiently and the shortcut keys can be programmed to many different software programs.
High Quality: Designed with the newest High Tech IC, to make lines flow smoother and perform better.
For Right And Left-hand Users!
Designed for both right and left-hand users, ProDraw – is easy to use and meant for anyone who's ready to create a masterpiece.
The digital tablet must be connected to a laptop/computer/Android Devices to work.
Not compatible with Chrome OS at present.
Your computer needs to have a USB Type-A port for the connection. Please confirm the USB Cable completely plug into your computer.
If your computer only has Type-c ports, you need an adapter for the connection.
Note: Please remove the protective cover (plastic layer) before use.
Specifications
Color: Black
Screen size: 10*6 inches
Support interface: USB
Reading speed: 233 points / sec
Included
1*ProDraw™ Drawing tablet
1*Drawing pen
1*Pen holder
1*Pen picker
1set Pen refill
1*User Manual