✔️Portable
✔️Easy to Use
✔️Reliable

The K-II Deluxe Hunting EMF Detector is a popular, easy-to-use tool to detect spikes in electromagnetic energy. These spikes indicated by the multi-color lights at the top of the meter signify the different levels of EMF exposure from power lines, electrical appliances, and wireless and cellular telephones.
Product Specifications
ACCURACY. This device helps measure the electromagnetic fields to identify appliances that produce high-level emissions, allowing users to make informed decisions about limiting exposure.
EFFICIENCY. This portable device operates on a single battery and reports EMF measurements in five milliGauss ranges.
SCOPE. This device can measure a wide spectrum of EMFs from 50 Hz up to 20,000 Hz. It can register a cellphone up to 2 feet away.
PROTECTION. This device helps protect you from potentially harmful, long-term overexposure and its dangerous effects.
USER-FRIENDLY.  This device operates with a simple push-on/push-off button and bright colored lights that make it easy to read in any lighting situation.
The Five Scales
The 1st Light detects a Normal EMF field, which is always around us. The range is between 0 to 1.5 mG.
The 2nd Light (GREEN) detects a Low-Level EMF with a range of 1.5 to 2.5 mG.
The 3rd Light (YELLOW) detects a Mid Level EMF with a range of 2.5 to 10 mG.
The 4th Light (ORANGE) detects a High-Level EMF with a range of 10 to 20 mG.
The 5th Light (RED) detects an Extremely High EMF with a range of 20 mG+.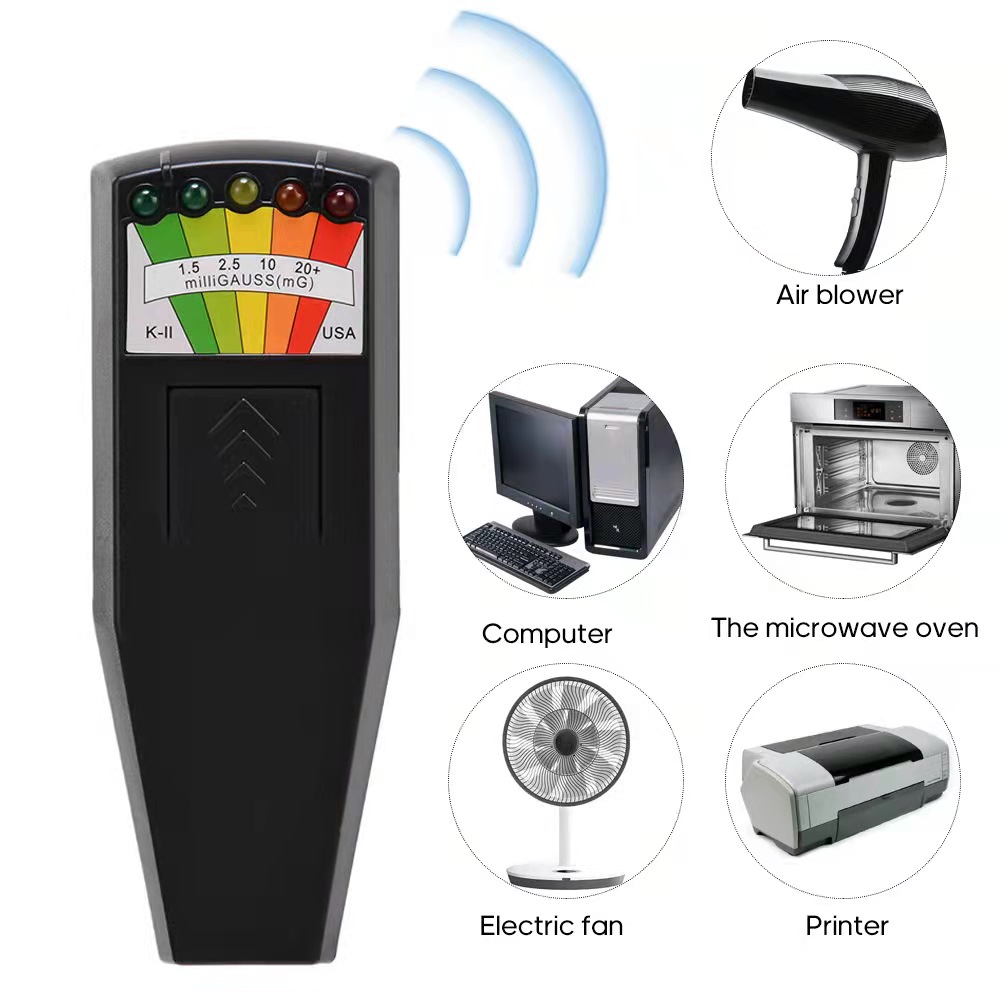 Product Specifications
Accuracy: +/- 5% at 50-60 Hz
Detection Range: 0 to 20+ milliGauss
Detection Frequency: 30 – 20,000 Hz
Screen Display: LED 
Size:6.1 x 2.6 x 1.5 inches
Batteries (not included): 1 x 9V
Note: This product is intended to measure electric AC fields and does not detect nuclear radiation.
Package Inclusions