A Handheld Printer Device for All Your Out of the Ordinary Printing Needs—ImpriX
Print your branding, labeling, and art with just your hand. There's no need to invest in big, heavy devices to print anything you desire. With ImpriX, all you need is a cartridge, a portable printer, and an inspiration to get your message across!
With this genius, portable printer you can now print anywhere. And, unlike the bulky inkjet printer you're used to (you know, the one that is always getting jammed), this portable printer can print virtually on any object or surface – not just paper!
This ultimate handheld, portable printer lets you create fast, vivid, color printing anywhere. All you need is your Wi-Fi and smartphone to easily upload any text, image, or design and instantly print onto virtually any object or surface at the Press of a button. Printing has never been more mobile and more convenient.
More About this Item:
Smaller Color Printer: 2.8 x 2.0 x 2.6-inch mini portable size, this handheld mobile color printer allows you to print anything, anywhere! It is 100% easy setup and comes with a detachable ink cartridge that's convenient to replace. Experience clear and quality printing, without distortion, using just your hands! The best color printer ever!
WiFi Connection: Scan the QR code in the user manual and download the APP, connect the mini color printer via WiFi network, and then upload the pattern you want to print. Start the machine by pressing the power button on the top part to print the pattern.
All Materials Available – Unlike other printers that only work well with papers, this full-color printer features the latest printing technology to deliver clear printing on all materials such as plastic, fabric, metal, leather, glass, wood, paper, and textiles.
Wide Range of Applications: Excellent DIY or craft color printer, you can print anything you want in bright colors on any material. It's suitable for making invitation cards, printing barcodes, QR codes, making your T-shirts or clothes, shoes, cell phone cases, laptop cases, and other products.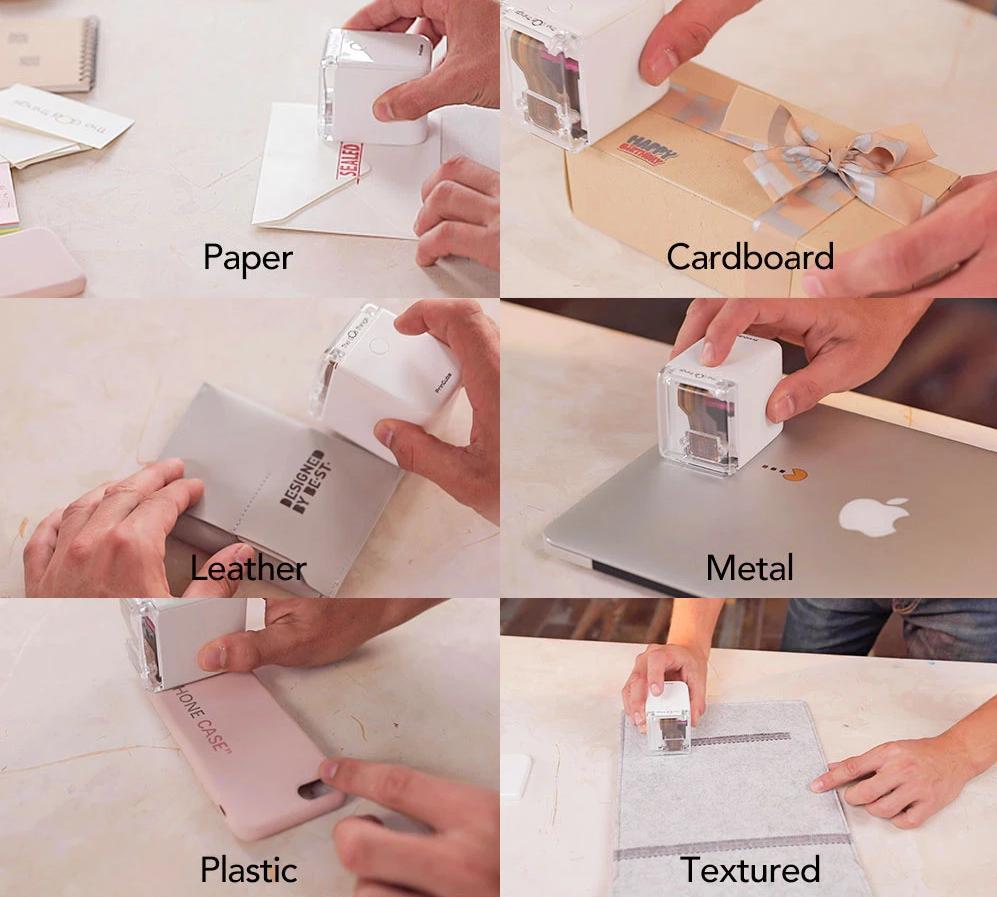 FEATURES:
It utilizes the latest 3-Color Thermal Ink-jet Technology that provides vivid color printing
It's so versatile, it can be used on paper, metal, textile, plastic, wood, leather, fabric, and other materials
Can also be used to print temporary tattoos on your skin
It works with both iPhone and Android and getting started is easy.
Rechargeable using a USB Type-C port and a single charge provides 6 hours of working time and an incredible 1 year of standby time
Capable of printing over 415 pages of A4 paper on a single cartridge
Easy to replace the ink cartridge
It's ultra-lightweight, fits in the palm of your hand.
Toss this in your briefcase, art satchel, or purse, and ensure you are always prepared.
Specifications:
Color: White
Material: plastic
Connection: WiFi / USB
Compatible system: Android / iOS / Windows / Mac OS / Linux
Charging time: 2 hours
Working time: 6 hours
Printing resolution: 1200dpi
One time printing Height: 14.28mm
One Time Printing Width:> 1.3m
Multi-line Printing Height:>3m
Printing Capacity: Up to 415 Pages (A4)
Printer Size: 7.2 * 5.1 * 6.8cm / 2.8 * 2 * 2.7 in
Packing List:
1 * Inkjet Printer
1 * Ink Cartridge
1 * Printing Help Ruler
1 * Printer Cover
1 * USB Cable
1 * User Manual