The cold can be tough on the feet. When the weather starts to go chilly, you might want to bundle up your feet in heated socks that will envelope them in comforting heat. The best heated socks can alleviate a lot of foot issues – numbing muscles, poor blood circulation, and aching foot muscles.
If you're looking for the best heated socks to buy for the upcoming chilly days, you need to check the HevoStep! The impressive HevoStep heated socks are comfortable, and delivers the best heating therapy for the feet. If you are done with dealing with feet battered by the cold, the HevoStep is one of the best investments in foot care that you can make!
Benefits:
The socks warm up in less than 60 seconds. You won't have to wait for a long time just to get the relief you want for your feet.
You can adjust the heat for your socks. The HevoStep comes with three temperature settings – you can conveniently choose which heat level is ideal for your feet situation. You can choose from low, medium, and high.
The best-heated socks for winter. If you're going camping, fishing, hunting, engaging in outdoor sports, or if you are dealing with arthritis, bad circulation, Raynaud's, and chronically cold feet, the HevoStep will come in handy!
The socks come with a long-lasting battery. You won't have to perpetually search for electric sources to charge it. The battery for the HevoStep heated socks can last for up to  3-7 hours. These electric heated socks can last for several days with regular charging. The heated socks will keep your feet toasty and comfortable on long hikes or when you're traveling.
The best electric heated socks with top-quality material. The HevoStep does not skimp when it comes to quality. The socks are 80% cotton, 12% polyester, and  8% elastic fiber material. The fabric is absorbent and breathable, moisture-wicking, and dries quickly. Toes and heels receive padded comfort, and the hidden heater can perpetually make your feet warm.
The entire toe area is heated by the HevoStep. The socks include Infrared far-infrared heating components which may be used to increase your blood circulation and improve muscle pain. Your feet will feel warm and toasty all through the winter.
100% Safe. You won't have to worry about being electrocuted. The socks come with a protective layer that separates your bare feet from the heating material.
Forget worrying about sizing! These heated socks are elastic and can be stretched. These unisex socks are comfortable in any shoe and wearable for both males and females.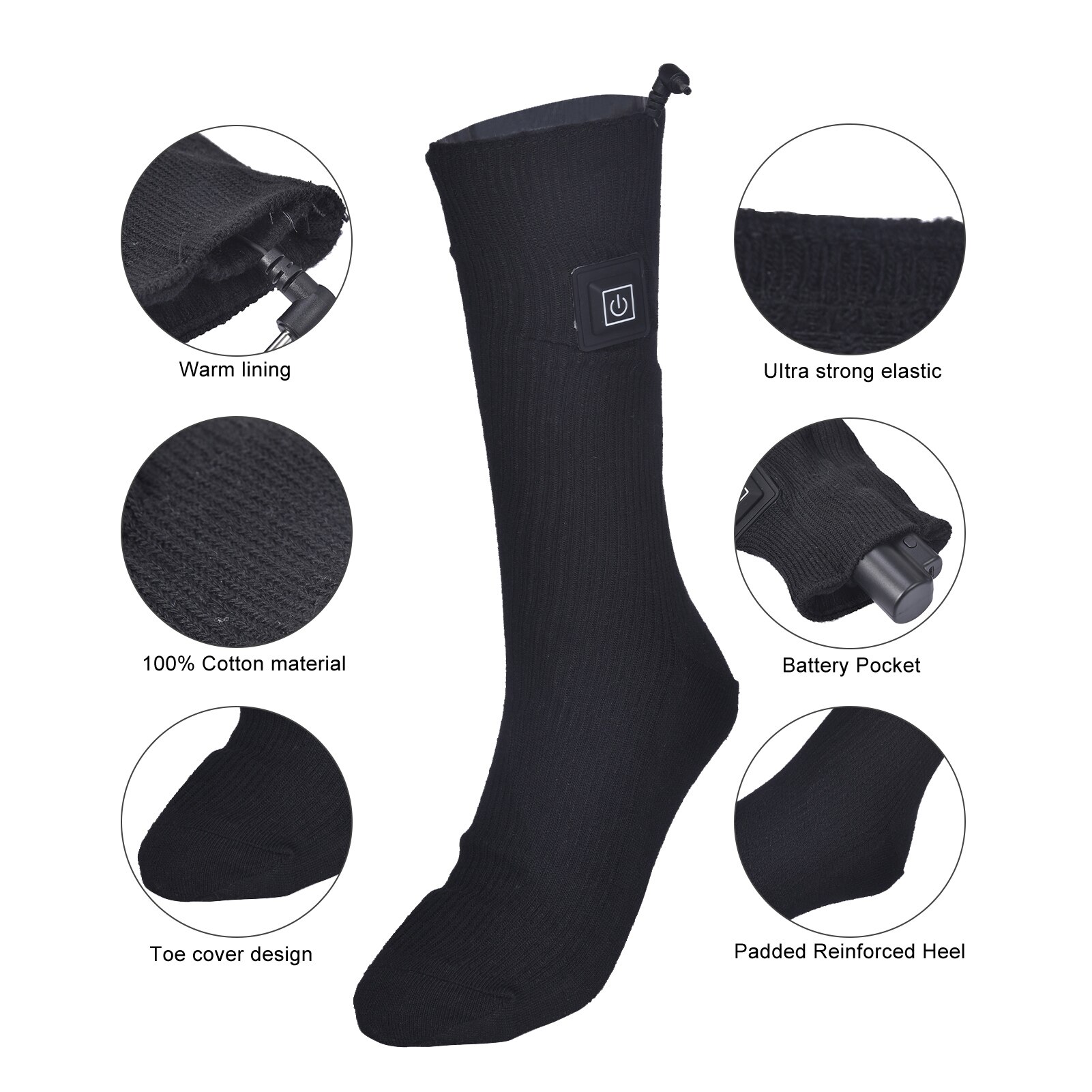 Features: 
The socks include rechargeable batteries.
Keeps constant warm temperature for up to 3-7+ hours!
You can turn the heat up up to 50-degrees celsius or 140 F.
Warms up in less than 30 seconds
Unisex and free size!
Helps with Raynaud's , arthritis, chronic cold feet, and more!
Package Include:
1* Pair of Electric Heating Socks
2*Batteries
2*Charging Cable