Experience the Ultimate Laptop Cooling Pad that Fits Your Needs
Are you a gamer, a Cyberphile, or someone who spends long hours on your laptop? No matter what you do, there's no doubt you need a laptop cooling pad to prevent overheating or performance issues. Our HeatSlash Laptop Cooling Pad is the PERFECT accessory to dissipate heat and ensure your laptop stays cool as a cucumber and enjoy longer hours playing games or finishing tasks.
🟢 Suitable for laptops 17-inch or smaller
🟢 Includes 6 powerful fans
🟢 Acts as a stand for vision comfort
🟢 Heavy-duty and outperforms standard cooling pads
🟢 Designed for gaming and longer performance support
Why Choose the HeatSlash Laptop Cooling Pad?
6 2900 RPM fans for faster heat dissipation
12 kinds of color light modes on the side of laptop cooling, independent button control
7 adjustable heights of meeting customer requirements
Additional 2 USB ports to allow you to connect more USB devices
LED display shows laptop RPM cooling, provides three-speed modes and three gears for you to choose from
Design for 12-17 inch laptop and provide a stable surface
The Advantages of Having the HeatSlash
✅ 【6 Super Cooling & Quiet Fans】The laptop cooling pad has 6 noise-free fans, with blue LED, which provides beautiful aesthetics and shows the fan's performance. It's extremely quite with a rapid cooling effect that prevents your laptop from overheating under different use situation
✅【Adjust Fan Speed & Cooling Pad Height】Our laptop cooling pad comes with 6 fans that can work together, or 3 big fans and 3 small fans run separately. It's built with 2 separate switch control fan speeds from 0 to max freely for easy control. The pad has heights for you to select, free adjust to suit different laptops.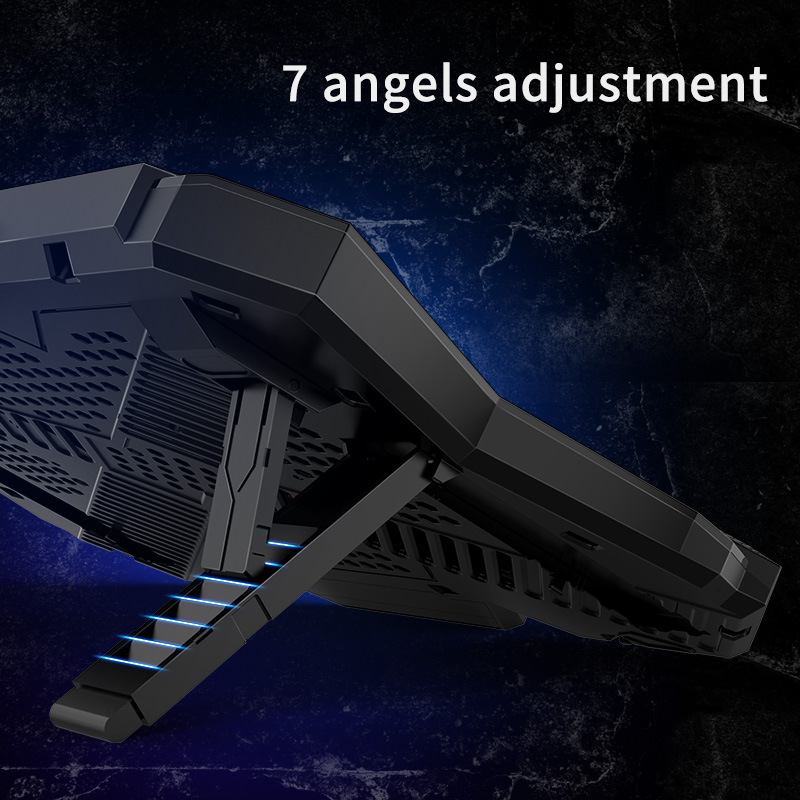 ✅【Ergonomic Design & Non-Slip Baffle】The HeatSlash features an ergonomic design suitable for all-day use. The laptop cooler stand can be hidden when not in use. Two non-slip baffles can prevent your laptop from falling on a slanting surface. Also, have an enlarged and thickened anti-skid pad at the bottom to stabilize the laptop.

✅ 【Unique USB Port Design】Built with 2 USB ports, the HeatSlash allows you to connect other USB; using nylon braided cable, more cool and durable, also easy to set into a storage box.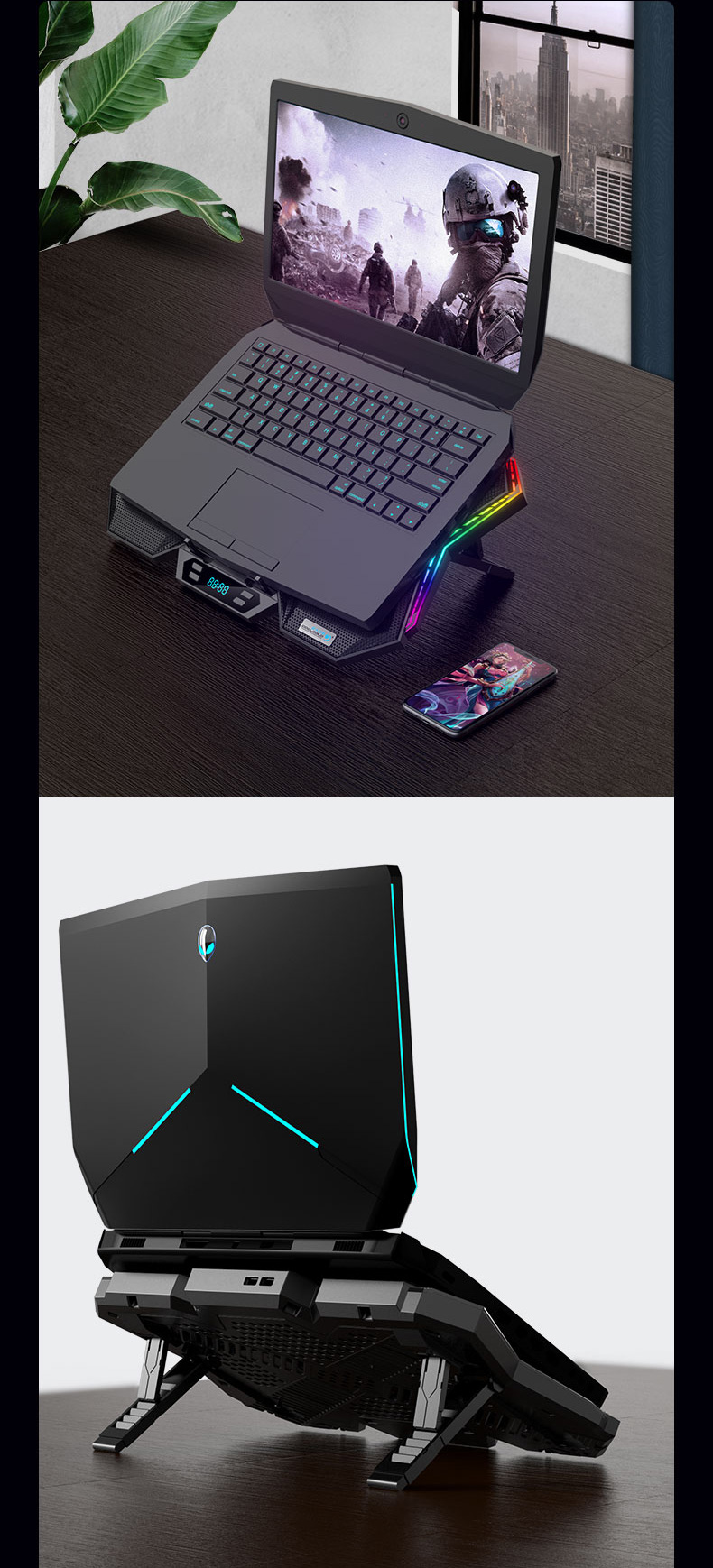 Specification
Material: ABS+Metal laptop cooling pad
Product Size: 426*280*37mm
Fan Size: 60*15mm
Voltage: DC 5V
Watts: 0.75W
Current: 0.95±10%A
Fan Speed: 2600±10% RPM
Weight: 840g
Package Includes:
1 * Laptop Cooling Pad
1 * USB cable