Create an Ideal Sleeping Environment for You and Your Family!
Stop counting sheep and let the Zzzs come with ease. Our GoSnooze White Noise Machine is here to shush you or your little toddler to sleep with its beautiful, relaxing, and sleep-inducing sounds.
The GoSnooze effectively masks all the loud and annoying sounds in your area, like barking dogs, patrol cars, and even water droplets that tend to keep you awake at night. With GoSnooze right next to your bedside, you'll never have to worry about sleepless nights ever again. So don't make your bedroom a battlefield all the time. Drift away with GoSnooze and enjoy your best sleep ever.
Turn Your Bedroom Into A Sleeping Haven
This wonderful white noise machine design will transform your bedroom or any space in your home into a sleeping haven. Simply turn our GoSnooze on before sleeping and listen to our sleep-inducing tracks. And don't worry, with our white noise machine, your loud neighborhood, that barking dog across the street, or even someone's annoying snoring, will be kept away so that you can have a calm and quiet night to enjoy your goodnight's sleep.
Enjoy Good Mornings with Your Baby!
If you and your baby are well-rested, one thing is for sure, both of you will have the best morning ever! So, to help your baby have a restful sleep, our GoSnooze White Noise Machine will help create a peaceful environment for your baby. Our design effectively covers up unwanted noises that could bother your baby's sleep. The GoSnooze is your dependable sleep helper to enjoy great mornings with your family and friends.

Features:
7 Color Night Lights and Breathing Light
Most sleep machines have sounds only. Besides the sounds, we also feature a night light with 7 different colors. The bright night light makes your nighttime nursing easier. We've also included a breathing light feature that will guide you to breathe along with the rhythm of the pulsating light—helping you to calm down and fall asleep faster.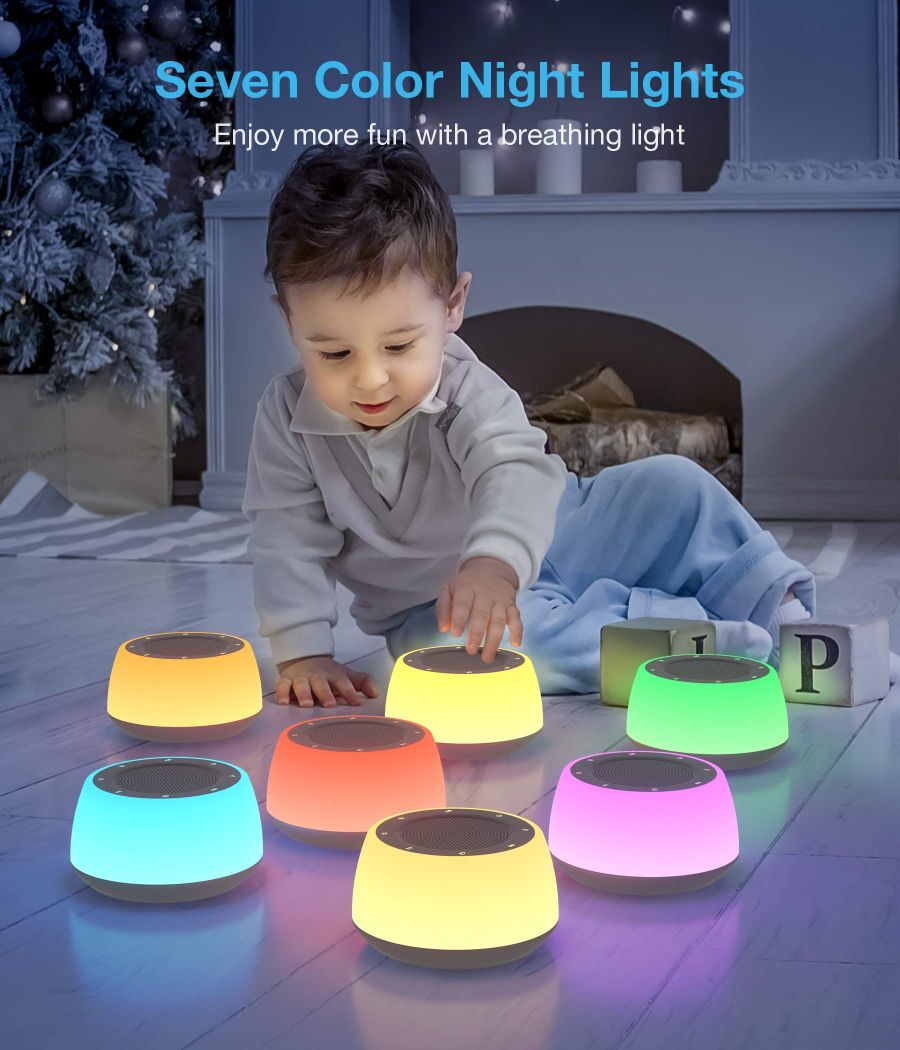 16 High Fidelity Soothing Sounds
We provide a total of 16 High Fidelity Soothing Sounds including 6 white noises (White noise, Pink noise, Brown noise, Fan noise, Fetal heart sound, Clothes dryer), 4 lullabies  (Twinkle twinkle little star, Hush baby, Rock a bye baby, Moon night song), 6 nature sounds (Thunderstorm, Sing birds, Ocean waves, Water Stream, Water Channel).

Timer
Our GoSnooze Sound Machine can be played continuously or 15, 30, 60, 90, 120 min auto-off timer. Set a timer on the sound machine to make efficient use and save electricity.
For You and Your Whole Family
The white noise machine is not only designed for babies and kids but also adults and seniors. A noise machine is not only for home, but also fits office, meditation, yoga, or cafe well with minimalist design, smooth texture, and decent white color. The GoSnooze Sound Machine provides the most relaxing experience possible for yoga or meditation. And non-looping white noises and fan sounds are effective for noise-canceling while you're studying or working, boosting your focus and efficiency.
Help Your Baby Get Better Sleep
Soft night light with a soothing lullaby, with a wide range of volume and precise control, you can adjust the volume according to different backgrounds and make it fit users of all ages. Better sleep for your little ones can mean better sleep for you and a happier family.

Suitable For The Elderly
Our GoSnooze White Noise Machine is perfect for creating environments that can aid the elderly who find it hard to sleep. Creating a peaceful environment that gives better sleep quality for all ages.
Specification
Model: A800
Adapter Input: 110-240V-50/60Hz
Adapter Output: 5V—1.0A
Device Working Voltage: DC 5V
Device Working Power: 2W
Note: The white noise machine does not have a built-in battery, a power adapter included for use.
Package Include