A Classic with a Modern Take. Experience a new way of typing with GlitzMo Typewriter Keyboard.
Are you tired of the usual keyboards, and do you want to spice up your typing? Let GlitzMo help you embark on a new typing experience reminiscing the good old days.
Our GlitzMo Typewriter Keyboard immerses you in the world of retro-style typing. That unique click, tapping sound, round and bouncy keys—GlitzMo has it all so that you'll fall in love with typing again.
Enjoy these amazing features:
★ Multi-device Wireless Connection – You can connect up to 3 devices and switch between them in one go. So now you can connect your phone, tablet, and laptop all wirelessly to the keyboard.
★ Supports Wired USB Mode – This is a fancy way of saying that the keyboard can perform at the highest level in wired USB mode without losing letters or strokes. Now supports USB-C!
★ Dual Scroll Knob Encoder – The keyboard has a dual function scroll knob that controls mouse scrolling on the left knob and volume on the right knob.
★ Mechanical Switches – All-metal structure, the chassis is completely made of new scratch-resistant aluminum alloy, with incredible quality and durability.
★ Compatibility – It can be used with WIN10, iOS, and Android devices in wired USB or Bluetooth wireless mode. Some WIN10 devices may require an updated Bluetooth transmitter dongle.
★ New and Upgraded Material – The keyboard chassis is made of a combination of wood and PBT, which is light and easy to carry. The material is environmentally friendly and recyclable.
★ Long-lasting Rechargeable Battery – The keyboard can last up to 16 hours on a single charge, depending on usage. In USB mode, the keyboard is chargeable, even without requiring battery power.
Functions of 4 indicator lights
Easy to switch the connection mode you want through simple operation
Wired and wireless switching keys: Fn+R(Press Fn and R key at the same time)
Red light: wired connection mode.
Blue light: Bluetooth connection mode.
2000mA rechargeable battery for long time using
The GlitzMo Typewriter Keyboard can be used for more than 10 hours after one full charge—thanks to its 2000mAh battery. You can game and type anywhere you need.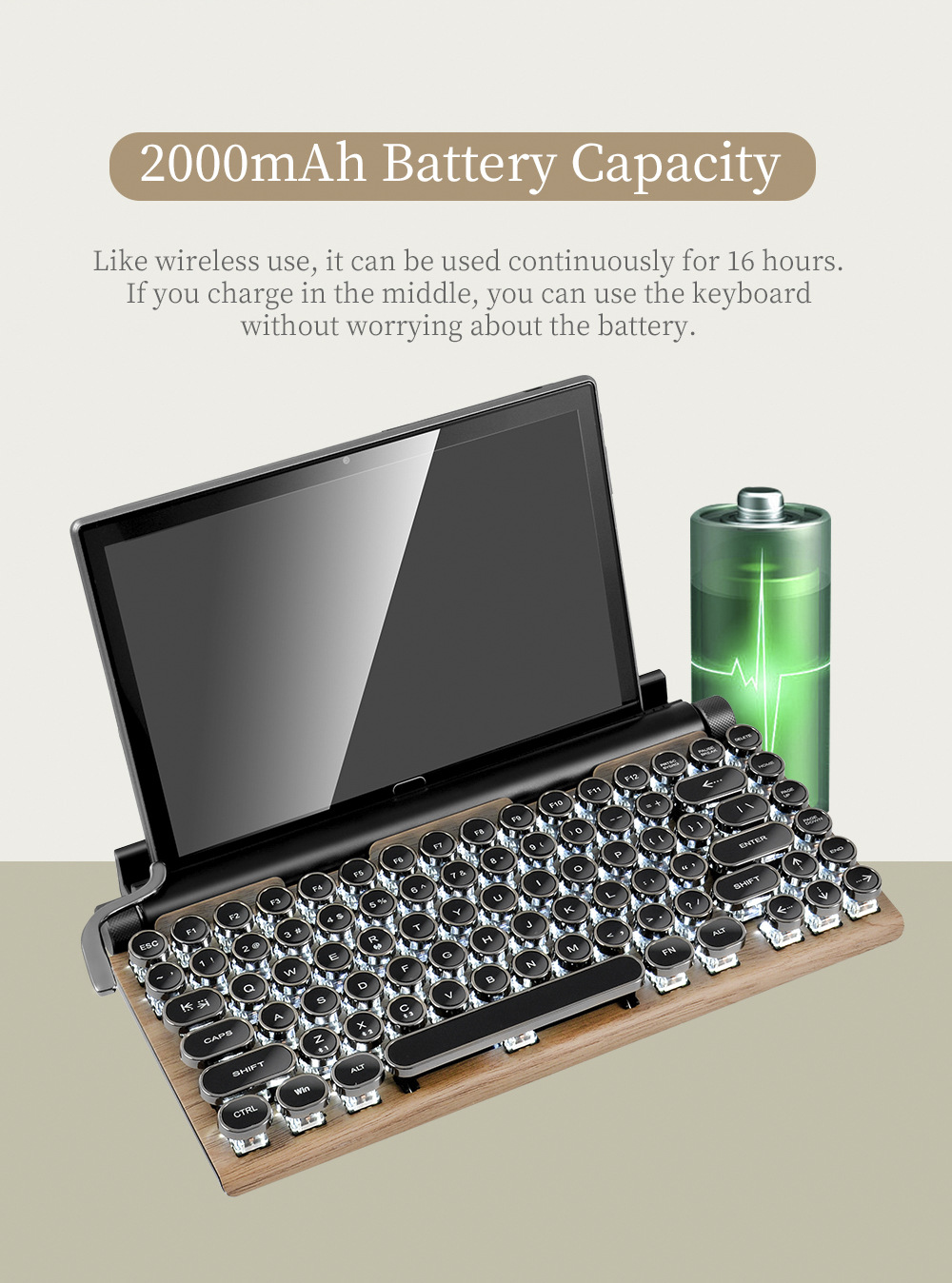 Premium OUTEMU Blue Switch for excellent stability and durability
Our 7 KEYS vintage typewriter uses one of the most stable and durable switches—OTEMU. Its service life is more than 50 million times. At the same time, hot-swap mechanical switch is configured.
★ Specifications:
Working voltage: 5V
Working current:110mA
Working temperature: -40°C~85℃
Bluetooth Version: 5.0
Operating frequency: maximum operating frequency 24MHz
Number of keys: 83 keys
Size:327 *169* 44mm+0.5MM
Battery:2000mA
Compatible with: WIN2000 /WINXP/VISTA/ WIN7 / WIN8 / WIN10/ LINUXlANDROID /Ios
★ Package Content:
1 x TW1867 keyboard
1 x Manual
1 x Puller
2 x Mechanical Blue Shaft
1 x Power cable
1 x Packing box