Mom's #1 Secret for a Goodnight's Sleep
🤔 Are you having a hard time getting your baby to sleep at night? Or, are they always bothered by the loud noise outside? This Sleeping Trick will help you and your baby achieve a goodnight's sleep fast and easy. With our White Noise Machine, experience soothing and sleep-inducing sounds that will create the best atmosphere to relax and doze off both for you and your baby.
💤 For the super moms out there, get the sleep you deserve and energize your body with FortyZs White Noise Machine. Designed to assist all troubled sleepers, the FortyZs is your sleep and comfort partner for those nights you badly need to catch some Zs. Get it now and experience your best sleep ever!
9 Kinds of Natural Sounds
🔉 white noise, 🌊 wave sound, 🐦 birdsong, 💦 waterfall, 🦗 cricket sound, 💧bicker and 💤 3 lullabies
Choose the one you like according to your mood! Create a perfect condition for falling asleep—that's the relief the FortyZs brings!
Imagine sleeping with the sound of the ocean, flowing river, blowing wind, rain, or nature sounds. For sure, your mind and body will slowly drift to dreamland. Improve your sleep quality with this all-new Sleep Improving Device! It operates at a frequency that improves REM sleep and helps you fall asleep quicker. It is a must-have for any room and it can help keep you and your children sleeping the whole night through!
The Best White Noise Machine, Sound Machine for 2021!
Our FortyZs has a built-in speaker and 9 different recorded sounds. Enjoy the sound of the ocean, thunder, wind, brook, summer night, rain, white sound, and two different lullabies. These sounds help you relax and block out any outside noise that may wake you up. That's because, when the machine is on, the constant noise will keep the room calm with no sudden interruptions.
This device is ideal for babies that have issues falling asleep or staying asleep the whole night, specifically if you notice your baby falls asleep in loud spaces or public places, this may be for them. The Sleep Improving Device can be powered wirelessly by batteries or plugged into the wall.
For Everyone's Sweet Dreams
The FortyZs is highly beneficial for adults too! It will boost focus while studying or working, help you fall asleep, reduce anxiety and improve sleep quality. This will increase energy levels and decrease stress levels.
Features:
9 sounds: It features 6 nature sounds and 3 lullabies
Mini Size: Only 8*8*3.3cm—perfect travel companion and bedside table portable.
Automatic Shutdown Timer: 15, 30, or 60 minutes for option.

Long Battery Life: 36h working hours for a full charge. Rechargeable Lithium Battery and USB charging;
Portable design allows taking the White Noise USB Machine on a trip.
The White Noise USB Machine may be turned on during the whole night or make use of the automatic timer to turn the device hands-free.
White Noise USB Machine suits not only for sleeping. It also helps to boost concentration, calm you during noisy traffic jams, or relax after a hard day.
You may use it non-stop for 36 hours.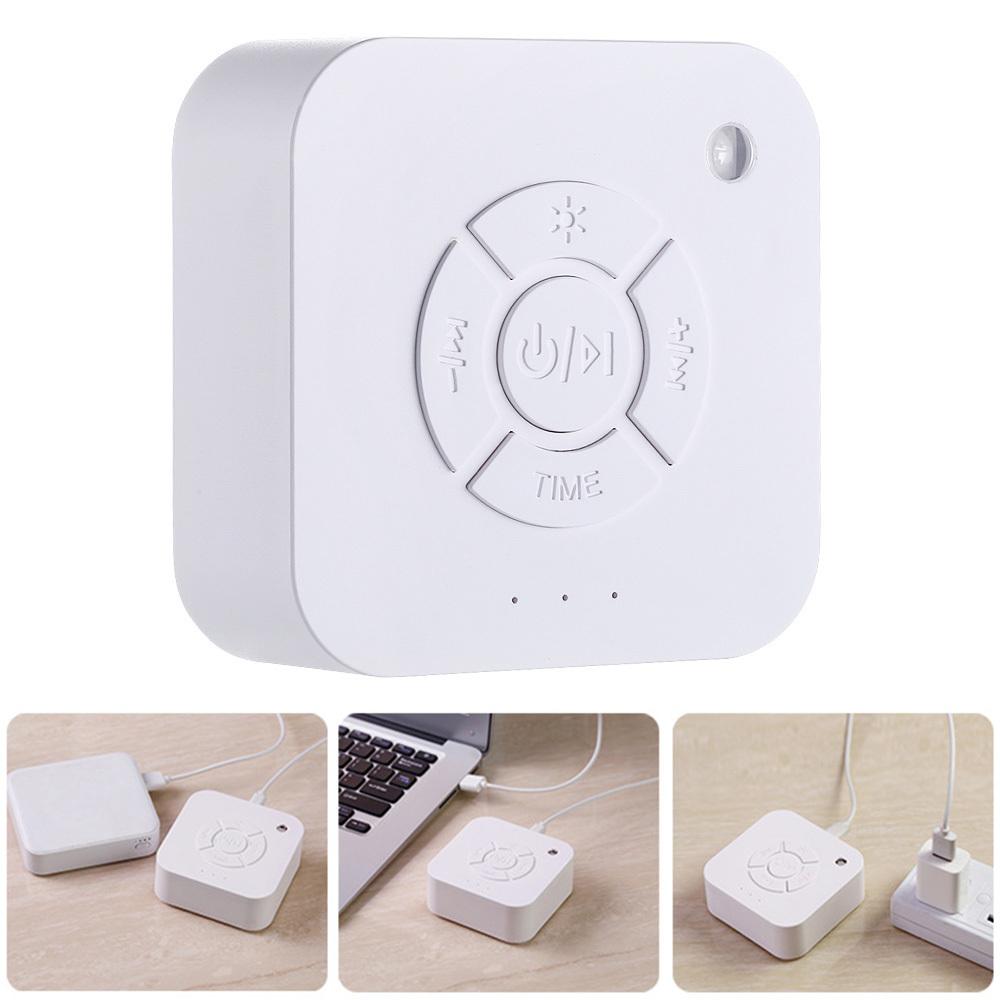 Specs:

– Item Type: Baby Sound Machine for Sleep
– Material: ABS+PC+silicone+electronic components
– Age Range: 0-14Y
– Size: about 80*80*33mm/3.15*3.151.30in
– Charging Option: USB Charger and Rechargeable battery
Details:

– Input Voltage: DC5V
– Working Voltage: 4.2v
– Charging current: 1A
– Power: 1W
– Battery Capacity: 1200MA
– Charging method: USB
– Charging time: 1.5h
– Use time: 36h
Package List: 
1* Sound Machine
1* USB
1* Instruction Manual