DigiPrint Smart WiFi Photo Frame is totally a new concept of sharing pictures or short videos (max. 15 seconds) with people you care about, like your mom, dad, grandma, or grandma. When you are traveling, having fun with your friends, enjoying your big day, or celebrating your kid's birthday party, every moment is worth sharing.
Rekindle the love for family with DigiPrint Smart WiFi Photo Frame. Take a photo or shoot a short video and send it to your relatives. DigiPrint will display these amazing moments for you and intimately share them with your loved ones.
The DigiPrint brings families together through photo and video sharing unlike no other. Let them feel the joy you felt in whatever adventures you take with DigiPrint—because life is better when shared.
Share DigiPrint as a gift this Mother's Day, Father's Day, birthday, wedding day, and especially for Christmas. Let's share easily and innovatively with DigiPrint Smart WiFi Photo Frame.
Specifications:
Memory: 16 GB
Size: 8-inches
Type: LCD
Ratio: 16:10
Power source type: DC
No batteries required
Wireless Connection
Touchscreen Interface
TF card: support external TF card for importing and restoring photos
USB: Micro USB 2.0
DC: 5v/2a
WiFi: 2.4ghz
Photo format: JPEG, BMP, PNG
Dimensions: 18*12.5*2.2 cm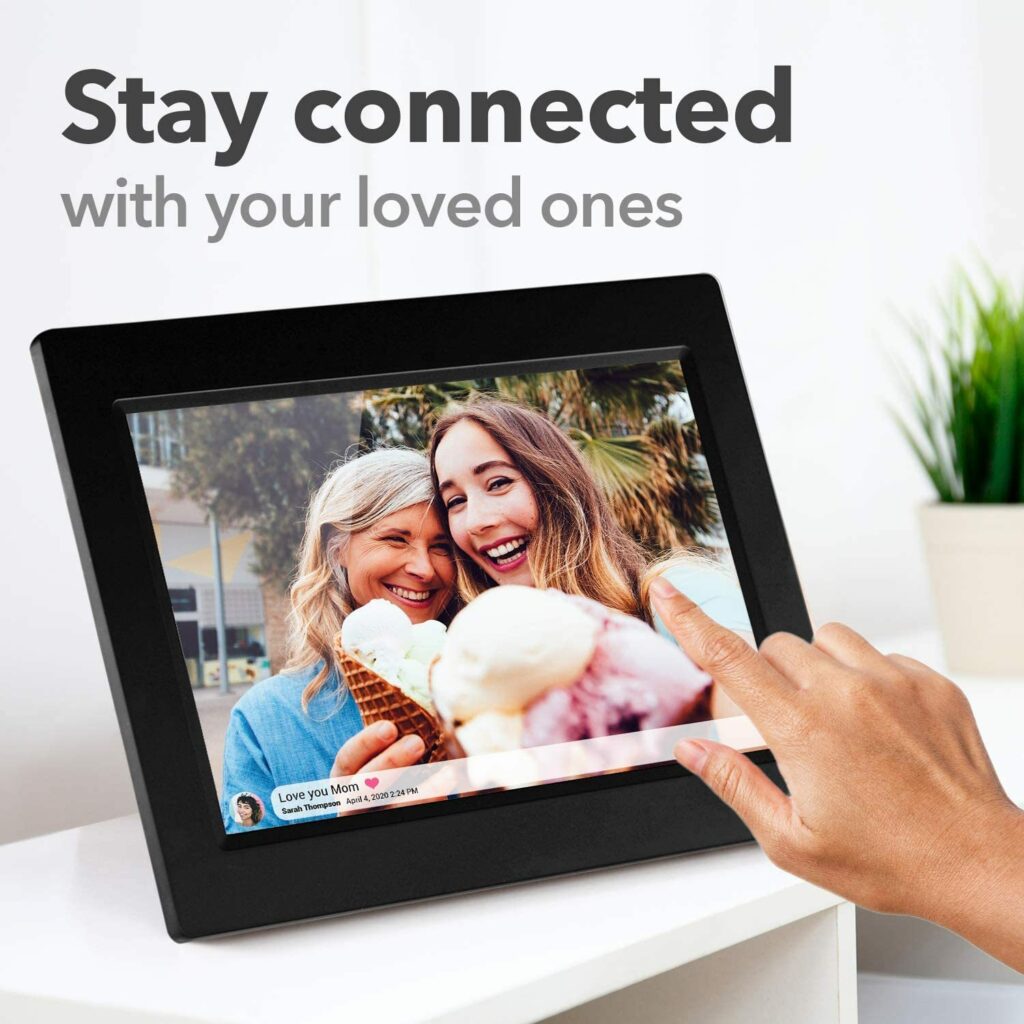 Features:
Share multiple photos and short videos instantly from your smartphone to DigiPrint anywhere in the world. The free Frameo app is available for both iPhone and Android smartphones.
User-friendly and easy-to-use interface: The DigiPrint takes a few steps to complete the setup. There's no need to create any account, which is perfect for grandma and grandpa.
Intuitive touch screen and high definition IPS LCD: Showcases a wonderful 8-inch high definition IPS display (1280×800) with wide viewing angles. The touchscreen allows you to easily set up the frame and slide between all your photos and play videos.
It comes with a detachable stand to view photos and videos in both portrait and landscape mode.
Add friends and family to your frame: Let friends and family connect their phones to your frame to share photos and videos wirelessly. One phone can be connected to multiple frames, and one frame can be connected to multiple phones. With 16 GB of internal memory, there is plenty of space for lots of wonderful memories.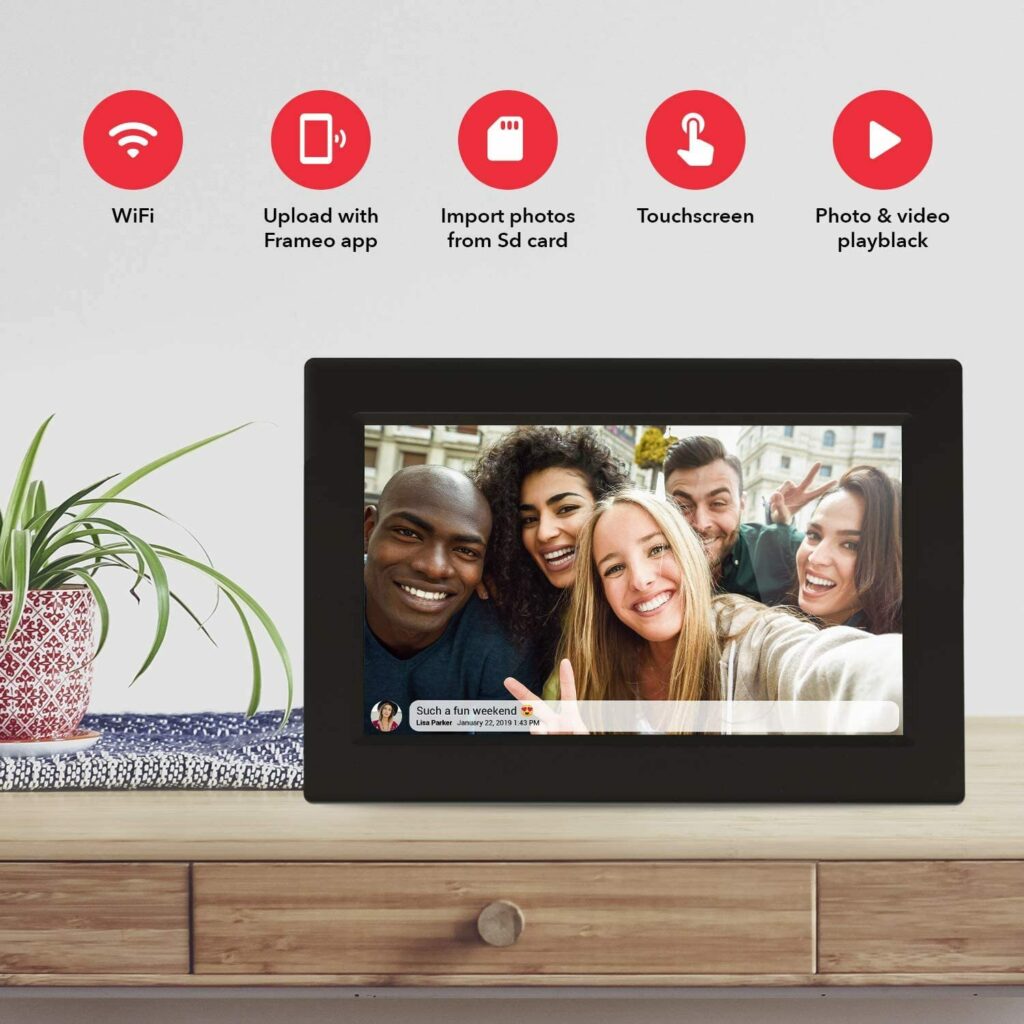 WiFi-connected, Share Photos From Anywhere in the World
Just connect the photo frame with the WiFi (2.4GHZ) and experience seamless photo and video sharing with all your friends and family from anywhere in the world. See and enjoy moments as they happen.
High Definition IPS Panel
The DigiPrint comes with a high definition and a resolution panel that shows bright, clear, and crisp photos from any viewing angle. Picture format supported: JPEG, BMP, PNG.
Easy-to-use with Touch Screen
Designed with 5 point touch panel, it's easy for users to set up the frame and manage photos conveniently.
Free App & Easy Sharing
The free smart phone app (Frameo) is available for both Android and iOS for direct photo and video sharing. You just need download the app to your smartphone, pair your smartphone to the photo frame, and send photos or small videos—anytime, anywhere! You don't have to worry about creating an account or linking to Facebook or email account. Photo and video sharing with DigiPrint are simple and easy.
Privacy & Safety
The DigiPrint uses a Secure Device Grid (SDG) for encrypted and safe end-to-end communication between the smartphone app and the photo frame. It ensures that the pictures you sent are kept private and only decrypted and stored locally on the photo frame.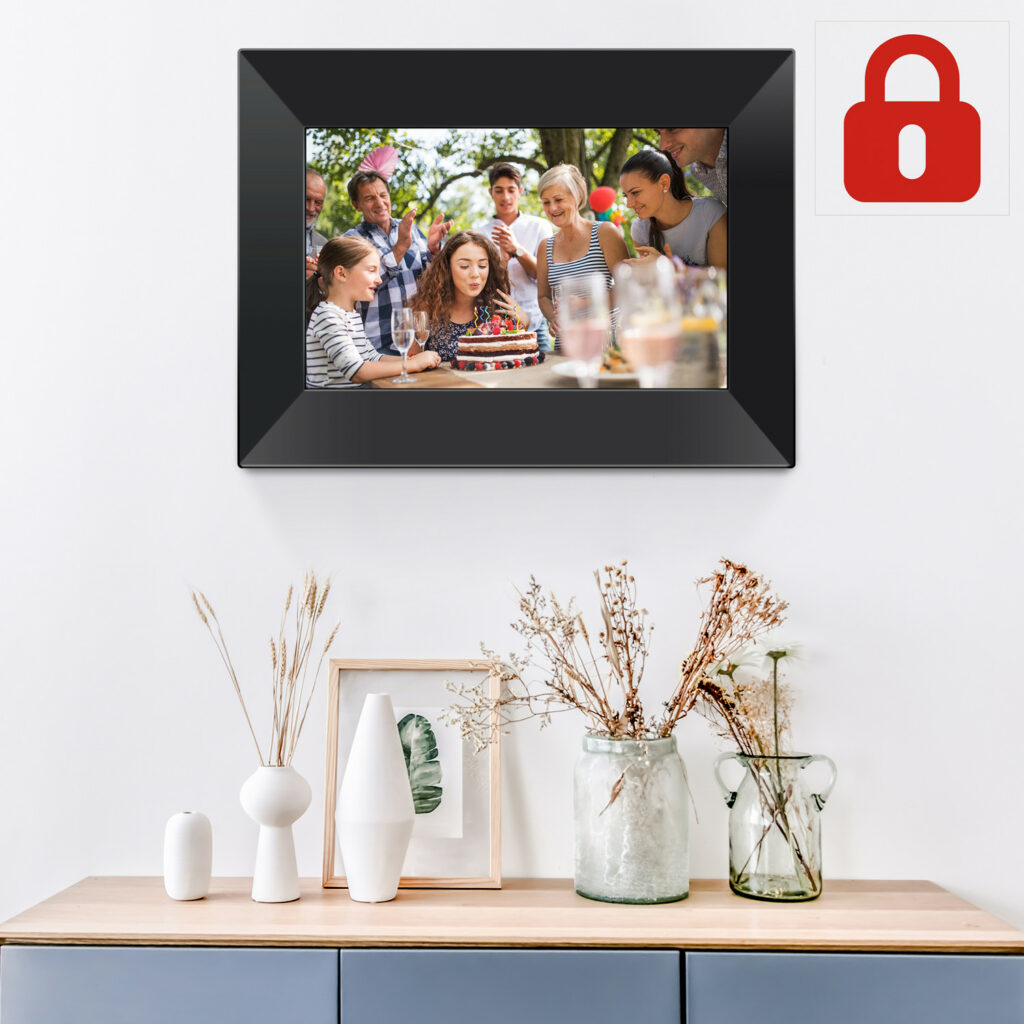 Upload, Backup, and Restore Photos
You can import your photos from TF card to the photo frame and backup your photos to a TF card. This feature allows you to store and restore your photos and videos safely in case the frame resets.
Portrait, Landscape, Auto Rotation, and Wall-mountable
With a detachable solid rack as a frame stand, the DigiPrint allows you to view photos in either portrait or landscape mode. Its intuitive design creates an automatic rotation to deliver comfortable viewing regardless of your position. Plus, this feature makes the frame perfect as wall art or mounted photo frame.
Captions
Make sharing more intimate by adding captions/messages with your photos and videos.
Package Include:
1 *digital photo frame
1 *Power adapter
1 *bracket
1 *manual