The Ultimate Mini Car Vacuum Cleaner That Delivers Topnotch Cleanliness For Your Car!
Worried about dirt getting the best out of your car? Not with the CruvaSwipe – this powerful cordless vacuum cleaner is guaranteed to clean every bit of dirt and dust off your ride. The CruvaSwipe is a handy, lightweight, one-button operation vacuum cleaner that can efficiently clean every nook and corner of your car.
The car vacuum cleaner is equipped with a 2000mAh large-capacity lithium-ion battery with a 120w high-power motor and 8000pa suction power which will sweep away dust, dirt, and garbage. The CruvaSwipe is among the mini vacuum cleaner with strong suction that can always keep your car professionally clean.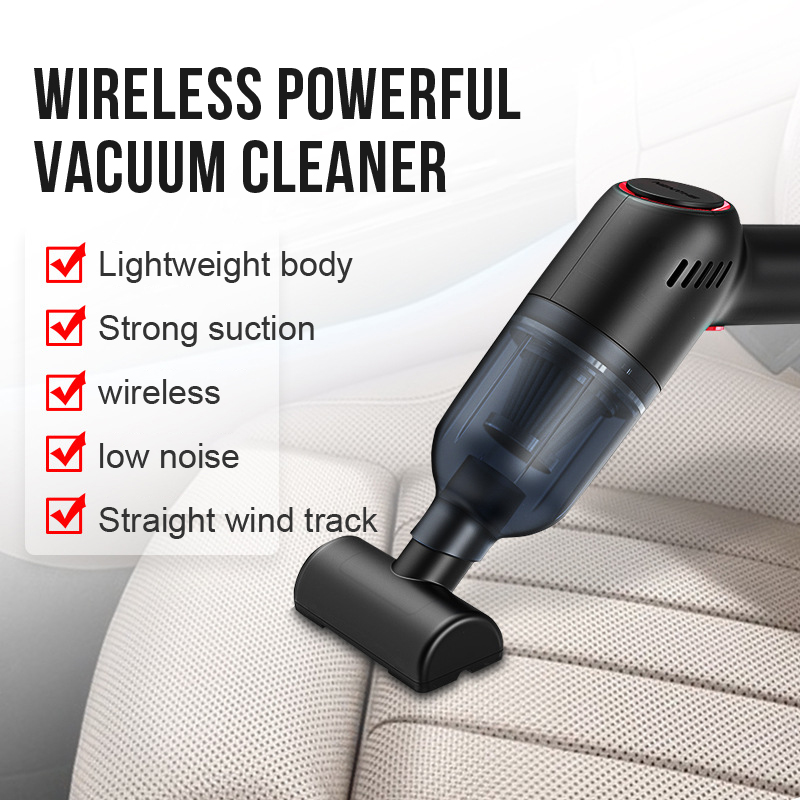 "The cordless vacuum cleaner that saves me from spending more bucks on car cleaning services. I can clean my car instantly, whenever I need to!" – Johnny, car owner.
The CruvaSwipe features an advanced cyclone technology that allows the fastest and deepest cleaning possible to effortlessly remove dust, crumbs, and other annoying residuals from the slots, corners, and spots on your car.
This cordless handheld portable multipurpose vacuum cleaner will allow you to effectively clean trash in any corner: car, living room, kitchen, bedroom, etc. whether there is a bunch of pet hair on your couch or you need a quick clean up of kid's mess, the handheld vacuum cleaner is the best solution. This car vacuum cleaner is light and portable and works best for cordless operation and can be easily carried wherever you need it. Vacuuming is easier and more fun than ever.
CruvaSwipe Features:
 The mini handheld car vacuum cleaner that has a powerful suction. The cordless vacuum cleaner's Strong suction power of 8000pa and 120w high-power motor can help you remove dust, food residue, sands, and pet hair from car sofa, carpet, and other hard reached areas.

 Clean thoroughly with the vacuum's high-efficiency HEFA filter system. This cordless vacuum cleaner is equipped with an advanced double-layer HEPA (high-efficiency particulate air) filter system to really get even the tiniest dirt in. It can capture 99.5% of small particles and pollutants as small as 0.5μm (1/120 of the diameter of a human hair), thereby effectively preventing pollutants from being released into the air in the exhaust gas.
Don't deal with any stubborn wires anymore! CruvaSwipe is wireless. You can take this portable vacuum cleaner to walk around freely to clean the gaps in the car interior, the gaps between the sofa in the guest room, the corner of the room, and the kitchen. The portable vacuum cleaner can follow you to any place, providing more convenience for your cleaning work.
The lightweight car vacuum cleaner is perfect for traveling! The handheld car vacuum's weight is just 0.8 pounds, you can easily remove the HEPA filter for cleaning and washing. More so, the car vacuum cleaner comes with a protective lid to keep the trash in a transparent container.
Specifications:
The vacuum is made from ABS material.

Car vacuum cleaner's dimension is at 15.7cm x 7.2cm

It features a rated input power of 120 (W)

It comes with a suction power of 8000pa

The battery capacity is 2000 mAh

You can fully charge the batteries for about 3.5 hours

You can use the vacuum in full mode for bout 30 minutes
Package Includes:
1 x Wireless car vacuum cleaner
FAQs
Q: How do you charge this vacuum cleaner?
Answer: This cordless handheld vacuum cleaner has a USB charging cord, you can charge it via your power bank or AC wall adapter.
Q: Does this hand vacuum cleaner pick up pet hair? 
Answer: Yes, This hand vacuum cleaner can not only suck up confetti, hair, and even small stones can be sucked up.
Q: How long does a portable vacuum cleaner last after a single charge?
Answer: This portable vacuum cleaner can last for 30 mins and takes 3.5 hours to fully charge.
Q: How do you clean the filter? Is the filter reusable?
Answer: You can clean the filter with water and can be reused as well.
Q: Can I charge this vacuum cleaner in the car? 
Answer: Yes, You can charge it in the car and thus make it the best car vacuum but, the car needs to have a USB port.