Bring the cosmos into your room and sleep under the stars with the CorneliaVox Star Projector Constellation Lamp Sky Light. It is a Rotating Star Projector that will transform your space into a moving galaxy full of stars and constellations. You will feel like you're actually inside a galactic wonder!
Star Projector Constellation Lamp Sky Light is equipped with multi-color LED lights enclosed by several stellar screens. These screens are filled with several spots that finely cast thousands of star-like spots around your room. It exhibits a planetarium effect which soothes your mind and provides a mental relaxation, helping you sleep better.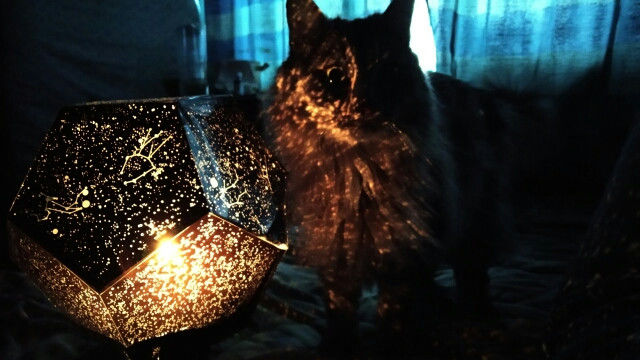 Since it emits a warm glow, it can also be used as a night light, creating a starry ambiance and upgrading the look of your space altogether.  Ideal for wedding decorations, birthday parties, festivals, and more, this night lamp will surprise all your guests with its enchanting light.
Features
Spruce Up Your Space: Star Projector Constellation Lamp Sky Light will turn your indoors into a stellar-studded fantasy world in a matter of seconds. The slow and calming rotation of these stars creates a harmonious, quiet, and cozy atmosphere which lowers your stress and helps you relax.


One-button Operation:

This star light projector is operated by a single button, present on its base. Just press the button and it starts the projection while rotating in the clockwise direction. The color of projected light changes randomly between yellow, red, green and blue.
Compact and Cordless: 

The parts of Star Projector Constellation Lamp Sky Light are detachable, making it easy to carry and store. Place it anywhere inside your home as it is light and cordless. Just insert 2 AA batteries (not included) and it is good to go.


Unique Design:

 The stellar screens are joined together like a jigsaw puzzle to form a dodecahedron (12 faces) structure. Its design enhances the range and quality of projection while its assembly makes a fun DIY project for both kids and adults.


Premium Quality: 

Made with high-grade ABS and PET material,Star Projector Constellation Lamp Sky Light ensures sturdiness and durability. The base can be swiveled and pivoted, allowing the user to move the angle and focus of the projection.
Benefits
STAR GAZING: You'll never have to leave your room star gaze, you'll bring the entire galaxy into your room with the star projector night light. The star projector lamp is the easiest way to bring the stars into your home, the constellation projector can also be used as a decor light to shine bright stars throughout your home with the constellation
DECOR: The night sky projector can be used as a piece of decor that can be used all night to add something for your guest to wow about when they enter your home.
KIDS: You can use the galaxy star projector to help your kids sleep and feel more secure, safe and excited about going to sleep because they get to watch the stars flying around their room with the star ceiling projector
EASY TO USE: The galaxy light projector is easy to use, simply assemble and place in a corner or middle of the room for different star motions throughout the night, only with our star projector