When it comes to home and property security, you can trust on the AvexMotion!
"I know I got the right pick after I put the AvexMotion to the test. It has a wider detection range, the sensors are topnotch, and it's 100% low maintenance." – Marcus, Home and Business Owner
You have invested significant amount of money for your home and other properties; the next best step is to give extra security for these hard-earned investments. This is the purpose of the AvexMotion – the bestselling, expert-vouched home and property security device. This driveway alarm-cum-doorbell can give both home and business owners the confidence that the device will alert them when suspicious events come up. 
Why Choose the AvexMotion?
The range it covers is phenomenal. The AvexMotion can cover up to 1/2 mile in length and 800 meters in diameter. It can monitor even movement made from a distance.
It can be used in various ways, and for different purposes. This driveway alarm is not only applicable on the driveway, but also can come in handy for rooms, business areas, backyards, and even garages. Add this wireless driveway alarm to your blind spots and you'll feel extra safe.
Comes with an improved motion detection technology. The new improved infrared sensor technology of the AvexMotion features a motion and sound detector that can catch even the faintest of movements and sounds. The sensor also reduces false alarms for motions caused by weather or temperature changes.
It works even in the bleakest circumstances. You can still count on the AvexMotion to work even if it's raining, flooding, and snowing.
Fully-customizable alarms are available. You have 35 alarms to choose from – each assignable to a particular motion.
🔊AvexMotion Features🔊
Safety is in every step of your property – this wireless driveway alarm system alerts you at anytime the weather resistant outdoor/indoor sensor detects any motion from vehicles, animals, or actual people!
🔊Battery powered – a single battery change can provide security for your properties for up to 1 months. The sensor is powered by 3pcs AA 1.5V Alkaline batteries( the package does not include the batteries). Monitor/protect your outdoor/indoor property all the day and night.
🔊It comes with a weather-resistant sensor that works for all seasons! The sensor is weather resistant and will work properly at all the seasons. Working temperature ranges from -30 to 150 degree Fahrenheit.
🔊Features a sensor range that's perfect for large properties. Up to 1/2 mile long wireless transmission range in ideal conditions. It is a great solution even to monitor the long driveway, large properties, and vast backyards. It also features up to 50ft wide sensor detection range and 2 adjustable sensitivities(high setting at 50ft and low setting at 35ft). This sensor is ideal for driveways, walking paths, yards, garages, gates, pools and anywhere of your outdoor/indoor property you want to be alerted.
🔊Includes autonomy features. Improved wireless transmission technology(FSK+FHSS) to avoid the signal interference from other wireless devices.
🔊You can totally customize the sensors and alarms you're going to get. The plug-in receiver has 4 adjustable volume levels and 35 optional melodies, match different melody with different sensors around your property to differentiate where motion is being detected.
🔊You can build a security system with the AvexMotion sensors. Theensors can be added to the receiver and 1 sensor can be added to unlimited receivers.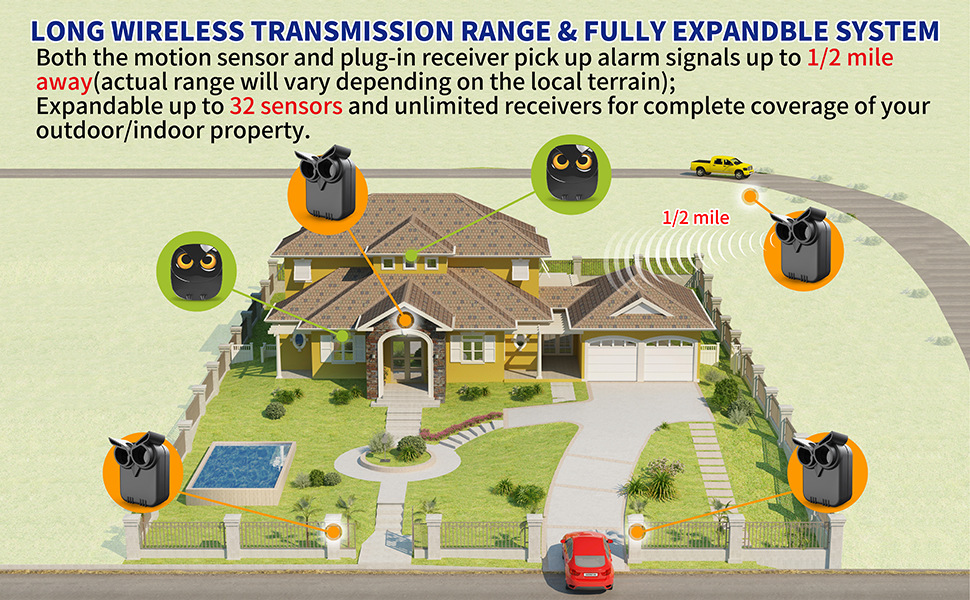 Long Transmission And Detection Ranges: The motion sensors and receiver can receive alarm signals from up to hundreds of feet away, while the motion sensors will be triggered by anything within a 15-meter radius. This is super security!
Easy To Install: Powered by dry batteries, this security system requires no direct connection to power or wiring. Simply screw in the sensors wherever you desire for a quick and easy installation process.
Reliable Detection: This long-range security system is designed to not be easily triggered by false alarm scenarios, inclement weather or light interference. You get reliable security, not annoying security.
Home Security: Sleep better and worry less knowing that your home and property is now protected by superior motion sensor technology home security. It will be like a weight of your shoulders.
Easily Expandable Security: Expand your home or properties security (especially for larger areas) by adding more, fully compatible sensors. It's the same quick and easy install process for each sensor added.
Adjustable Melodies And Volumes: The alarm melody and volume are easily adjustable. This is a great features for people who are hard of hearing or those with infants who sleep during the day.
Specifications:
Connectivity: Wireless
Wireless Transmission Range: 800m (Line Of Sight)
Sensor Detection Range: 15m (Highest Range) 10m (Low Range)
Packcage Include