When the Cold Gets Tougher, Trust on the ArmaxD to Warm You Up!
Are you looking for a heated hoodie that you can use for your winter activities? Do you want to find a hoodie that can help you enjoy your activities during the colder days even more? If you're searching for a heated hoodie that can stand the winter cold without letting you down, go for the ArmaxD heated hoodie!
Why ArmaxD?
🏂 The heated hoodie with 5-point heating patches. The hoodie includes heating spots on the  abdomen, and back.
🏂 Features enough heating capacity for the colder winter days. The heated hoodie has a heating capacity ranging 104-degrees to 140-degrees Farenheit. The temperature is 100% adjustable.
🏂 The hoodie comes with the latest in heating technology which distributes heat evenly, and in consistent quality. The heat begins to be felt after 10 seconds. This best-selling heated hoodies also comes with a feature that warms you up evenly.
🏂When fully charged, the jacket can last up to 6 hours.
🏂 Stylish and perfect for outdoor sports! The heated hoodie for winter sports is ideal for skiing, snowboarding, snow hiking, snow biking, sledding, and snow trekking.

Occasions: Perfect for enjoying very cold winter outdoor activities such as fishing, hiking, golf, camping, school, daily office use, home life, outdoor street, running sports, no matter how cold it is winter or autumn, you can enjoy all indoor and outdoor activities in the warmth, and resist the cold and invade the body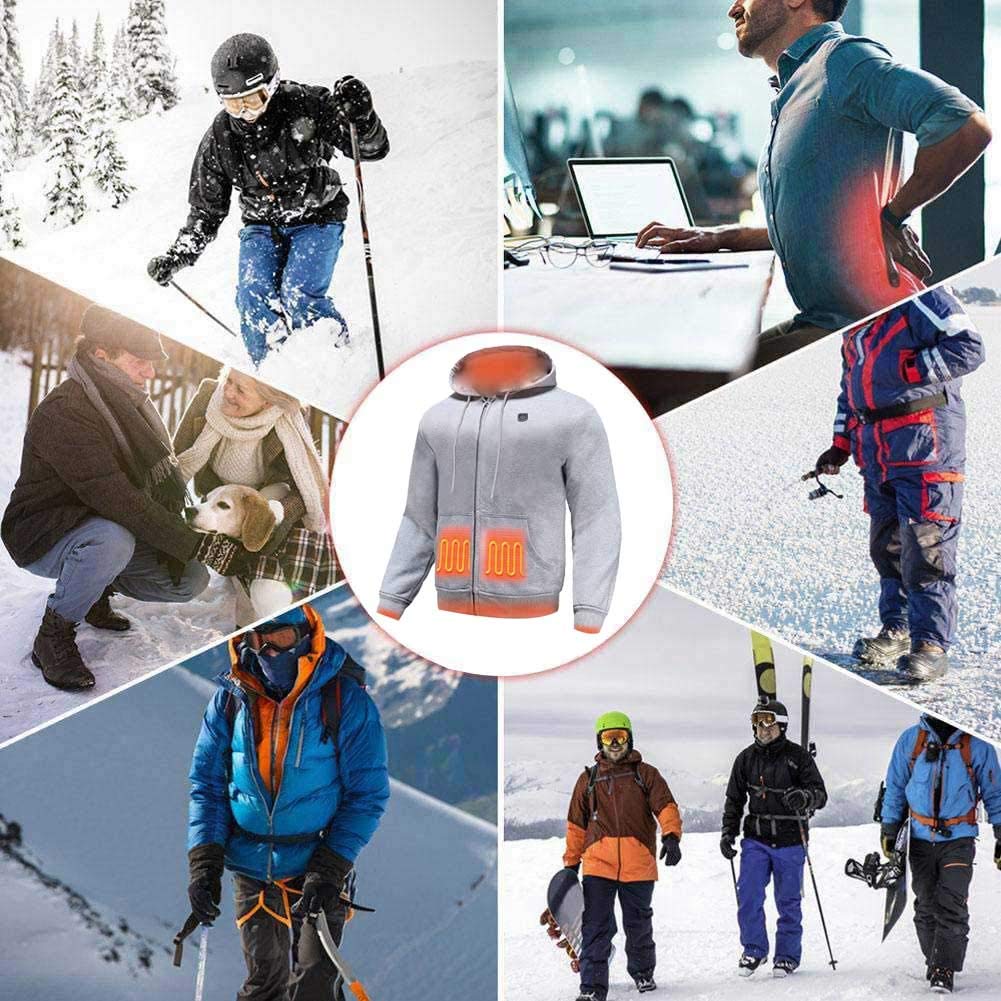 Easy to use: The heating sweater can be connected to a power bank via USB and can be heated by pressing and holding the switch for 3 seconds, the temperature can be adjusted freely, portable and convenient.
Washing recommendations: unplug the power, machine or hand wash, hang to dry
Size Chart
S:length:26.77in,waist:40.15in
M:length:27.16in,waist:42.12in
L: length:27.55in,waist:44.09in
XL: length:27.95in,waist:46.06in
XXL: length:28.34in,waist:48.03in
XXXL: length:28.74in,waist:50in

What's Included?
1 × Heated Hoodie(Power Bank Not Included)
Important:
DISCONNECT AND REMOVE the battery from the zipper pocket, put the connector back, and zip up before washing the apparel.