Stay Warm and Cozy This Winter With Amiarite.
Don't let the cold stop you from doing the things you love in this chilly weather. Our AmiaRite USB Heated Outdoor Vest is the best way to keep you warm wherever you are, without the need for layering or uncomfortable thick clothes on top of each other. Made from high-end heated material that enables quick electric warmth without radiation, this heated vest delivers the heat you need to survive the frigid cold.
Not Just to Keep You Warm.
The AmiaRite is designed to help you sustain the freezing environment, including lessening the discomforts that come with it. The electric heating effectively transfers the heat from the waist, abdomen, and back to the entire upper body to keep you warm and cozy. But that's not all. This heated vest also relieves any muscle pain and promotes blood circulation, which is necessary to maintain good health during the winters. So whether you're working outside or training for your favorite winter sport, this heated vest is your go-to partner to overcome the cold.
Why Choose the AmiaRite?
The Best Combination of Comfort and Style
Beat the cold, not the looks. The AmiaRite is the perfect heated vest for both men and women who are conscious about their styling. This piece of clothing can get you through all winters yet keeps a decent look, whether concealed or worn on top. It has the type of style that doesn't scream outdated, or there's a battery inside.
Comfy Quality
This vest is made with a blend of polyester and carbon fiber. Thanks to the breathable polyester, this heated vest is soft and comfortable for the wearer. The carbon fiber provides an essential heating element to this clothing for better functionality.
Durable and not easily deformed. 100% water and wind-resistant—that's the AmiaRite!

Cynthia, AmiaRite Expert
Efficient Heating Functionality
With 3 adjustable temperature levels (113°F, 131°F, and 149°F), this clothing offers practical heating. With one press of the power switch, this jacket provides the user with 8 hours of constant heat. It comes with 5 heating zones that warm up different parts of your body with 360-degree heating in a matter of seconds. Thanks to its quick heating and durable material, this piece of clothing offers a long service time for the user.
Portable Power
This vest is a true energy-saver. It can be operated through its built-in USB port connected to a power bank without wasting precious electricity.
Note: The AmiaRite does not provide a power bank in the package due to air freight restrictions. You can still use your old power banks to charge the AmiaRite on-the-go!
Good for Your Health
This jacket helps with activating various skin functions and promotes metabolism. It helps to warm the body, consumes excess heat, and increases blood oxygen and fluidity. It provides a more profound adjustment of physiological functions to avoid a sub-health state and restores the body's vitality. Plus, it improves the body's microcirculation, activates the meridians, and eliminates partial pain and inflammation.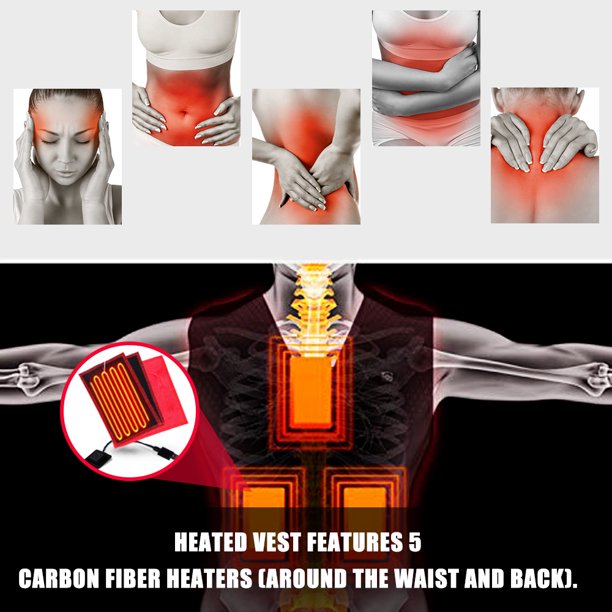 Comfortable Wear
Lightweight and mobile, wear this heated vest with ease under any clothing. You can also wear it as a standalone jacket that looks highly eye-catching on both men and women.
Perfect for Outdoors
The AmiaRite is perfect to wear for different winter sports and keep yourself warm at all times!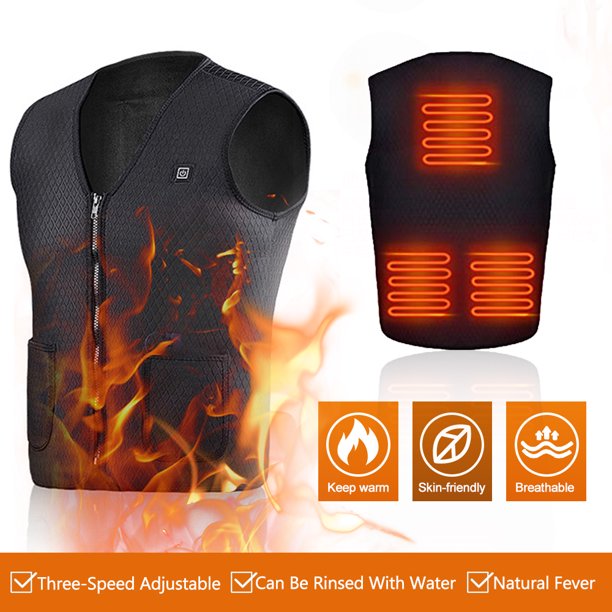 Our AmiaRite Electric Heated Vest will give you plenty of warmth. It's the perfect gift for sking, snowbarding, biking, hiking, motorcycling, and any outdoor enthusiasts. Share the gift of love and warmth these holidays with AmiaRite!
Size Chart
Size M: Length 23.22 in; Shoulder 13.77 in; Bust 35.4 in; Height 5.11-5.24 ft; Weight 88-110 lb
Size L: Length 24.01 in; Shoulder 14.56 in; Bust 37.79 in; Height 5.28-5.41 ft; Weight 110-126 lb
Size XL: Length 24.8 in; Shoulder 15.35 in; Bust 40.15 in; Height 5.44-5.57 ft; Weight 127-143 lb
Size 2XL: Length 25.59 in; Shoulder 16.14 in; Bust 41.73 in; Height 5.61-5.74 ft; Weight 144-159 lb
Size 3XL: Length 26.37 in; Shoulder 16.92 in; Bust 42.51 in; Height 5.77-5.9 ft; Weight 159-176 lb
Size 4XL: Length 27.16 in; Shoulder 17.71 in; Bust 43.3 in; Height 5.93-6.06 ft; Weight 176-192 lb
Notice:
It is recommended to choose a freshman size for wearing a vest.
If you wear it next to the body, follow the standard size.
Specifications
Color: Black.Size: M /L/XL/2XL/3XL/4XL
Material: Polyester Fiber.
Power: USB Charging by Power Bank (not included).
Package Include: